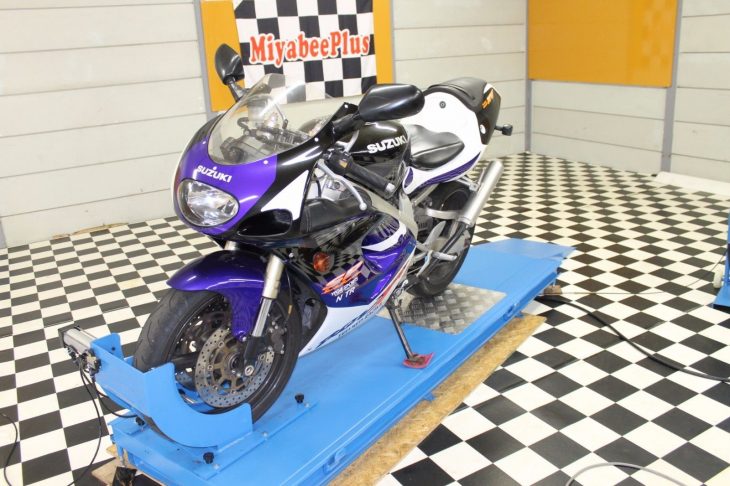 The history of the quarter-liter sportbike seems to be one of convergent evolution: twins obviously make sense given the size and capacity, or even triples, if we go back to the 1970s and consider a Kawasaki S1 a "sportbike." But early bikes could be powered by parallel or vee configurations, and by the time the early 1990s rolled around, Honda, Yamaha, and Suzuki were all using  90° v-twins backed by six-speed gearboxes. But when the 70° v-twin powered RGV250 VJ23 came along in 1996, it was packing a 70° unit with a dry clutch [and an electric start!], presumably because it's more compact and doesn't increase vibration significantly, compared to a 90° unit with theoretically better balance.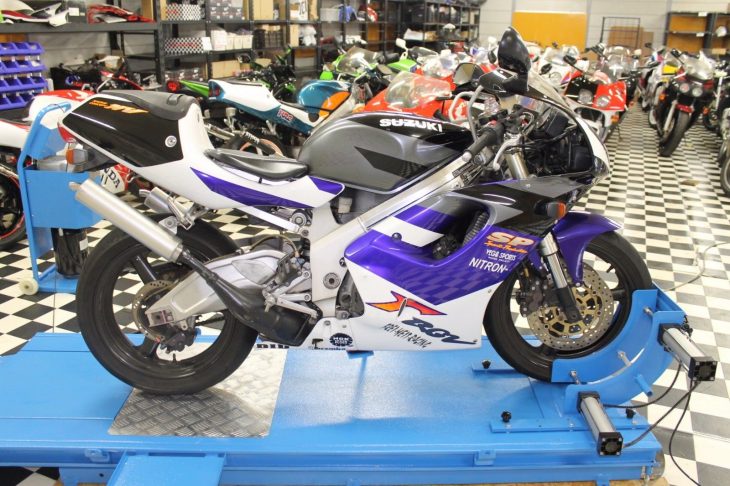 The VJ23 was pretty much the final word in two-stroke performance: the Suzuki-powered Aprilia RS250 continued in production alongside, but used their earlier 90° v-twin engine. Honda's NSR250 was still in production as well, but their MC28 was introduced in 1994 so the VJ23 really does represent the very last generation of two-stroke performance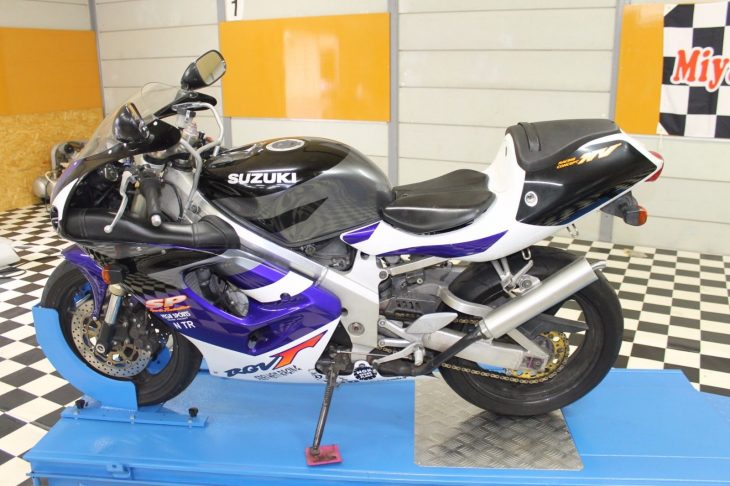 I'm not a huge fan of the swoopy curves of the VJ23 model, although plenty of two-stroke fans love the very 90s styling. Maybe the graphics aren't helping: the VJ23 definitely looks much cooler in Lucky Strike colors. But you certainly can't argue with the performance available: today's example is claimed to be the full power "export" model, meaning it's not limited per Japanese market rules that restricted power to 45hp on models intended for sale domestically, and 60 claimed horsepower should make this little bantamweight a real rocket, with handling to match.
Experts may want to chime in here: these were supposedly extremely rare in any form, and I'm not clear if this has simply been de-restricted or if it came from the factory with all the horsepower present and accounted for.
From the original eBay listing: 1996 Suzuki RGV250SP VJ23A for Sale
Rare 2 stroke bike from Japan!! Suzuki RGV250SP

VIN: VJ23A-1020**
Year: 1996
Mileage: 24,325 km
Condition: Running very well.
It is 60ps of export model!! It was overhauled an engine, brakes, front forks when 20,000km of mileage. It has some scratches, tiny cracks at body work, tiny dent at left under side of gas tank. But still GOOD condition. Belly pan is aftermarket product. Other cowlings are original.

Shipping : We'll put it into the wooden crate and ship by surface. We'll enclose Japanese original title, and also Sales Certificate and Bill of Sales issued by us in English. Shipping cost: The bid price includes shipping cost to overseas, and it's charged from our office in Japan to the nearest port to your address. We expect you'd pick it up at the port and arrange the land transport to your address by yourself. The other cost, such as the handling cost, duty fee, tax, etc. which will be charged in your country, they're not included there.
The Buy It Now price is listed at $9,400 which would seem very reasonable if the bike was here in the USA, considering what nice NSRs are going for these days. Obviously, the fact that this bike is currently in Japan means the buyer will have to deal with all the importation and titling hassles. If you're in a permissive state, that might not be too much of a headache, but for many of us, it remains out of reach, considering the year of manufacture means it's still a few years short of the 25-year mark. Depending on your local DMV, there might be some shenanigans you can pull to get it on the street, but I'd expect this makes the most sense as a collectible or occasional track day ride.
-tad