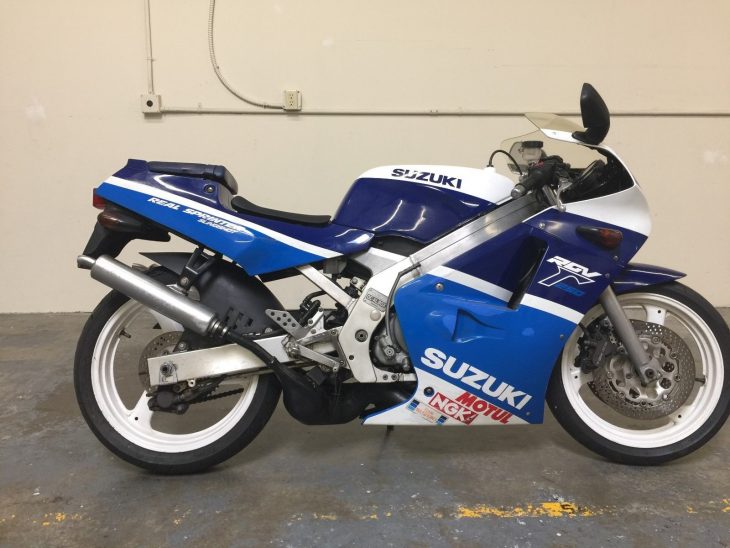 The quarter-liter sportbikes of the 1980s and 1990s might look virtually identical on paper and offer very similar performance, but they all managed to have their own individual character, although that may have been down more to marketing and brand loyalty than any distinct differences. In any event, the Suzuki RGV250Γ had a reputation as a bit of a wild man and may been less refined than the Honda NSR250, but these little machines were all about snarling and snapping and adrenaline anyway. The VJ21 version of the bike seen here didn't have any of the usual acronyms on the fairing, but it does offer "REAL SPRINTER SLINGSHOT" performance. "Slingshot" typically refers to the GSX-R that used Mikuni semi-flat slide carbs that look like a slingshot in cross-section, although I've yet to find a good pic that really shows anything that looks like a child's toy hiding in there... I'm assuming the RGV used similar carburetors to earn that text printed on the tailsection.
Otherwise, the RGV stuck close to the class formula, with an aluminum beam frame, a liquid cooled, 90° two stroke v-twin with power valves and backed by a six-speed gearbox. The later VJ22 had the very desirable banana swingarm, although that also increased weight over the VJ21 seen here. Front wheel is 17" and the rear 18" as was common for the class at the time.  With a sub 300lb dry weight, the 50-ish horses are plenty to move the RGV along at a good clip, assuming you beat the little bike mercilessly.
And that's really the point of the RGV: it was an angry little machine that required and rewarded abuse to make good progress. Tiring for sure, but plenty of fun of fun and, if you love to attack the back roads, bikes like the RGV are your willing accomplice. This example has been freshly imported and is in original, slightly worn condition. The seller includes a video walkaround of the bike here.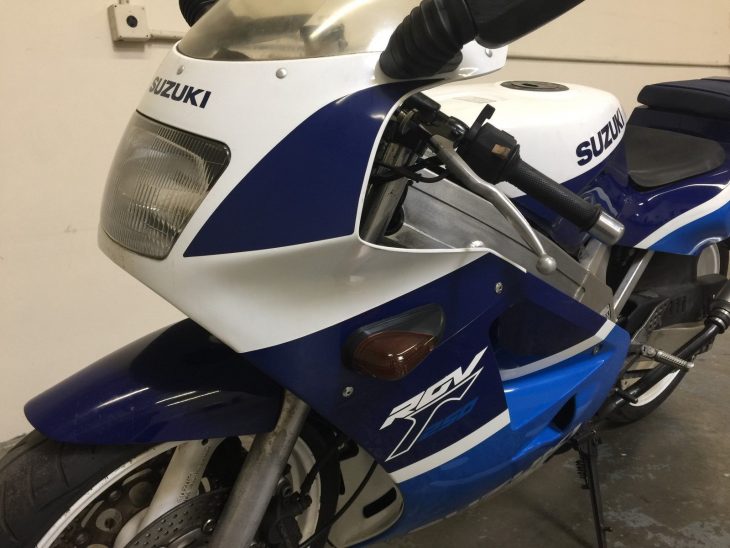 From the original eBay listing: 1988 Suzuki RGV250Γ VJ21A for Sale
The bike is imported from Japan. Not registered yet in the U.S. This bike is sold without title. NO TITLE. We don't know how to get a title: please ask DMV

Start engine. Original Cowl. Switches and lights working. Oil leak on front fork. No battery. Some scratches and rust  So look carefully all pictures and video. Some touch-up painting. This motorcycle is 29 years old. Sold as is with NO warranty NO refunds NO return. 20,456 km (12,710 miles)

Buyer responsible for vehicle pick-up or shipping to your location. You can check Your Shipping Cost. (Item in Carson, CA now. Our Zip code 90745)

If anyone wants to come see the motorcycle. Please contact me.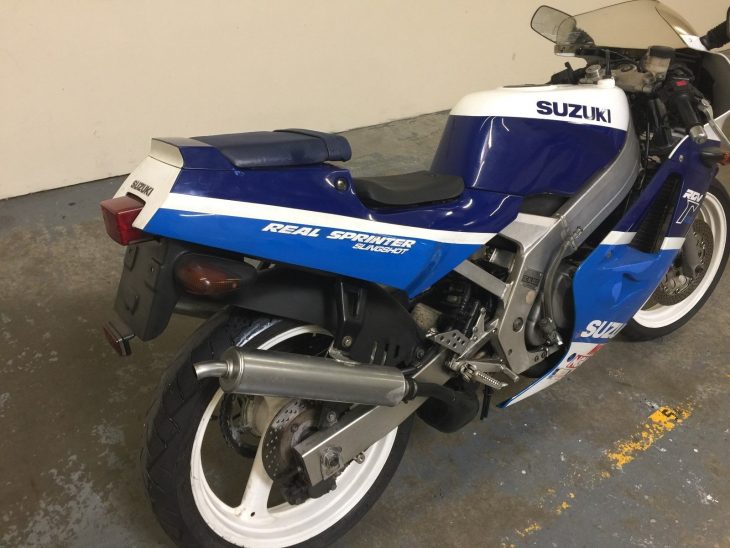 I can pretty much tell you what the DMV will say, at least here in California: "Sorry bub. No title for you. Have you seen the great number of very nice race tracks we have where you can ride your for-off-road-use-only motor vehicle?" Obviously, this is not a pristine, collector-quality motorcycle in its current state, but it is straight, with relatively low miles. It'll obviously need some attention if you plan to actually ride it on the road, but that shouldn't surprise anyone shopping for a 1980s motorcycle. We've see plenty of Honda NSR250s up for sale over the past couple years, but the RGV is still pretty rare around here. Is this slightly worn example worth the $3,500 starting bid? There's not much time left on the auction, so it might be a good time to jump in if you've been looking for an RGV and have bags of cash lying around to bribe that guy you know down at the DMV...
-tad