By 2001, the entire quarter-liter sportbike class was basically dead, leaving the Aprilia RS250 Cup a bit of an orphan. Yamaha TZR250 production ended in 1995, Honda's NSR250R in 1996, and the Suzuki RGV250Γ held out until 1998. But I guess Aprilia still had some of the older 90° RGV250 engines lying around, so they kept churning out bikes for a few more years. The bigger issue was their viability as road bikes: one of the biggest reasons for the classes' demise was the increasingly stringent emissions regulations that favored cleaner-burning four-stroke engines, instead of the light weight, but very dirty two-strokes that powered these bikes. They don't call them "smokers" for nothing…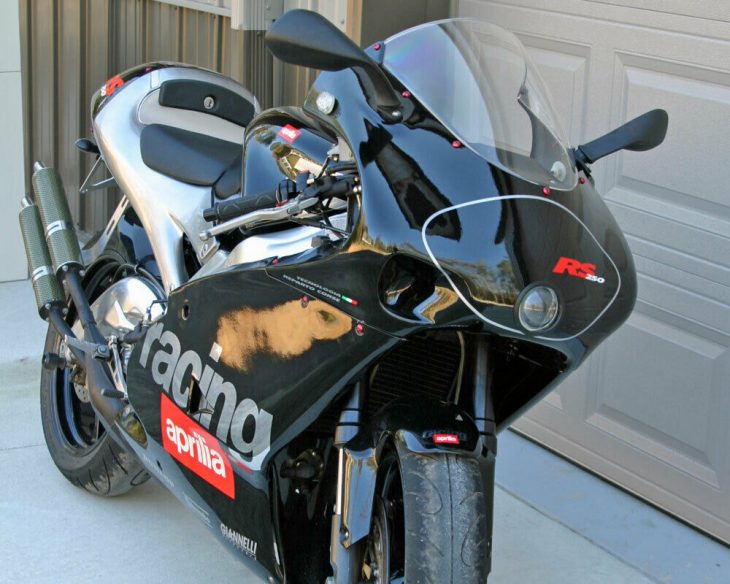 So the 249cc powerplant was from Suzuki, with a few Aprilia-branded bits to make the claim that they'd tuned it extensively somewhat believable. The frame was an aluminum twin-spar unit like the donor bike, but what a frame: unlike the industrial units seen on the Gamma and NSR, Aprilia's was gorgeously sculptural, as was the swingarm. Brakes were more than up to the task, since the very same triple-Brembo setup was used on much heavier bikes like the Ducati 916 and Moto Guzzi Sport 1100…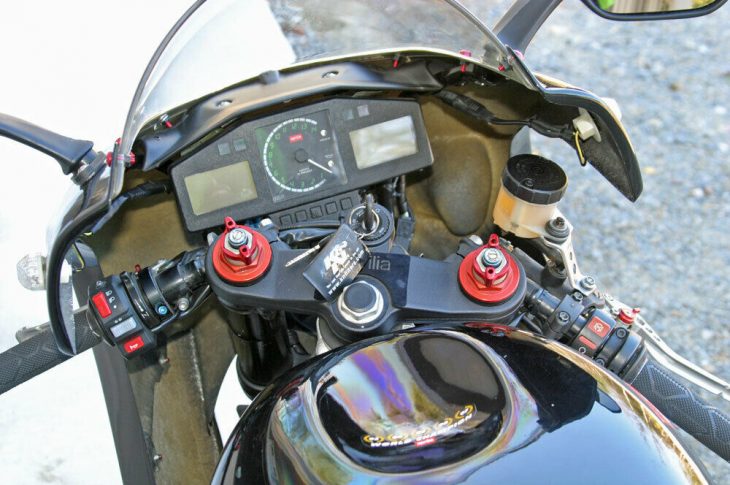 By 2001, new two-strokes weren't legal for road use in many markets, including the US. The RS250 Cup got around this by not bothering to be a road bike. It was intended for a single-make racing series, although an awful lot of them turn up here on eBay with very few miles, suggesting folks bought them to collect and not to race. It's not too difficult to source bits from the road-legal version if you're looking to convert one, although that doesn't appear to have been done in this case.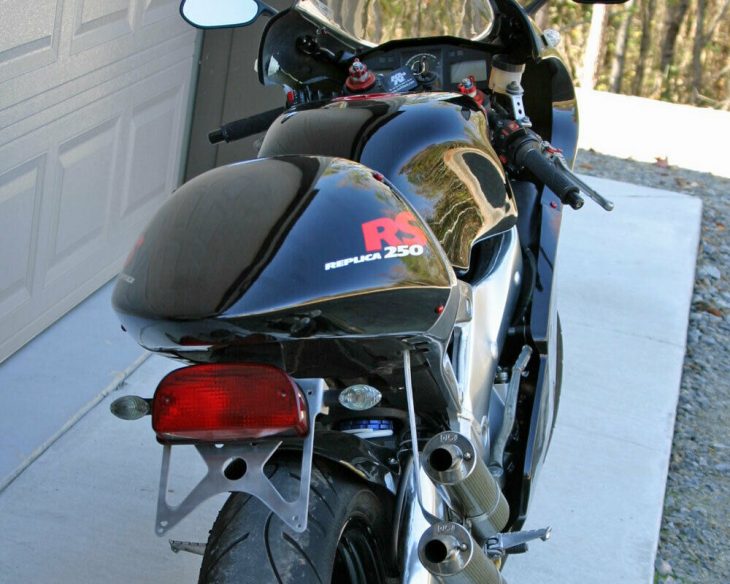 From the original eBay listing: 2001 Aprilia RS250 Cup for Sale
This is an Aprilia RS250 imported into the US for the Aprilia Cup club road racing series. It was sold as a race bike only so bill of sale only. This example was never raced and spent most of its life in a private motorcycle collection. The original owner added lighting, turn signals, horn, and other equipment typically found on a street bike. I have only ridden it 6 or 8 times in the years I have owned it but I recently went over it from nose to tail and made sure everything is in good working order. Other than the added street equipment the bike is as originally delivered by Aprilia. Having owned and road raced one of these for many years I am very familiar with them and this motor is quiet and tight. Factory shop manual is included with the bike.  Also includes a new Shorai lithium/iron battery.
The Aprilia RS250 Cup was originally a track-only machine, although the seller indicates that it's been made nominally road-legal and that it has managed to accumulate 3,000k miles so far, and bidding is up to just $5,250 with a few days left on the auction. The projector-beam headlight isn't stock, but actually works pretty well, although I'd replace those red-anodized fasteners with black as soon as I got the bike home. Obviously, any potential buyers should be wary if they intend to register this machine for road use, unless they just plan on converting it back to track-only configuration.
-tad