Warning!
This post is in our archives. Links in this post have been updated to point to similar bikes available to bid on eBay.

The 1975 Ducati 900SS is something every serious collector has on their list and given that 1975 production was less than 250 units, today's post is quite an occasion.  This nice but not pristine version is located in Manhattan Beach, California USA but I wouldn't be a bit surprised to see it go to an international sale.
To understand the significance of this bike and why it is so prized, you need to look back to 1970 when the top level GP racing class was pretty much a battle between MV Agusta (with legendary rider Agostini) and Japanese two-strokes.  Ducati had left racing over 10 years earlier due to budget constraints but was now flush with new backing and had a new series of larger displacement machines under development.  In 1970 the company decided it would be going back to the track, in part to help increase visibility to their new machines but also to help in development.
Ducati hit the track in 1970 with a new 500cc L-twin engine with two-valve desmo heads but the new machines were still no match for the then dominant Agostini and MV Agusta.   In 1972 Ducati announced a new 750cc machine that incorporated the lessons learned over the last 2 seasons along with special racetrack-oriented cams, twin spark plugs, 40mm Dell'Orto carbs and billet connecting rods.  Other top shelf bits included Marzocchi forks and triple-disc brakes.
The new 750cc machine was set to debut at Imola on April 23, 1972.   Did it work?  Well, here is what happened when GP rider Paul Smart (yes, THAT Paul Smart) took the new Ducati out for qualifying:
"On the last lap I wound it up as fast as I felt comfortable.  I wasn't going completely flat out because it was basically just a safety-wired street bike..it still had the Dunlop TT100 street tires and even still had the centerstand lugs in place.   When I brought the bike back to the pits all the Ducati mechanics were jumping up and down…it turns out I had just broken Ago's track record."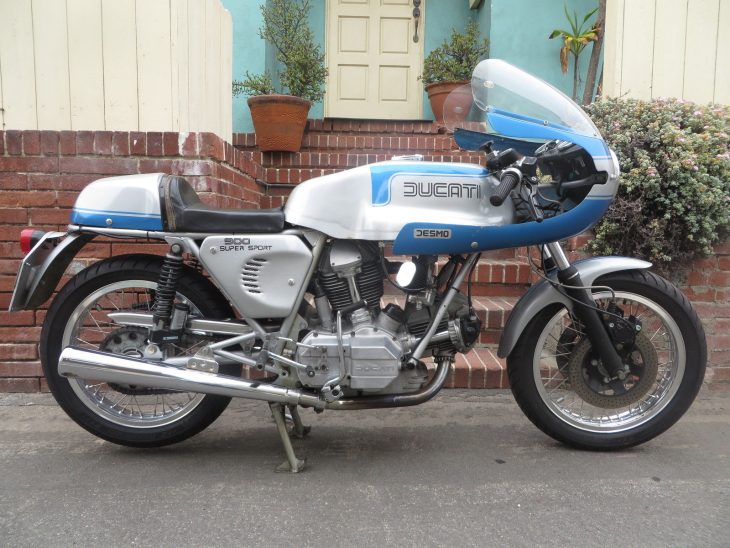 The new Duc actually finished 1-2 at Imola and the public immediately clamored for a 750ss for the street.  At the end of the 1972 season Ducati promised to make replicas of the Imola winning machine available to the public but  Ducati was still a small manufacturer so this didn't actually happen until 1974.  During this 2 year period the Japanese were undergoing a crash course in development and quickly catching up to its European rivals so when Ducati finally delivered the promised Imola replica 750cc machines they also introduced a new 860cc machine, the 900 SuperSport/SS.   The new "big" Duc was essentially the 750 series machine with more power and fortunately for Ducati, this wasn't a case where more power upset the balance of the bike. The new 900ss was able to continue the performance success of the 750 for several years.  Consider this – it was on a 1978 900SS that a just-out-of-retirement 38 year old Mike Hailwood would ride to a legendary victory at the Isle of Mann TT.
Okay, we have covered the history and ties to famous racers like  Paul Smart and Mike Hailwood, but you may still be wondering why this bike is so high on so many collectors lists.  The answer is that not only is it a first year bike but it also had some unique to the year components    The 1975 edition actually had many of the same components as the the 750cc Imola race replicas.  These components were offered on the 900ss for the 1975 year only.
A quick comparison of the components for the 900ss model years is below as an example:
| | 1975 900ss |  1976 900ss |
| --- | --- | --- |
|  Gas Tank |  Fiberglass |  Steel |
|  Carbs |  40mm |  32mm |
|  Exhausts |  Conti | Lafranconi |
|  Turn signals |  No |  Yes |
|  Shift |  Right side |  Left side |
Simply put, for many Ducati fans and collectors the 1975 900ss is considered to be the closest you can get to the race bikes ridden by people like Smart and Hailwood.
One final factor to consider regarding the why the Ducati is so highly prized by collectors is the generally acceptance that the 750/900ss Ducati along with the Laverda 750SFC and the Norton Commando were the first modern "GP-bikes-with-lights and a horn."  You could even think of the Ducati as the progenitor of bikes such as the Ducati 888SP3 and Desmosedici.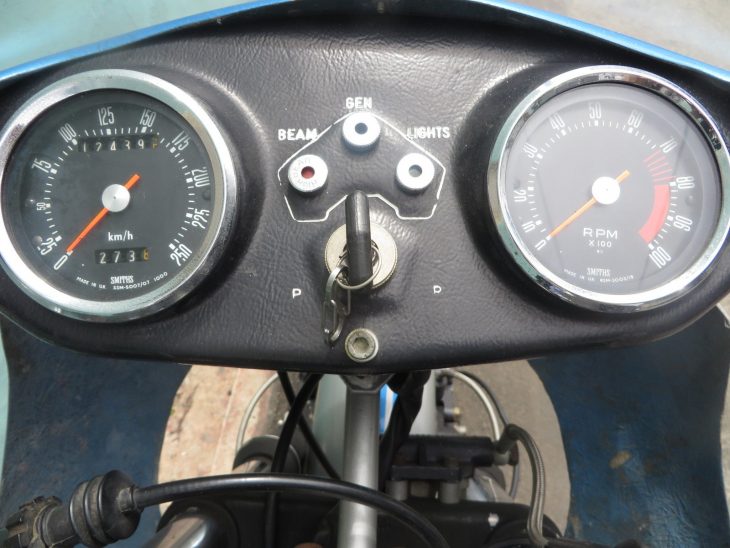 Now as for this specific example, here is a summary of what the seller has to say
#214 of 246 produced in 1974
Has only 12,000 kilometers/roughly 7,500 original miles in its 42 year lifespan.
Brembo disc brakes front and rear with all new brake pads, front forks were rebuilt and new seals added.
DMC electronic ignition installed as well as new voltage regulator.
It is a 42 year old survivor and it has some imperfections. At some point in the past Ethanol cause the gas tank to leak. It also caused a "bubble like" line at the base of the gas tank. It has since been treated by GTL of Los Angeles and DOES NOT LEAK anymore. The leaks caused paint to come off the swingarm, and some other areas of the frame.  There are also, "blemishes" on both side covers and gas tank.  
Also, the right underside of the muffler is scraped and the left has some light scratches.
So then, what's this first year bit of Italian goodness going to cost?  A quick search of Classic Sport Bikes for sale  shows 1970's 900SS going for around $32,000 USD a few years ago, but those weren't first year bikes.  Bonhams had a pristine 1974 750cc version that went for about $50,000 USD a few years ago as well but that was in better condition and wasn't a 900SS.   I am thinking  this one is going to attract attention from serious collections and wouldn't be at all surprised to see this one go for between $45,000-60,000 USD right from the listing.
One final note- there is no Buy-It-Now option on this one.  While patience is a virtue for collectors, given the rarity of this bike I think someone is going to make the owner an offer they can't refuse/the chances of this one being relisted are low.  To put in simply, if this one is on a list for your collection you might want to move quick.
-Marty/Dallaslavowner
Post Script:  Happy Canada Day and 4th of July ya'll!!!