Warning!
This post is in our archives. Links in this post have been updated to point to similar bikes available to bid on eBay.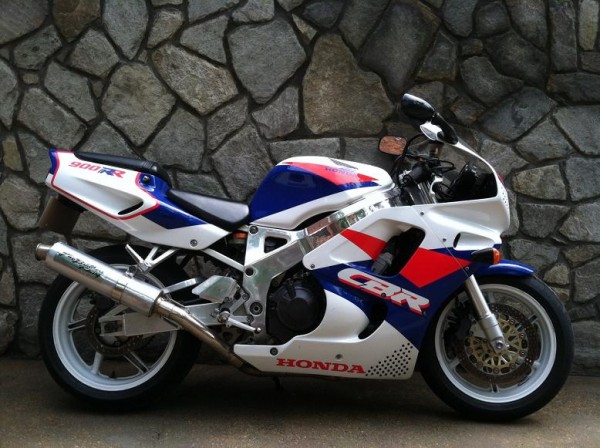 10.12.2012: The seller has alerted us that this bike is still available. Links updated and his email is: andrew@themfi.com
Our latest feature listing is another fine Honda CBR900RR. A first year, dual round light, red and blue on white. If you're still reading, you're one of us and know that these bikes are very special in the history of the modern sportbike. A bike that still provides an exhilarating ride, especially in these early iterations.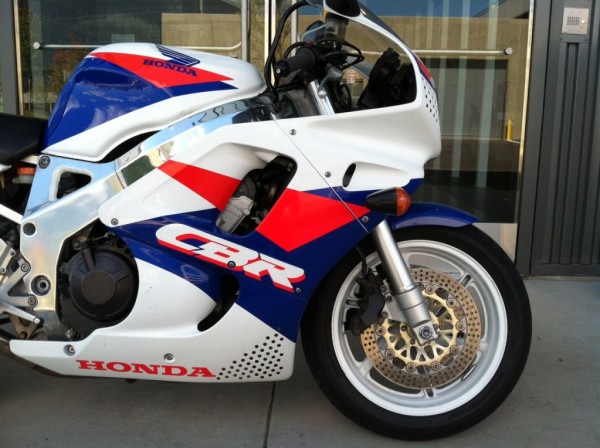 The seller is clearly an enthusiast as well and here is what he has to say about this bike:
I believe I am the third owner of this bike. Because of the minimal amount of rust and flaws, I believe its safe to say she's been garaged or stored indoors her whole life. A few beauty marks here and there, but overall she has aged very well for a 20yr old bike. Clean enough to store in my bedroom (and I do).

I wanted one of these so bad, and looked at several locally before deciding on this one. It had to be the 93′ and it had to be the White/Red/Blue. Eventually I found one and basically bought it sight unseen, drove for 16 hours overnight to get it and was back the next morning just in time for work.

Once or twice a month I keep it displayed outside my shop. Its amazing how much attention she gets. Of the 12 bikes I've owned, no other bike has received more attention than this one. One of our shop friends even gave me a set of track plastics he used when he raced CBR900RR's in CCS (included with the sale). (As much of a track junky as I am, I could never get myself to put my 900 on the track).

I currently work in sales in a motorcycle dealership based in Woodbridge, VA. The first thing I did after purchasing her was have my techs look it over, change what needed to be changed and have her prepped for the road. They installed some new sparkplugs, fluids, BT-016 Bridgestone tires, steering head bearings. The chain and sprockets were installed just before my purchase (stock gearing).

The bike came with aftermarket front turn signals. I had some stock turn signals left over from my RC51 and installed them. I haven't wired them in yet, but this can be done with a simple connector available at most motorcycle shops. At this point, the only thing this bike could really use are some new brake lines and front brake disks. There's a warp in one of the disks which causes a pulse under hard breaking.

The previous owners installed a full Two-Brother's racing exhaust and had a certified Honda shop redo the jetting. The bike fuels beautifully and accelerates smoothly. The previous owners also eliminated the rear fender and relocated the rear signals inside the fairing slots. (Although I prefer stock on stock, I do have to admit it looks really cool at night).

The biggest visual flaws include some minor scuffs, nicks, or hairline fractures in some of the fairings. The left engine casing has some marks from a tip over, along with the left mirror. All of these can't be seen unless you're looking for them.

I am in no hurry to sell and still ride the bike once or twice a month (weather permitting). I would consider a trade for another RC51 (a bike I wouldn't feel bad tracking).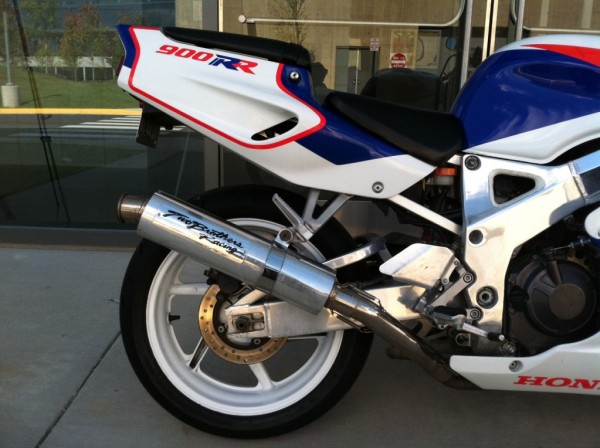 I think we can all appreciate how honest that description is and can understand what we can be expected upon delivery. Here is a video of the bike less than a month ago, two up no less, going through the paces on a nice road:
The seller is asking a mere $4500 for this mount. The mileage is reasonable at a tad over 20k, and even though there is some cracking at the mounting points for the fairings, and some additional wear items to take care of, this is an honest example. I'm quite tempted myself to snap this up but being that it's the missus' birthday weekend I'm trying to behave…
Contact the seller via his Washington DC Craigslist post.
dc