Warning!
This post is in our archives. Links in this post have been updated to point to similar bikes available to bid on eBay.

Here is a bike getting its very first post on RSBFS; the Suzuki RF900.  These bikes were only made for about 4 years and have kind of been forgotten about.  This appears to be a 1st generation RF900 with the highly desirable color matched frame.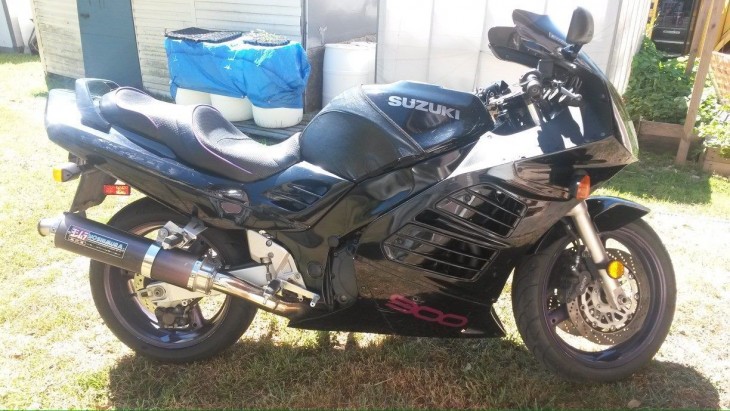 To be honest, I have been looking for a early Suzuki RF900 to post for quite a while but they don't seem to come up for sale that often.  Part of that is probably due to their not being hugely popular when they were available for sale.  Then again, it could also be that people are hanging onto the RF900 because they are actually really good bikes.  This one isn't perfect and has a few aftermarket pieces but looks to be in pretty good shape.
For anyone who doesn't know about the Suzuki RF series, back in 1994 the 900cc sportbike segment was pretty much created by the CBR900/Fireblade.  Kawasaki followed Honda with a laser focused performance-based bike, the ZX9 but Suzuki decided to go a different route by offering a 900cc bike that was a little more subdued, something similar to the Honda VFR 750/800.  Suzuki launched the RF900 in 1994 and like the VFR, the RF900 was more of a big sport standard, something that could be used as a daily rider and medium touring in comfort.
While the focus of the RF900 wasn't on hyper performance, it wasn't a slouch in the engine department by any means.  The RF900 engine was actually based on the GSXR-1100 bottom end – a 16-valve inline-four, four-stroke, water-cooled unit.  The RF900 had smaller carburetors and valves than the GSXR but the revised engine produced a smoother power delivery and a more usable engine.  Interestingly, even with the changes the RF900 still produced more power than a Honda Fireblade.
The big RF  was designed to be a bike that did everything well; it could go fast, stop quickly and do some medium-level touring.  The riding position was significantly more comfortable than the GSX-750/1100 series and while build quality wasn't as high as the VFR the big Suzuki was significantly cheaper, mostly due to its frame being steel instead of aluminum.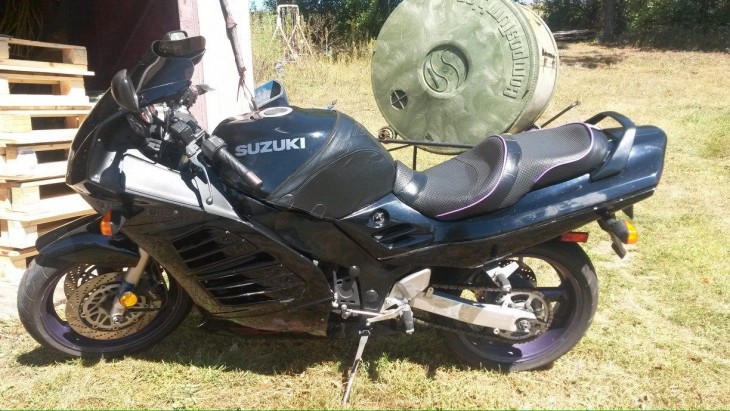 Reviews of the RF900 by actual owners were overwhelmingly positive but even to this day the RF900 still has one major issue;  looks.  The 1990's Testarossa-like louvers were either a love-it-or-hate-it affair for most riders.  The only other bikes I have seen with the same louvered look were some italian offerings such as the zane era laverda 750 (Note:  that may explain why I like these so much).
This particular RF900 has about 40,000 miles on it so its not been a garage queen.   The seller indicates some scratches and scuffs and a bit of an issue with 2nd gear but lots of recent maintenance, including the following:
front and rear tires (less than 300 miles on them)
battery
fuel pump
chain (still not broken in it will need re-adjusted the next 50 and 100 miles)
front and rear sprockets (replaced the same time the chain was replaced)
cdi box
brakes
spark plugs
upgraded seat and windscreen
aftermarket exhaust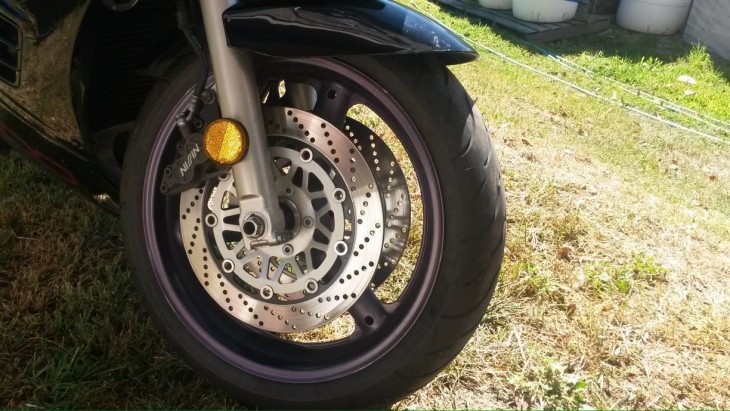 So whats our first RF900 on RSBFS worth?   Well the issue with 2nd gear mentioned previously would need to be resolved.  Also the bodywork appears to be sunfaded but bodywork seems to be readily available via ebay.  Given how infrequently the big RF seems to be offered for sale, the asking price of $2,500 USD seems reasonable.    I think these could become future classics due to their styling but it could also be enjoyed by someone who wants to have what is essentially a GSX-R powered touring machine.
-Marry/Dallaslavowner