Warning!
This post is in our archives. Links in this post have been updated to point to similar bikes available to bid on eBay.

For Sale: 1978 Kawasaki kz1000 Z1R-TC Turbo Charged Z1-R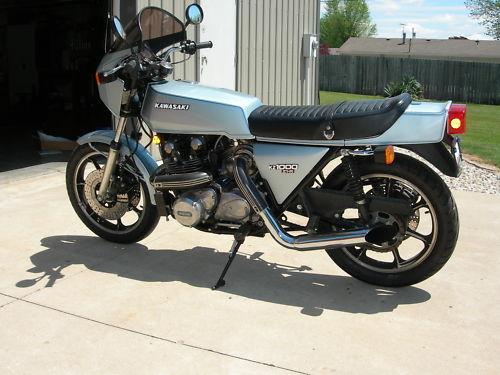 When it comes to "factory" Turbo bikes, the Kawasaki Z1R-TC was the bike that paved the way. Created through an arrangment between Kawasaki and Turbo Cycle Corporation (which was founded by ex-Kawasaki Marketing Director, Alan Masek), brand new Z1Rs were sent to TCC, who then modified them with a RayJay turbo and badging. These modified bikes were then sold through select Kawasaki dealers – without a warranty.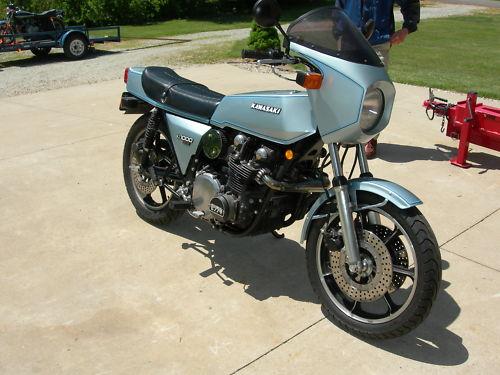 From the seller:
This listing is for Kawasaki's 1978 Turbo Charged Z1R: frame # KZT00D0076xx and engine # KZT00DE0076xx. This example is an unrestored, early release unit (1 of 250) with matching numbers and low miles. Upgrades and alterations include:

New Paint (2008)
Allen Head SS Fastener kit (2007)
Oil Return re-routed to Kick Start cover (from Oil Filler cap)
New Tires (2008)
New Sealed Battery (2008)
Welded Crank (2005)
High Capacity Oil Pan w/ Trap Door (2005 & 2007)
Backcut Transmission (2005)
Lock Up Clutch (2005)
New DOHC points cover in 2008 (Moriwaki cover was removed & unavailable)
1075 Turbo Piston kit (2005)
Dynatek Dana S ignition in 2008 (replaced original Martex system)
"TC" Side Cover emblems (2008)

The oil/ filter was changed and tank drained in the fall of 2008, and it has been in storage. The manual, supplement, black zip case, extra key and the other items pictured are included along with any pertinent documentation.
This particular bike is in great condition for such a rare model. The color is correct for a US bike, as is the year (they were only offered '78-'80, although rumor has it that the '79 bikes were simply repainted unsold units from '78). There were only approximately 500 units total of the Z1R-TC created, and even fewer in the stock Kawasaki color. Later models (and Canadian bikes) had the multi-stripe graphic as seen below.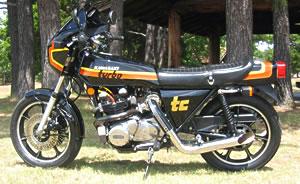 Bidding has been brisk on this example, with the current pricing in the $8k range and the reserve still in place. Look for this one to go up quite a bit more before it ends. Sure, parts may be a bit difficult to find (at least the non-Kawasaki gear), but by all standards this is one fast bike. Straight-line performance eclipsed that of most of the later factory Turbo bikes, with 1/4-mile times in the 10 second range.
This is a real piece of history that deserves a good home. For more info, to simply watch the auction, or to bid on the bike to make it your own, click the link to .
MI