Few things are as synonymous with the golden era of motorcycle racing as the now forbidden cigarette liveries.  This one has been painted up in the classic Lucky Strike scheme that will remind anybody of Kevin Schwantz and his 500cc GP World Championship in 1993.  Making over 70hp in it's de-restricted state and weighing under 300lbs, this is a serious machine that will leave bigger bikes behind in the twisties and around the track.  While it's not a bone stock museum piece, it does appear to be in great condition.  The paint looks flawless and the miles are reasonably low, showing just under 8,500.  This would make a fantastic addition to anybody's collection.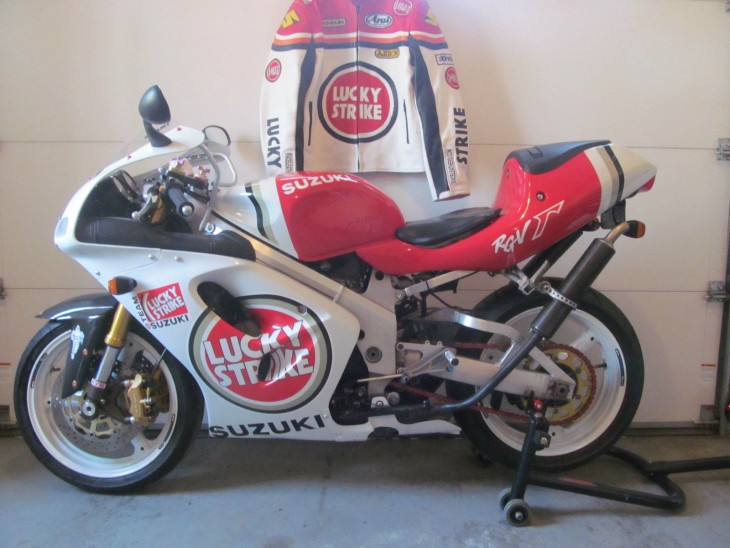 The seller has a great deal of information about the RGV's condition, modifications and extras that you can read about here: 1997 Suzuki RGV250 on eBay
These bikes are very rare and extremely collectable as they are the very last 2 stroke bikes produced by the 4 largest

Motorcycle manufactures. Their value has and will continue to increase as they were only produced for one year.

The condition of this fine 2 stroke GP race replica screamer is superior. It has been properly derestricted which has unleashed its full power..

Of the several RG500's RGV 250's I own / have owned over the years , this VJ 23 is the fastest , best handling 2 stroke I have ever ridden.

The absolute closet thing to a GP racer with some street manners ….
One of the things not mentioned is that the classic "banana swingarm" appears to come and go in the pictures, so that might be a question worth asking if you're a serious buyer.
EDIT:  It has been pointed out to me that the banana swingarm is only like that on one side… learn something every day from our readers!