Leave it to the Greeks to dream up a mythical half-man-half-horse that signifies chaos, power, lustfulness and general hooliganism as both an inspirational and cautionary metaphor. Strength and vigor are virtues, to be sure, but color outside the lines and the benevolent beasts turn into terrifying monsters. Leave it to the Italians to apply that metaphor to motorcycles.
Not only do Italians often refer to motorcyclists as centauro, beautifully capturing everything that we love and respect about the passion, but they built a bike to suit the myth.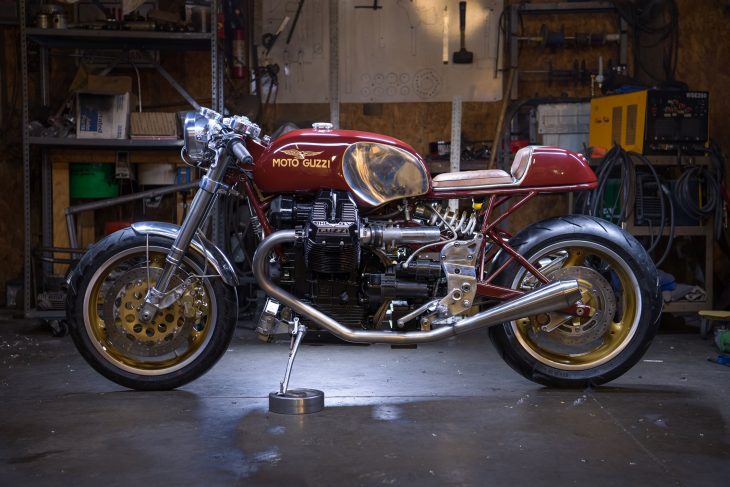 The Moto Guzzi Centauro is basically a finely-crafted, specced-up Italian VMax. There's a big vtwin mill, more power and torque than is reasonable, an upright riding position and Muscle Beach bodywork. There's also finely crafted suspension, state-of-the-art for the time fuel injection, and brakes like Myron's discus. Reviewers at the time weren't as kind as Guzzi had hoped, but nobody could deny the thing's presence.
Today's 1997 Moto Guzzi Centauro takes presence to another planet. The seller bought it with the idea of having master customizer Craig Rodsmith build something truly special around its rare-as-hen's-teeth overhead cam vtwin. The big mill is enough to stop traffic on its own, and the owner wanted something that would show off those trademark heads that hang out in the breeze.
We'll leave the rest of the description in his capable hands.
From the eBay listing:
I have a passion for motorcycles and I have been riding since 1976. I specially like the Moto Guzzi brand and over the past 30 years I have had the pleasure of owning many of the models such as the LeMans I, LeMans III, 1000S (big carb), T3 stock, T3 Café, Elodrado Police, Eldorado civilian, two Daytonas, and two Centrauros.

You can say that I know a "little" bit about these bikes!

I have NOT even ridden this bike 10mi since completion ~2+ years ago! ☹ It is in perfect shape and ready for a new owner. The bike really looks and sounds better than the photos.

This build is based on the very rare overhead cam (OHC) engine. This rare engine was offered for a few years on the Daytona and the Centauro ONLY! The cylinders/heads are giant and thus they make for an amazing look! 😊

This is not some hacked up motorcycle. The chassis is the stock Centauro chassis, with rear section modified for the seat. Complete body work built by master builder Craig Rodsmith, 100% painted, plated, polished, and assembled, and then final once over by Ducati Master Tech. and AMA racer.

Imagine removing 100lbs from the stock Centauro and then having a low restriction exhaust and intake. There is NOTHING like an OHC Guzzi! You can hear the intake and the exhaust… There is nothing like this bike! PERIOD. If you have never ridden a Guzzi then this is your chance!

STORY:

I love the OHC Guzzi engine and the Café style motorcycles. And so when I learned about Craig Rodsmith and his amazing talent, I was very much interested in seeing what he could do for me. We met, and we discussed the build and he shared with me his thoughts and we agreed.

Craig is a very well recognized master builder and has built numerous fully functional and museum grade motorcycles. If you are into café bikes, then I am sure that you have heard of him or seen his work. His work is amazing and specially since he does so much work in aluminum and his passion and expertise really shows in his work.

You can find examples of his work at the following places:

https://www.facebook.com/rodsmithcustoms/

https://www.instagram.com/craigrodsmith/?hl=en

https://www.facebook.com/rodsmithcustoms/

Starting Point on the Bike:

The starting point was my Maroon 1997 Moto Guzzi Centauro with ~7,000 miles. You can see the photo the day that the project started.

This bike was mint, always stored inside, never sat outside, very well maintained, and always ran like a dream.

So, my low mileage, mint and very well cared for 1997 Moto Guzzi Centauro was the starting point for Craig.

Craig's amazing work:

It is probably best to look at the photos, and I will list the long list of his amazing work. And I cannot even begin to list everything that he designed, engineered, and built on his build. – Almost all aluminum

From Front to Back!!!

Aluminum front fender

pinstriped center with "trick" mounting brackets to the lower fork.

Custom Aluminum headlamp housing with modern headlamp and lens

Tachometer integrated in the headlamp

Palo Alto speedometer reworked gage to work perfectly

Italian Clip-ons

Custom made aluminum fuel tank

Polished

Painted and Pinstriped – just gorgeous

Custom rear Sub-frame (steel)

attaches to the stock frame (backbone)

Custom Aluminum solo seat

Painted, Polished, and Pinstriped

Beautiful high-grade Brown leather diamond stitch work

Aluminum front fender

Designed to be removable for the more naked look

Custom stainless exhaust

You cannot see the welds

Cross-over under the bike

Custom velocity stack with screens

Sensor incorporated in the base.

Foot pegs and all controls ground smooth and polished

Battery tucked in under the transmission

Everything is polished

Custom paint and Pinstriping of the engine, body, frame, and wheels

Engine and Transmission:

100% Stock and unmodified.

Runs perfect!

All fins on engine and transmission are polished for that great look.

This is the OHC engine where as many of the Guzzis are OHV. This rare engine was only offered on the Daytona and the Centauro. The cylinders/heads are giant and thus they make for an amazing look! 😊

Electrical & Electronics:

In some custom bikes the harness gets all butchered up, but not on this bike.

Craig carefully saved the harness since all the sensors are used and the engine controller is stock.

The harness is very neatly folded back, and hidden, while the electronics are beautifully mounted on a tray under the seat.

Engine ECM is beautifully mounted under seat

The wiring for the turn signals is there and the turn signal switch is there if you choose to install some. (No turn signals on the bike)

All electronic and electrics is untouched

Other Mechanical work:

Upon the completion of the bike, I dropped off the motorcycle at Chicago Motoworks with Master Ducati Technician and AMA racer. He completely went through the bike again, dialed-in, and safety checked the entire motorcycle:

Re-torqued and double checked every fastener on the bike

Lubricated all bearing and reset everything

New fluids: engine/transmission/final drive/brake

New braided brake lines

Adjustable steering damper

New Tires, Brake pads, …

Etc.

Performance: Imagine removing 100lbs from the stock Centauro and then having a low restriction exhaust and intake. There is NOTHING like an OHC Guzzi! You can hear the intake and the exhaust… There is nothing like this bike! PERIOD.

FLAW: One flaw around the fuel fill some paint peeled off because I overfilled and did not wipe fast enough…my fault. If I get a chance, I will have a pinstripe master clean it up for $100.

Other Important stuff:

Clean and Clear title to this bike in my name (I am the owner!) – registered as 1997 Moto Guzzi Centauro

VIN intact and in place.
For $28,999, you can bring home the unique fruits of the owner and Craig's creativity and craftsmanship. Move quickly, this thing is destined for a perch worthy of Zeus.