Warning!
This post is in our archives. Links in this post have been updated to point to similar bikes available to bid on eBay.

Update 2.19.2016: The seller has decided not to sell at this time. Contact information removed. -dc
Today's Featured Listing is one of our fire-breathing favorites, the Suzuki RG500Γ "Gamma." The Gamma is a bike from another era, a period of wild experimentation we may never see again. Certainly we're seeing almost unimaginable leaps forward today in the field of motorcycle electronics and sure, we've seen a wave of V4 superbikes in recent years. But we've pretty much narrowed down our choices to what works at this point: narrow, torquey v-twins, powerful inline fours, soulful sporting triples, simple thumpers, and economical parallel-twins.
But in the 80s? The field was wide-open, with the stereotypically up-tight Japanese Big Four sending us some very weird powerplants, including the water-cooled, two-stroke square four that powered the Gamma. One of the most exciting bikes of the 80s, the RG500 made almost 100bhp at the crank and weighed in at under 400lbs dry. If you were raised on modern superbikes, that might not sound impressive.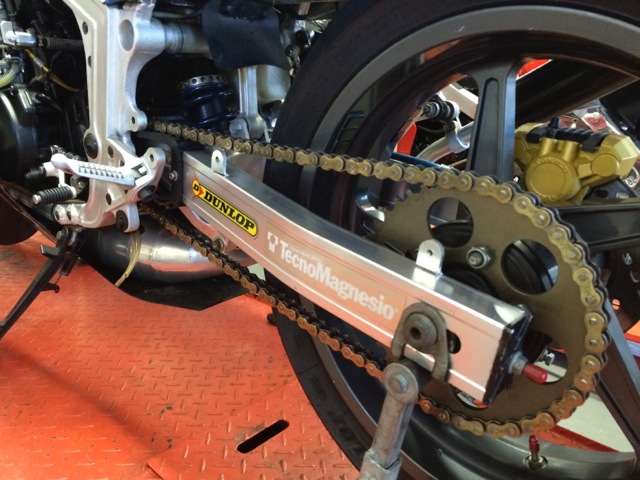 But the peak power figure is deceptive: two-strokes have a notoriously on/off power deliver only mildly mitigated by the bigger displacement and there were, of course, no rider aids other than the rider's reflexes. This was without a doubt an "experts-only" motorcycle when new.
So is this particular example a purist's delight?
From the seller: 1986 Suzuki RG500 Gamma for Sale
Jolly Moto pipes with carbon silencers ceramic coated.
Stock mirrors (like new) included.
Magnesium wheels with near new Q2 Dunlops.
Fresh Chain & sprockets.
Lots of Rick Lance stuff.
Breaks are near new freshly detailed.
Rick Lance clutch upgrade.
Fresh Penski  rear shock.
I have the chain guard.
NOS belly pan in the box included.
NOS foam instrument housing in the box included.
Lots of Gamma bits & pieces.
Front and rear stands.
Original tool kit.
Factory passenger seat.
Smoked high quality extra wind screen.
Everything I have Gamma related goes with the deal (service manual, parts book, etc. )
I ride this about 10 miles every Sunday and keep fresh fuel in it religiously.
Battery is at least 10 years old (I'm amazed it still works.)
If your really interested you can Face time me to look closely and listen to it run.  (For the serious bidders I welcome to ask questions and closely point out all the nitpicky imperfections.)
This bike is NOT restored or repainted and has your normal chips, scrapes and imperfections as a machine of this age (very, very sweet looking and running great)
Current CA registration in my name.

Well, with bikes like this, fans are often obsessive about period-correct details. But honestly, while the 1980s may have featured a number of fascinating engine configurations, the tacked-on safety equipment of dubious efficacy, bulky exhausts, and period tires are probably better left in the decade that spawned Men Without Hats. The bar-end mirrors seen here are clearly not stock, but they clean up the fairing and improve the bike's lines. Plus, you could always replace them with the included OEM items. The stickers on the belly-pan may not be to everyone's taste, but could easily be removed with a heat gun and some elbow grease or replaced with the included OEM bit and, while the seller says that the original paint isn't perfect, it looks to be very well cared-for from the pictures, in spite of some expected wear-and-tear.
They aren't mentioned in the description, but no one who plans to ride this bike hard are likely to argue with the new 17″ wheels those upgraded front brakes, as improved tires and stoppers are always welcome on a performance bike with such a wild-and-wooly reputation.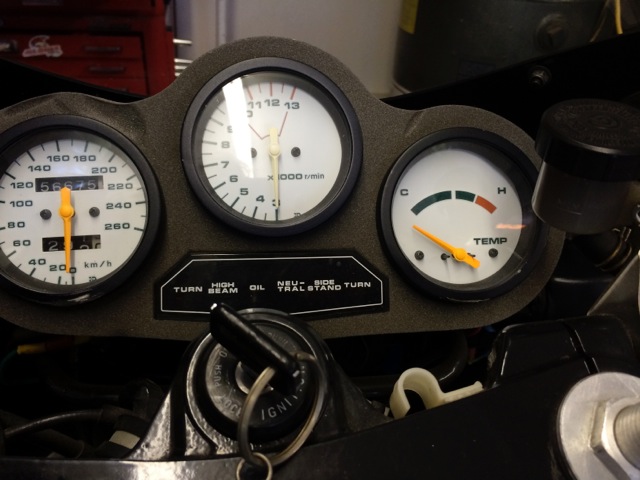 As you can see from the picture of the speedometer, this is not some low-mileage garage-queen. Collectors may scoff, but it's generally accepted that a high-mileage machine that's been well cared-for is preferable to a low-mileage bike that's been sitting, unless you're just going to display it. Considering the apparent condition and the tasteful, performance-oriented modifications, this could be a good choice for someone who's looking to ride and enjoy their little piece of two-stroke history.
-tad