May 2022 update: Seller Roscoe Holden informed us that while many helmets have been sold, there are still some classic, signed lids available. See below for more information. Thanks for continuing to support the site, Rosco!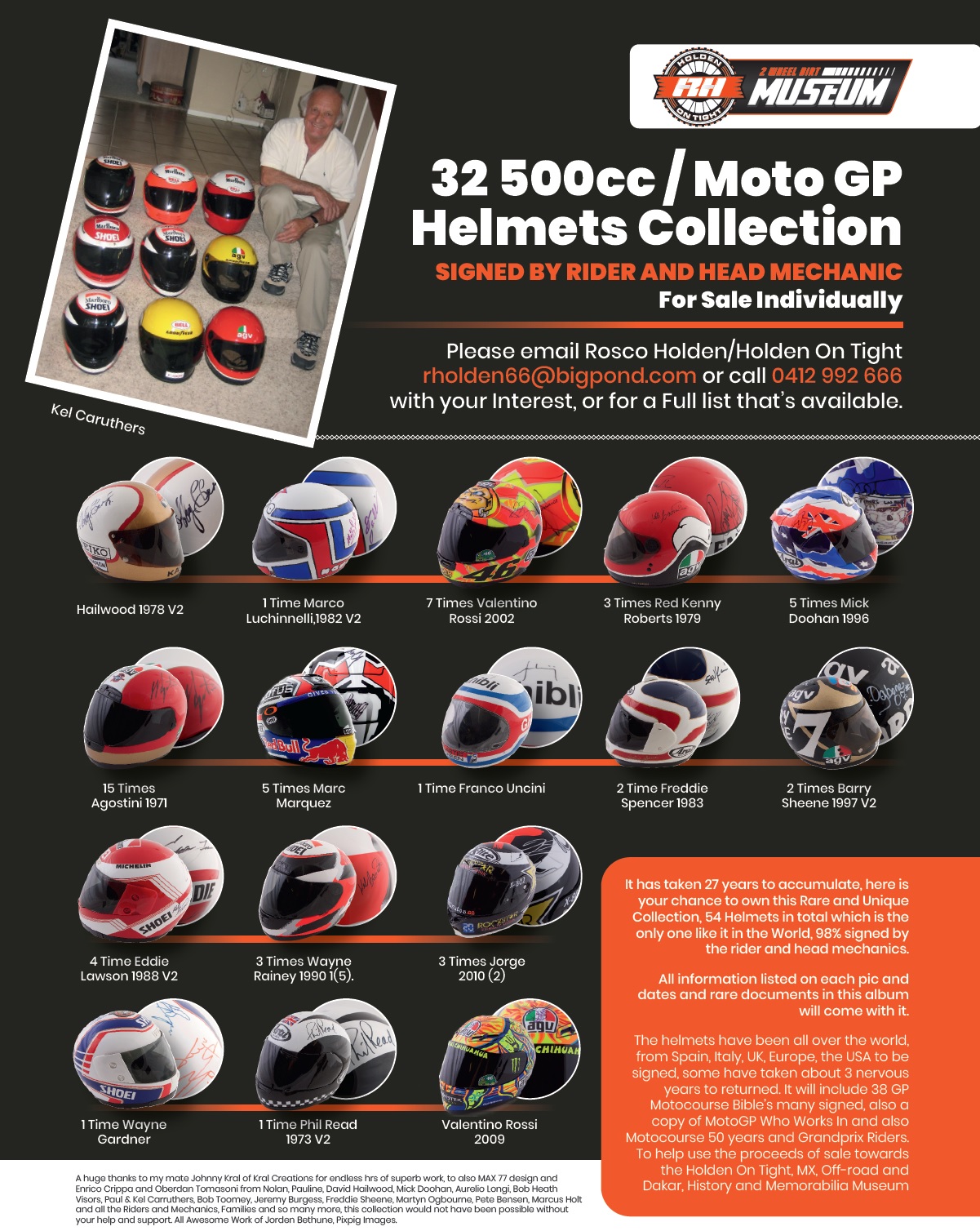 ---
So you've got yourself a man cave – or even a museum. Other than parking one or more bikes in there, what to do about decoration? This, my friends, is the ultimate answer. How about more than 30 authentic and replica race helmets and raced by some of the true greats in our sport? Wow! Did I mention that they are signed – some by the rider, and some by both the rider and crew chief or head mechanic? That's right – get your favorite riders' signatures on the best canvas available. This is an amazing collection that has taken years and years to accumulate, and is now available.
---
Valentino Rossi


---
This is a history of the dome protectors that runs across eras, seasons, sponsors and more. Here is a partial listing of the highlights (there are too many to show them all!):
Mike Hailwood (Ducati 1978)
Giacomo Agostini (MV Agusta 1971, 1972)
Phil Read (MV Agusta 1973, 1974)
Giacomo Agostini (Yamaha 1975)
Barry Sheene (Suzuki 1976, 1977)
Kenny Roberts (Yamaha 1979, 1980)
Marco Lucchinelli (Suzuki 1981)
Franco Uncini (Suzuki 1982)
Freddie Spencer (Honda 1983, 1985)
Eddie Lawson (Yamaha 1984, 1988, Honda 1989)
Wayne Gardner (Honda 1987)
Wayne Rainey (Honda 1990, 1992)
Mick Doohan (Honda 1996, 1997)
Kenny Roberts Jr. (Suzuki 2000)
Steve Martin (Foggy Petronas 2005)
Valentino Rossi (Honda 2002, Yamaha 2003, 2004, 2005, 2008, 2009)
Jorge Lorenzo (Yamaha 2012)
Marc Marquez (Honda 2013, 2014)
---
Wayne Rainey

---
Mick Doohan

---
Wayne Gardner

---
From the seller:
It has taken 27 years to accumulate, here is your chance to own this Rare and Unique Collection. The helmets have been all over the world, from Spain, Italy, UK, Europe, the USA to be signed, some have taken about 3 nervous years to returned.

Interested parties should contact Rosco Holden or +61 (0) 412 992 666
---
Kenny Roberts & Eddie Lawson – also signed by Kel Carruthers
Note: Kenny Roberts helmets have sold, Lawson still available!


---
Australian motorsports enthusiast Roscoe Holden knows a thing or two about collections. In fact, check out his Motocross, Enduro & Dakar Museum opening, as reported on by MCnews. The same drive and spirit spearheaded his decades-long signature helmet obsession. But after all this time, it's time for him to let it go. The memorabilia market is gaining momentum, and a collection such as this that tracks across some of the most iconic and memorable racers and time periods in recent history is rare, to say the least. This top collection from top riders, and would look great in an office, a home, a man cave, or museum. Check out all of the pictures, and contact Rosco to make a deal. This is about the coolest thing we've seen that doesn't have wheels! Good Luck, and G'day!
---
Marc Marquez

Jorge Lorenzo

MI