Update 3.6.2018: Sold for $6,450. Congratulations to buyer and seller! -dc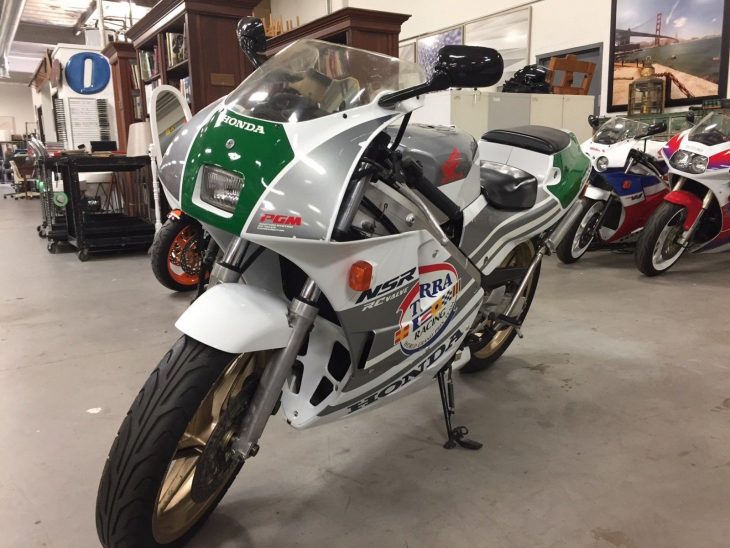 How's this for an accidental purchase? The seller of this 1989 Honda NSR250R-SP was on the prowl for an OW-01 or an RC30 (must be nice …) and ended up with this bike through an online shopping error. Not a bad haul, but also not what he was after. Compounding that, he wasn't able to contact the seller, and so he couldn't nail down the bike's history.
I'll leave the rest of his story to be told in his words, but all he knows about the bike is that it runs beautifully and will never see a California license plate. Buyers in other states might have some luck with the 11-digit VIN, but the Golden State is off the table.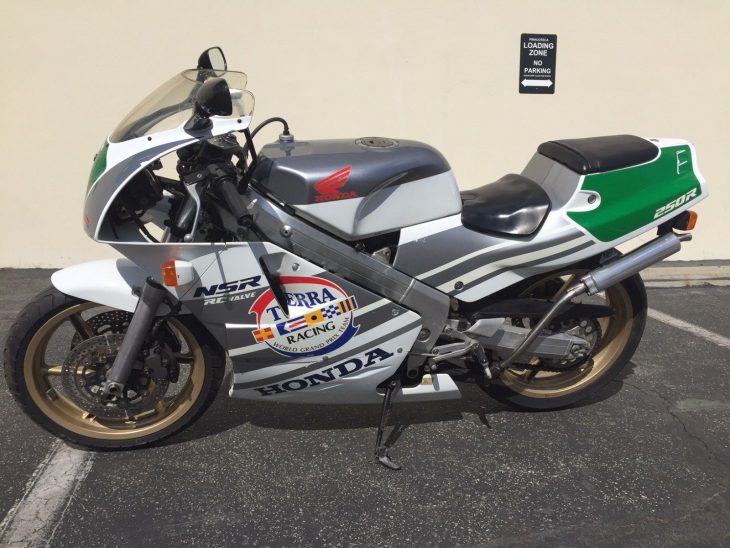 The bike needs a rearset, the turn signals don't work, the brakes need freshening and it could use some cosmetic fettling, but would otherwise make a great rider. Though California plates are off the table, it carries a clean Arizona title.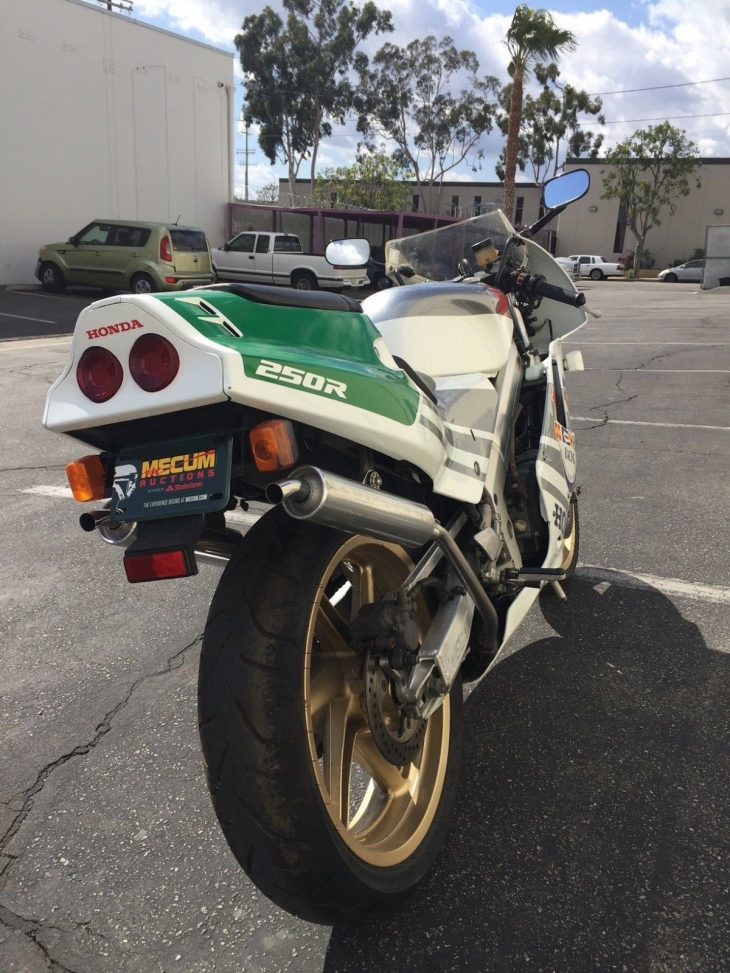 From the eBay listing:
This auction is for a 1989 Honda NSR250R-SP. I'm going to start off by being a 100% honest and throwing myself under the bus. I bought this bike completely by accident at the recent Mecum motorcycle auction in Vegas. I know..what a bonehead move but in my defense, I was there to buy two other bikes for my collection and that went great! However, I had to leave the auction Vegas Friday but there were still a couple of other bikes I was interested in over the weekend so I signed in for online bidding from home…getting ready for the usual suspects to pop up (an RC30, an OW and a certain Ducati) but somehow, I pushed the wrong damn button and bought this one…it was actually quite funny but WAY WAY too easy to buy things online so be warned!

Anyway, with the above said, I know next to nothing about this bike. The thing is..it's impossible to register 11 digit vin bikes in CA and 2 strokes…even that much worse so if you're in CA, don't even think about it, you will NEVER get this registered so unless you want it for the track or to restore and collect…move on.

The bad thing about Mecum, you have no chance to talk to the seller so I don't know a thing about the bike nor it's history. The only bikes I will ever consider at auction are ones I'm going to restore or have next to zero or super low miles so again, please don't ask me about maint history or…I'm sorry to say I have no clue!

I will say this though. I took it for a 20 minute ride today and it runs excellent! It's exceptionally quick, started on the very first kick and the motor seems exceptionally tight and healthy. I know that's vague but no leaks, the typical smoke at throttle, barely any smoke at idle and it's powerband feels exactly as it should…exceptionally strong even with my 200 lb's on her.

The negatives on the ride, signals don't appear to be working, headlight does though. The brakes are stiff but an easy sort as you know…likely just some fresh pads and a fluid flush / bleed…I can do this for you if you like, really not a problem. Positives….it ran amazing and the dry clutch felt perfect, grabbing just right and not dragging or any odd feel. Clutch sounded great too 🙂

Here's the only info that came with the bike. "Offered with AZ title, Factory HRC Dry Clutch, Fully Adjustable Front and Rear Suspension, MagTek Magnesium Rims and Factory Terra Racing Colors. That's it…that's all I know!

I'm very aware I'm going to lose my tail on this purchase but that's ok as it was my error and it was an expensive lesson. I have it for sale locally too so don't wait until the last minute or it may be gone.

As far as my check of the bike…Right rear set is cracked, looks like it happened when it fell over at some point as the right exhaust can has some gravel marks on it…doesn't appear to be from a lay down as there is no rash anywhere that I see but the rearset is cracked and that's supposed to happen as it's pot metal and better to break then hurt the frame. Steering stops look perfect, there's no excessive corrosion, fork tubes appear straight and no pitting or heavy oxidization. Tank looks fine and clean internally with no rust. Rims are in good shape with some small marks but nothing looks superficial and not structural although X raying Mag wheels is always a good idea if you're up to it. There are ZERO leaks and I mean none so that's great. Plugs look new but tires feel dry and could likely use a swap. Clip ons, triple, gauges, swingarm, subframe, etc all appear great with no damage or rash or tweaks. Bodywork is ok…looks nice from far and belly is in remarkably good shape as is nose and tail section but there are quite a few broken little fingers that hold the sides to the nose and some spider cracking around the main bolt stay on the left side panel. They are 100% fixable and since the paint is ok..it's more just some plastic welding and such as the paint and stickers would be fine if I were to keep it as a rider or track day bike.

I'd consider limiting my loses and restoring it but I already have 3 bikes in pieces that are a priority so this one has to go. You're more then welcome to come see it, ride it or…. It's a perfect bike for someone looking for a project bike as the "bones" look great…In fact, I'd say it's better then an NC35 that I'm restoring!

No additional parts, clean AZ title as I said and for the record, I paid $7000 plus buyers premium of $840 for her. Oh…and 85 doc fees, 385 shipping…. Is what it is…my loss is your gain!

PS. Actual speedo reads 21415 Kms which is 13,306 miles.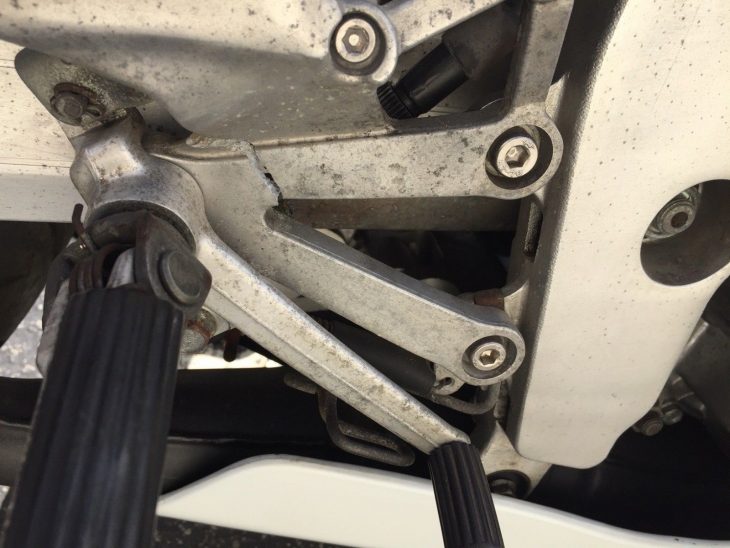 Though the seller is prepared to sacrifice his derriere to move the bike, it has seen plenty of active bidding thus far, and has several days left in the auction. Values of these things are near what he paid, so we wouldn't be surprised to see most of the coin recouped.