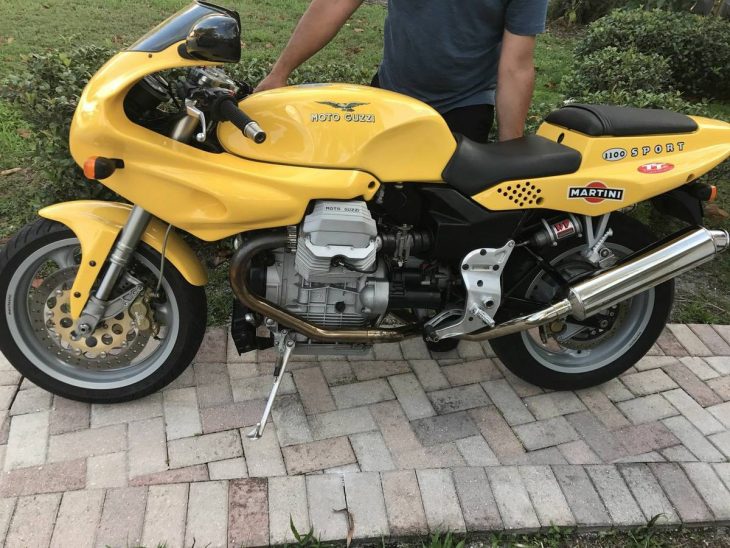 Not too many motorcycles look good in screaming yellow, but I think the Guzzi 1100 Sport is definitely one of them. A two-valve version of the exotic Daytona that was developed by Dr John Wittner from his successful Battle of the Twins racer, the 1100 Sport was a very unconventional motorcycle. By the 1990s, sportbike convention dictated liquid-cooling, four valves per cylinder, six-speed gearboxes, full fairings, and chain final drive. Of course the 1100 Sport had none of these. Would it beat a CBR or GSX-R of the period on a racetrack? Of course not. But the Guzzi has charisma in spades, plenty of torque to punch you out of corners, and it makes up in stability what it lacks in agility.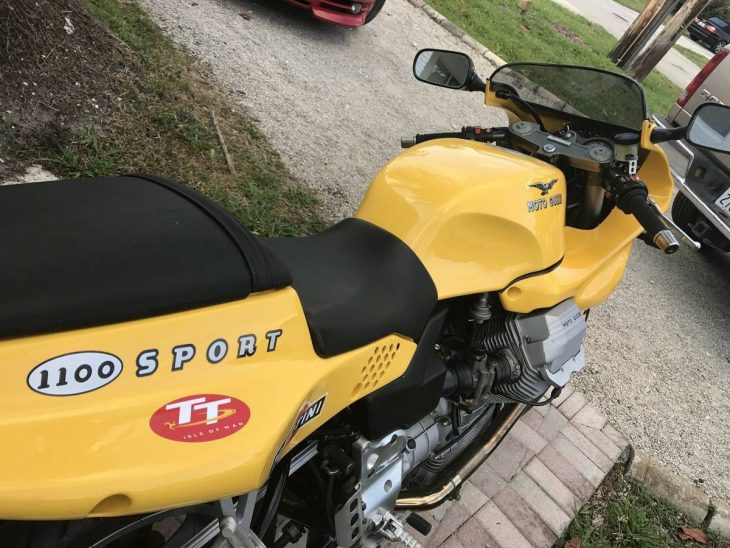 The half-faired styling means that hulking engine and gearbox are proudly on display, with the two-valve cylinder heads sticking out into the breeze by the rider's knees, here fed by fuel injection, which replaced the Dell'Orto carburetors in 1996. In spite of the relatively low-specification suggested by the air-cooling, pushrods, and two valves per cylinder, the 1064cc engine put out an honest 90hp and 70ft-lbs of torque, with 82 ponies present-and-accounted-for at the rear wheel.
It seems like an odd choice for a powerplant, but the bike's long history goes some way towards explaining it. Some of the Guzzi's "agricultural" reputation comes from that honking big v-twin that rocks the bike to one side when you rev it, due to the longitudinal crankshaft arrangement, and the clunky five-speed gearbox. But it probably doesn't help that the package is often associated with an Italian military tractor that dates back to the 1960s, although even the earliest Guzzi V7 motorcycles apparently shared no mechanical parts whatsoever with that odd machine. Those origins may sound like an unlikely foundation for a fast, agile motorcycle, but Guzzi's V7 Sport and Le Mans were considered very capable sportbikes at the time.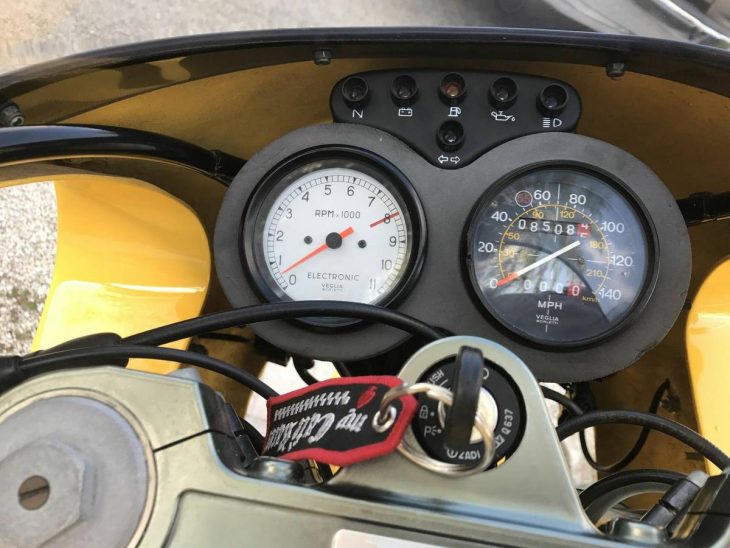 Unfortunately, by the time of the 1100 Sport, the big Guzzi was probably more GT than actual sportbike, but that's just fine, considering that the majority of riders never actually use their bikes on track. And even then, most do so only occasionally. For weekend riding, the triple Brembo brakes can pull you up short to avoid errant deer in the roadway, while quality suspension means stable handling, but passenger accommodations aren't great, as no grab-rail is fitted.  Reviews of the 1100 Sport were generally very positive when the bike was tested in isolation, although the aforementioned gearbox and the bike's 490lb dry weight did come in for some criticism.
Unfortunately, this Goose never really had a chance when compared directly to rivals: the 916 was obviously lighter, more agile, and faster, as well as being the sexiest bike of the era. And Japanese machines were more powerful, cheaper, and user-friendly. But that's hardly the point here, and Guzzis have long been bikes you buy because you like Guzzis, not because they are quantifiably "better" than any other bike. And if you are a Guzzi fan, this particular 1100 Sport is in impeccable condition!
From the Seller: 1997 Moto Guzzi 1100 Sport for Sale
For Sale: Rare and Low Mileage 1997 Moto Guzzi 1100 Sport in Excellent Condition. I am the 2nd owner and bike came from California. There were only 1,314 of these produced in 1997 and approximately 450 units in Yellow. It has always been stored inside and very well maintained. It also has been stored, when not ridden on a bike stand. All service recently completed including:

* All oil and filters
* Full Tune-up
* Valve adjustment
* New Tires
* New brake pads
* New Battery – Lithium

You will be hard pressed to find one this clean and with low mileage. Bike starts up easily and rides and drives very good. As you will see in the pictures the bike is extremely clean and comes with original manual, repair manual, original brochure, a couple of magazines from1997/1998 featuring this bike, original and spare keys.

Bike comes standard with Brembo Brakes, Marchesini Wheels and all of the expensive Italian upgrades. 
The seller is asking $9,500 for this low-mileage example. Just a few years ago, a decent 1100 Sport could be had for half that, but values have been steadily rising and it's hard to find one with anywhere near this mileage. With solid performance, good reliability, and easy maintenance, this Guzzi can tackle winding back roads, attracts tons of attention wherever you stop, can even do a bit of light sport-touring, and will generally put a big smile on your face. 1100 Sports are odd and quirky and ergonomically-challenged, yet owners often rack up big miles on them, owing to the platform's soundness and the engine's reliability. And clutch-replacements aside, basic maintenance is a snap: the unusual engine configuration may have some ergonomic drawbacks, but this may be the easiest bike you've ever adjusted the valves on, and pushrods mean no rubber cambelts to replace!
-tad