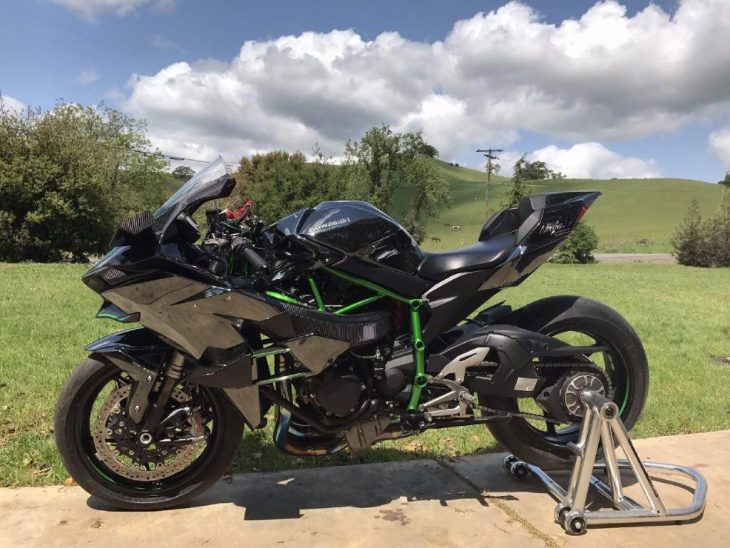 Sometimes, bikes are meant to be accessible, and offer real-world riding fun and performance. Sometimes, they're just meant to showcase potential, to flaunt a manufacturer's capability, to kick sand in the face of competitors. The H2 and H2R fall into this category. Does anyone actually need a nearly 300hp track-only motorcycle? Of course not. Reviews of the bike regularly use phrases like "mind-blowing" and "I needed to change my shorts." Sure, it's really too heavy for a track bike, doesn't fit into any race-legal category, makes too much power to be practical, and will probably cause nearby dB meters to melt but, as a statement of what's possible, you can't beat the Kawasaki H2R.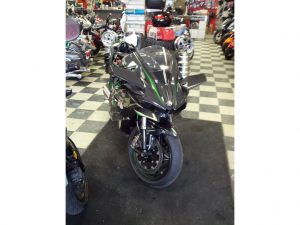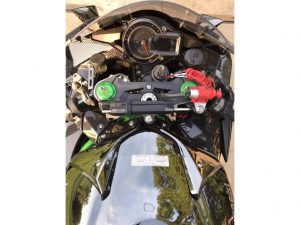 ---
Named after the fabled two-stroke triple of the 1970s, the new H2 is a much more well-rounded beast: it's got actual brakes and a frame that doesn't hinge in the middle, for example. It's heavy, at 475lbs full of fuel, but that just helps add a bit of stability to keep the supercharged engine's power from looping it over backward at every opportunity. That's certainly something it has in common with the old two-stroke: shocking performance. And striking looks: the older bike was fairly conventional-looking but came in some wild, 70s colors. The new machine is seriously evil-looking with a bright green trellis frame and mirrored bodywork that looks stunning in person.
To clarify, if you've seen one of these on the road, you were most likely looking at the road-legal H2 version of the bike. That makes do with around 200hp and comes with a headlight, taillight, and  rear-view mirrors. The H2R ditches all of the DOT-required frippery and replaces the mirrors with a set of evil, mantis-forelimb-looking winglets made of carbon-fiber that will set you back a cool $1,500 a piece if you tip the bike over… The slick-shod R also comes with 35psi of boost and somewhere near 300hp that's accompanied by an ear-splittingly loud exhaust. Seriously, you won't be able to ride this track-only bike at any race track that has a dB limit, and British journalists weren't even able to test the bike on their home turf because it is too loud for most tracks there.
So what is the H2R? It's an indulgent track day toy, a living room showpiece, a collectible motorcycle that's likely to appreciate in the future. Today's featured listing is several years old but is basically a brand new motorcycle, and comes with all the factory goodies.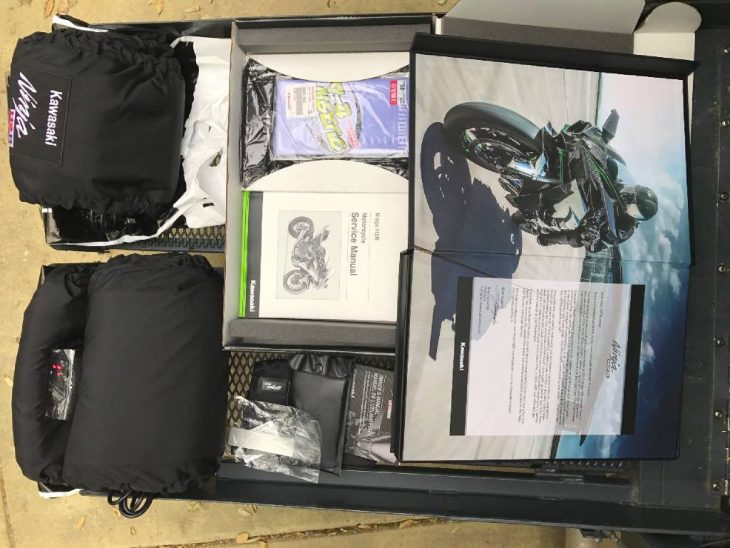 From the seller: 2015 Kawasaki Ninja H2R for Sale
H2R! Yes! For sale, real! You can buy it today! Not wait for 8 month from the factory just has 99 miles on it without any issues, the bike looks like brand new. (May ride it more until time of sale.) I can  modify this bike for street legal also, the headlight, mirrors, turn signals, number plate holder, tires, must change. I can do it for $1500 for you. But as I heard it is not able to register in CA still. Registration will be by you. I do just technical job. 

It comes with:
Great 400 page service manual, owner's manual 
OEM tools
Great NiNJA coffee table book (Value $800)
Front and rear OEM H2R Kawasaki Stands (value $1800)
Tire warmer (value $900)
The bike imported and ready to register in your name 
Can ship all over the world for just $3000 (include insurance) in 3-5 days.
As the custom Tax in importing countries may be high, we can make the bike as CKD (remove fairings, wheels, forks, tank and pack in as parts) for free!
H2R made just 20 in 2015 and 20 for 2016. no 2017 production anymore.  

you may find more pictures and movie in this link: https://www.cycletrader.com/listing/2015-Kawasaki-NINJA-H2R-121673996

The H2R sold for $53,000 when it was new. This one is basically new, with barely 100 miles on the odometer, and the seller is asking $49,000. For the second year, the frame was changed from the lurid, metallic green seen here to a silver to match the bodywork. It's classier and more subtle for sure, but I think that sort of misses the point. This bike exists to be outrageous, to shatter eardrums, to overwhelm, to offend. The "regular" H2 might have been at least on the same planet as more familiar machines, but the H2R is on another level altogether.
-tad