Update 04.14.2022: From the seller:
I have restored the ride height to OEM and the lowering links are included. I sold the Pirelli tires so they are not included. I am riding the bike and the current miles are 4500 and will be going up as the weather gets better. I've lowered my asking price to $11,000. Trades considered for a Nissan 350z, must be hardtop manual gearbox with under 100,000 miles. Thanks! Telephone (505) 463-6462 Email: wfo76@gmx.com
Update 10.4.2021: From the seller:
I have installed AF1 racing lowering links. These links have been track tested and are the only ones that have a certificate of compliance. They lower the rear 40mm, and I adjusted the front as well. I also got Michelin Road 5 tires with a lower profile. The tires are awesome and will last a couple of seasons unlike the Pirellis which are still included. Yes I know I am giving up precious contact patch but Aprilia's APRC system works well. I'm only 5′ 9″ and now I get both feet flat on the ground. Much better on a windy day waiting at a light. The side stand has been replaced with Soupy's adjustable aluminum stand. However I am riding the bike now and as the miles go up the price goes down. Offers, trades, cons considered.
Aprilia designed a V-4 liter bike for 2009, and has steadily updated and improved the model.  RSBFS reader Dave has also made many upgrades to his 2012 RSV4 Factory APRC, and kept miles low.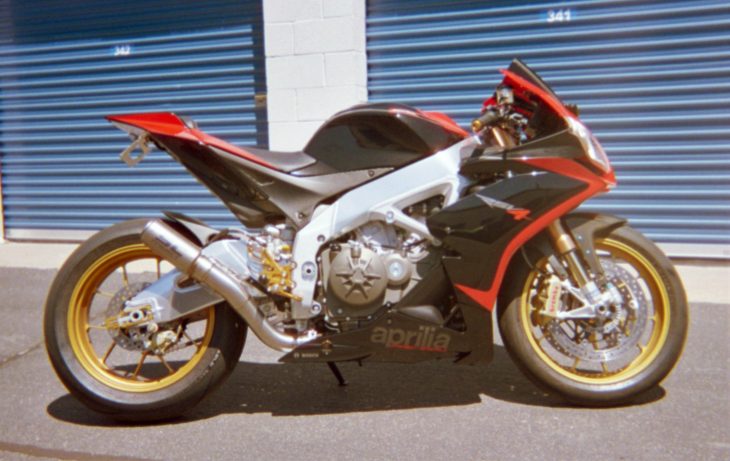 2012 Aprilia RSV4 Factory APRC for sale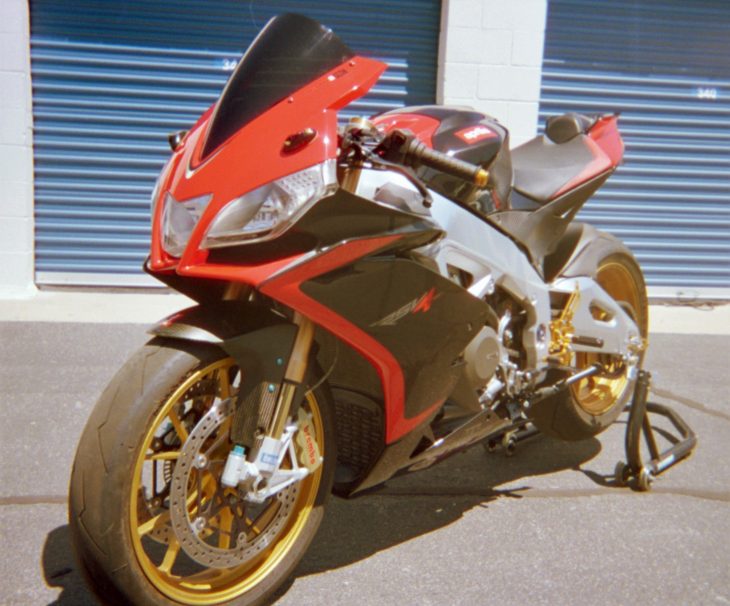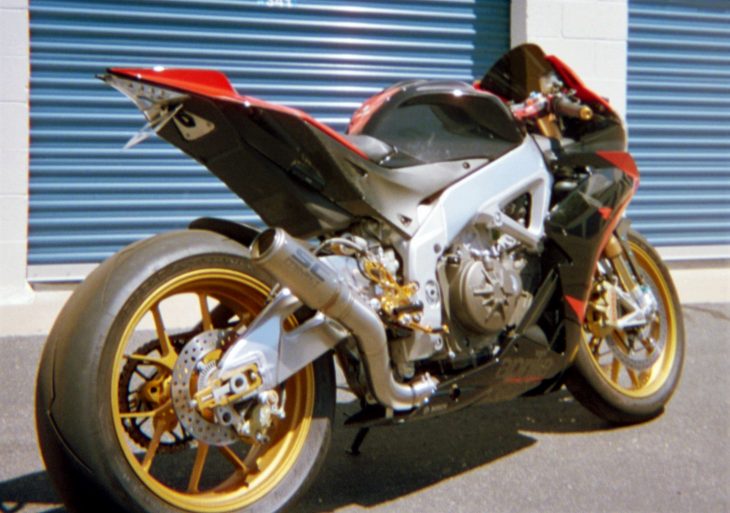 With R&D and racing departments sharing the workload, Aprilia created a thoroughly new machine, using a compact V-4, narrower than any in-line liter and the four intakes grouped in the 65-degree vee.  Thoroughly oversquare and using ride-by-wire engine management, 180 hp are claimed at 12,500 rpm.  The chassis is fabricated from aluminum stampings and castings, light and rigid with adjustable headstock and swing arm pivot.  Öhlins racing 43mm forks are up front, with their remote reservoir monoshock amidships, and adjustable steering damper up top.  Brembo supplied their monoblock calipers and 320mm rotors, matching the gold anodizing on the forged 17-inch rims.  As tantalizing as the specs are, Aprilia's Performance Ride Control ( APRC ) is the big story, with selectable control of traction, launch, quick-shift, and wheelies.  With mid-size car horsepower in a 435-lbs package, it improves performance and safety.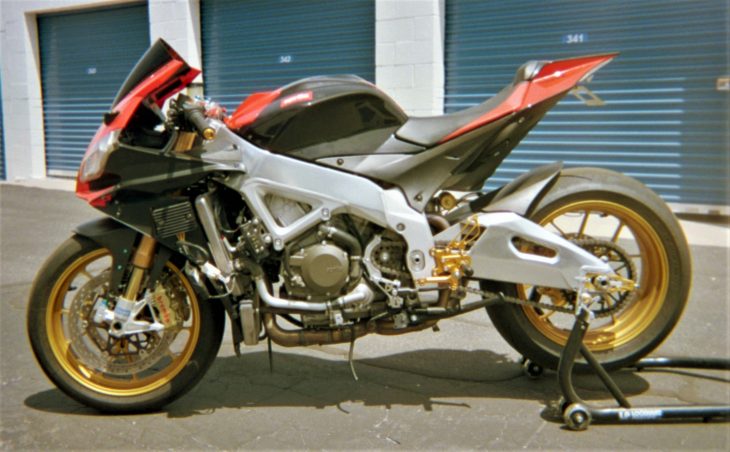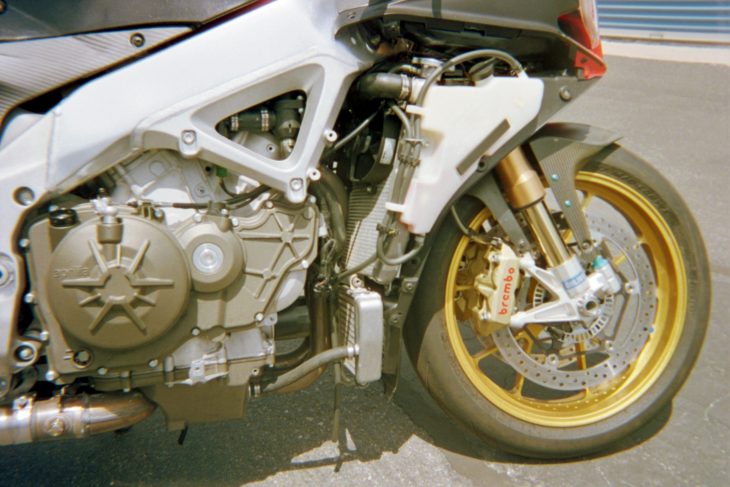 Dave is in high dry Albuquerque, and though he started with a superbike that won a lot of magazine shoot-outs, found a lot of nicer components to replace the factory controls, brakes, exhaust and more.  With just 3,700 miles only minor maintenance would be expected.  Dave's comments:
I am looking for someone who can appreciate my mods instead of blue book value and realize this is a pretty good deal. I enjoy building bikes as much as riding them. I am the second owner and the first was an old guy like me so no abuse. The bike has 3,700 original miles and a clean NM title. It has the race ECU. Bike is in Albuquerque and is worth the drive as this is the last year before all the ABS junk.

This bike is crying out for a gold chain but the OEM is in great shape with such low mileage.
The YZF-R125 mirrors offer a better view than any sport bike I've ever ridden. However they look like antennas! You can install the stock ones for a view of your chest even after you move your arm like you have to on most sport bikes.
Like new Pirelli Diablo Supercorsa tires not even scrubbed in yet.
The Brembo 19 RCS M/C and Ferodo XRAC pads will have you out braking Marc Marquez! Braided stainless lines are OEM on this bike. The Brembo folding levers have a great shape and don't feel like grabbing a knife edge like the Rizomas.
The race ECU is necessary with a cat delete and open exhaust. A Bazzaz tune would even make it better.
The Sato rearsets are top quality, offer great feedback and do not get slippery when wet.
Digital volt meter mounted on dash.

The following parts have zero miles and are from my build:

Dark windscreen is by Zero Gravity stock contour.
Brembo 19RCS master cylinder with folding lever, matching clutch lever also.
Rizoma M/C cap.
Ferodo XRAC front pads and sintered grip rear.
Beautiful Sato gold rearsets with black pegs and silver collars.
Light Tech gold chain adjusters and spools.
Sato Racing gold bar ends.
GiaMoto 12 point titanium engraved axle nuts.
CBE top triple clamp and sprocket cover.
Competition Werkes integrated clear lens tail light with stainless fender eliminator.
15/44 gearing.
Bike has red and black Rizoma gas cap, also stock cap included.
YZF-R125 carbon mirrors. Running light to turn signal conversion.
SC project CRT exhaust.
Sato racing rear master cylinder cap.
R&G exhaust hanger plates.
Battery Tender lithium battery.
Digital volt meter, putting out 14 volts at idle. Updated regulator/rectifier.
Extra 10 gauge wire from battery to start relay to cure hot start problem. (tip from the Aprilia forum)
Also included:

2 programmed keys and owner's manual.
Akrapovic carbon can and mid pipe if you care about your neighbors.
R&G hanger bracket included.
Dark double bubble windscreen by Puig their racing windscreen. Taller than stock.
OEM front master cylinder with Rizoma lever, matching clutch lever also.
Have stock mirrors but wires were cut.
Stock rearsets and Rizoma rearsets.
Red Rizoma oil cap.
Stock bar ends.
Tail Tidy and turn signals.
Stock gearing.
Stock air filter.
Mr. Jay Leno, have you got one of these in your garage? The titanium axle nuts are stunning and even engraved! If you don't want attention then purchase something else. The pics don't do it justice. Also never leave it out of sight and invest in a good alarm system. This bike is so beautiful I am confident the first person that sees it will buy it. Even people who aren't motorcyclists comment how pretty the bike is and the powerful exhaust note sounds more like an exotic sports car rather than a motorcycle. Please leave a message when you call and I will get back to you in a day or two. Repeat your number, state your time zone and the best time to call.

Dave's price is $11,000.  Telephone him at (505) 463-6462 Email: wfo76@gmx.com
The RSV4 put Aprilia into the thick of WSBK racing, with championships in 2010, '12 and '14.  The streetbike was expensive but very competitive with other European makers.  Value is built in with solid engineering and APRC features.  Dave's RSV4 has almost too much to list, and too few miles to call it used.
-donn