Update 12.11.21: SOLD in less than a day! Congratulations to buyer and seller!

If you have a bike for sale that would benefit from this kind of exposure, contact us for a Featured Listing. -dc
Though it can be considered a 10th generation FireBlade, the CBR1000RR is really it's own animal, a no compromises superbike.  RSBFS reader Rod has a pristine low mileage example with extensive upgrades and amazing cosmetics.

2009 Honda CBR1000RR Repsol – Priced to sell at $9,999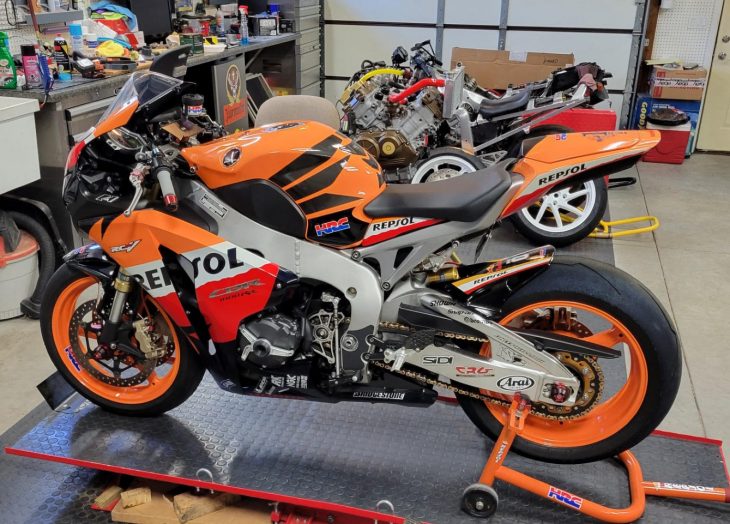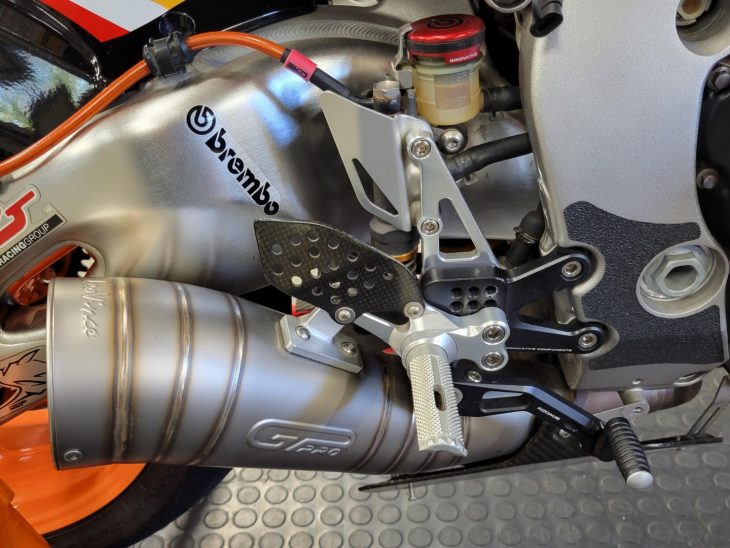 Honda had re-designed the 999cc engine for 2008, and continued with its 175 hp and 85 ft.-lbs. torque.  The titanium valves and forged pistons were shoe-horned into a more compact design, keep weight lower and more centralized.  Twin ram-air tubes make their way through the fine die cast chassis, whose segments are surprisingly thin but when heli-arced together make for a super rigid frame.  Keeping things from getting out of hand is a shared responsibility of the factory slipper clutch and electronic steering damper. ABS was an option in 2009 but not fitted to this example.  Weight saving measures included re-evaluating the brakes, wheels, and sidestand, and with a dry weight under 400 lbs, can only be considered a great success.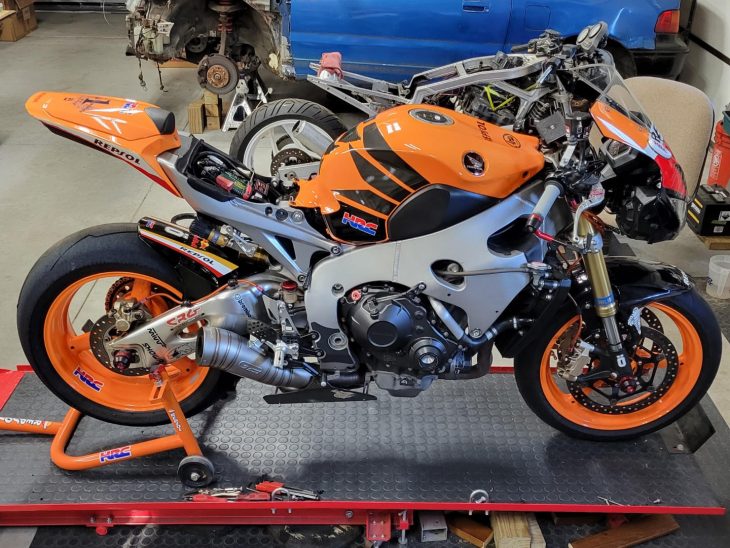 Here is Rod's walkaround video –
Rod is the original owner and took the long view with a full paint protection kit, keeping the smashing livery looking great through the Repsol's 2,899 miles.  He also went to town at the accessory counter, but we'll let him give you his comments and comprehensive list of mods:
Treat yourself to a Christmas gift to remember …

You'd be hard pressed to find a finer 2009 Repsol Fireblade short of the 0 mile example which recently sold for $15,622 on Iconic.

Arguably the best of the last of the "Pure" Superbikes before the advent of Electronic rider aids. This generation Fireblade won 3 consecutive Superbike Shootouts as well as 5 Consecutive Isle of Man TT's, proving this series to be one of the sharpest Blades ever.

Considering this 1 Owner, Low (2,899) mile 2009 Repsol Edition CBR1000RR shows in near Showroom condition PLUS over $6k in upgrades (with all OE parts retained), this could be the best "Black-Friday" deal of the season at $9,999

Woolich ECU Flash

Woolich Quickshifter

Woolich Data Log

Ohlins TTX GP Shock

Ohlins NIX30 Fork Cartridges

Leo Vince GP Pro Exhaust

RIZOMA Rear Sets

RIZOMA Case Savers

RIZOMA Bar Ends

RIZOMA Res Cover

RIZOMA Oil Cap

Yoshimura Stem Nut & Axle Sliders

CoreMoto Braided Lines

CRG Roll-a-Click folding levers

Convertibars adjustable Clip-ons

Supersprox/EK GP520 Chain & Sprocket conversion

Custom Cell mount

Pingle mirror Block Offs

Extensive 3M Paint Protection Film

HRC E-Seat

HRC Tank Bag

HRC Lycra Repsol Cover

Pirelli SuperCorsa SP-V3's

EBC GPFAX Pads

I've previously sold two other bikes from my ToyZ Story collection here on RSBFS, and this 3rd offering may be the charm!
Rod is firm at $9,999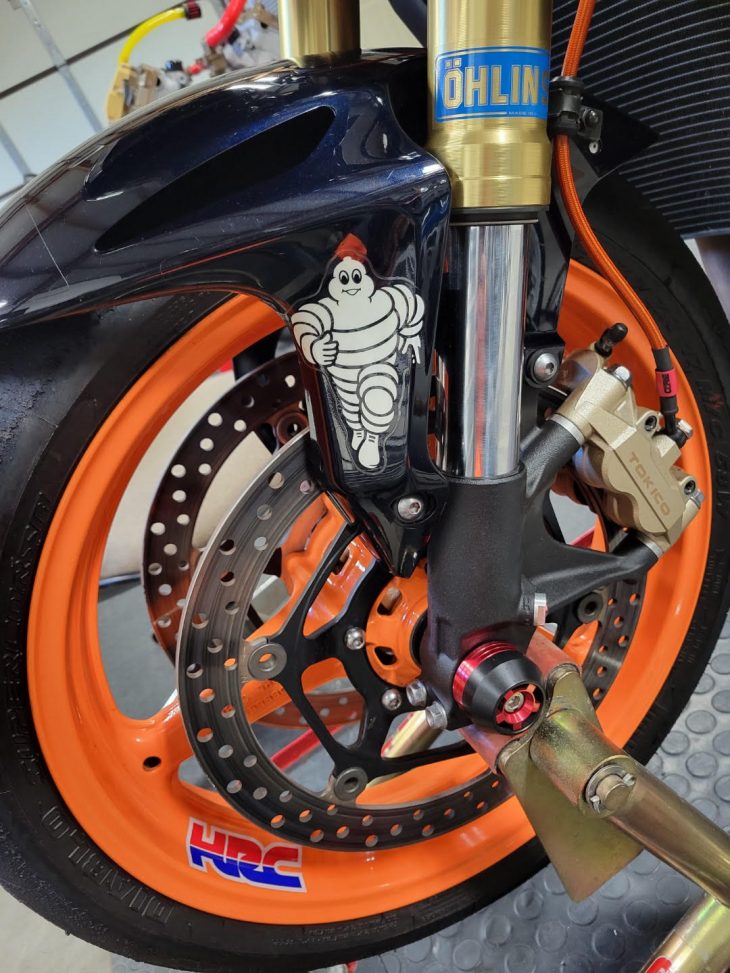 Team Repsol certainly rates every commemorative, only occasionally out of the championship running and often fielding a three rider team.  And kudos to Rod, presenting his CBR undressed and even down to the internal fuel tank.  Last chance to put some miles on this Fireblade, in a few years it will be too nice and too classic to do much but return to stock and put on display.  Since Rod has the original parts, the new owner will have all the options.
-donn