Update 11.28.2021: David has just relisted three bikes from his collection: Ducati Elite 200, Ducati PS1000LE, and a Ducati S4RS Tricolore! Interested parties can contact David as follows: edinger.david@icloud.com) +1-317-908-2573. Thank you again for supporting the site! -dc
Ducati took a step away from the "Swiss Army knife" of motorcycles when they put the liter-sized desmoquattro in a Monster frame, but they generated a lot of excitement in the showroom and on the road.  The 2008 eyeball magnet shoehorned the 998cc testastretta engine into ( well, under ) the classic gold trellis frame.  David's limited TriColore edition has lots of carbon, both factory and upgrades, and premium Öhlins suspension.
2008 Ducati Monster S4RS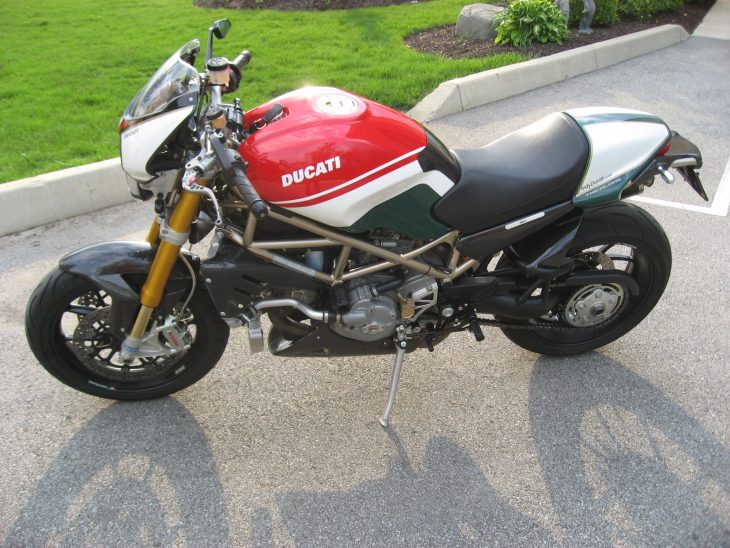 At 130 hp, power from the 999-spec narrowhead engine is about all that can be used without more recent electronic aids.  Headers and plumbing that would be under a superbike fairing are smoothly integrated into the engine scoop and aftermarket radiator shroud.  The beautifully crafted single-sided swingarm could have been glorified rather "disappeared" in black, but it shows off the wide rear wheel from the right.  The one-piece tapered handlebar is all business, though some might have preferred the clip-ons used on earlier models.  Dry weight is under 400 lbs, superbike cooling woes are largely gone with the full fairing, and the bikini windscreen reviewed as much more effective than appeared possible.
RSBFS reader and collector David chose this Monster for his usual rider, and accessorized carefully.  The carbon engine scoop and Termingnoni mufflers are most evident, with the carbon tank guard and radiator shroud doing their part to hide hoses and scratches.  Almost disappearing are the Rizoma mirrors and revised signals and levers.  As tricky as it is to keep Monsters looking sharp, David has kept up with it, and he asks $9,500 for his example.  Here are his notes:
This is a two owner bike and is loaded with aftermarket accessories including, dark windscreen,
carbon fiber engine covers, carbon fiber belly pan, adjustable levers, carbon fibers radiator
shrouds, Carbon fiber front fender and rear hugger, open clutch cover, rear sets and
aftermarket blinkers front and rear.  This bike is #284 of 400.  I bought the bike from the original owner in 2009 and it was my favorite bike for 10 years and the Tricolore livery and limited number of bikes made for one year only makes this bike a collectable bike. It had plenty of good rubber left on it with Dunlop's front and rear.  I have every receipt for the last 10 years and it has only been serviced by authorized Ducati dealership.  The bike has 15,298 miles and I am asking $10,500.

The liquid-cooled, 4-valve per cylinder, 998 Testastretta L-Twin engine features a 100mm bore
and short stroke of 63.5mm to limit average piston speed and allow increased rpm.  The result is
a staggering 130+hp and 76.6 lb-ft of brute torque.

Testastretta technology allows a reduced angle between the intake and exhaust valves resulting
in a clean, compact combustion chamber that is highly efficient.  The optimized combustion
environment and linear flame front inside the specially designed heads, combined with cutting-
edge electronic engine control technology, guarantees precise and optimal combustion
throughout the rev range.

The chassis components are unparalleled.  Fully adjustable Ohlins suspension front and rear
complemented by super lightweight Y-shaped 5-spoke wheels ensure outstanding handling,
while 320mm Brembo twin discs on the front have radial-mounted calipers with four pistons
and four pads per caliper to provide incredible race-worthy stopping power.
Beside the TriColore being a single year model, it was also the last S4 variant, with air cooled engines taking up the slack until the 1198-powered Monster 1200 was introduced in 2014.  The TriColore colors wouldn't be seen on a Monster until the 2018 25th Anniversary edition.  The power to sensibility ratio is off the usual charts, but speaks to a skilled, adult rider.  Please contact David by email edinger.david@icloud.com.