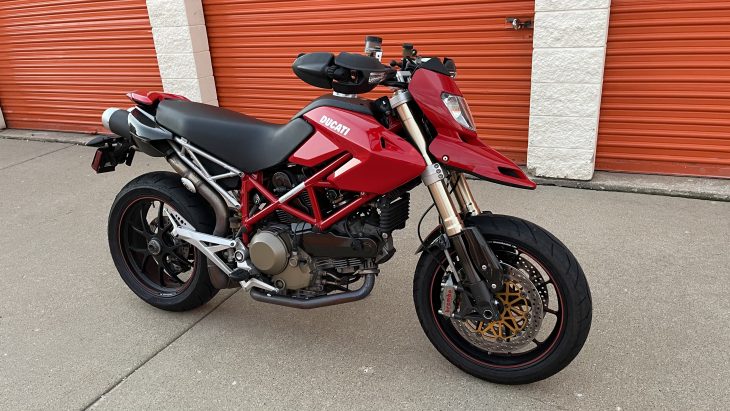 Feature Listing – 2008 Ducati Hypermotard 1100s
Our featured listing today comes from a part of the sportbike niche that has been largely overlooked but is responsible for some of the highest smiles/gallon metrics out there. The supermotard category was pioneered by KTM way back in the early 2000s. First with the release of the bug-like KTM 640 and then with the more relevant KTM 950 Supermoto. Unlike supermotos, supermotards are for the well-heeled, sophisticated hooligan whose main focus isn't Instagram wheelies. They have street powertrains and suspension so they are little more versatile than their dirtbike-derived sumo counterparts. Up until the Hypermotard's debut at EICMA in 2005, the world was happy they got a oversized motor in a supermoto-esque chassis by way of the KTM 950. When there's no competition, it's hard to realize how good or bad what you have is. When the 1100 debuted, people realized what they could have and boy did they let Ducati know. This bike wasn't even planned for production when it was first shown to the public but it earned a spot on the production line purely from the initial market response. Journalists and customers were drooling for the release and the competition got a nice wake up call but are still asleep to this day.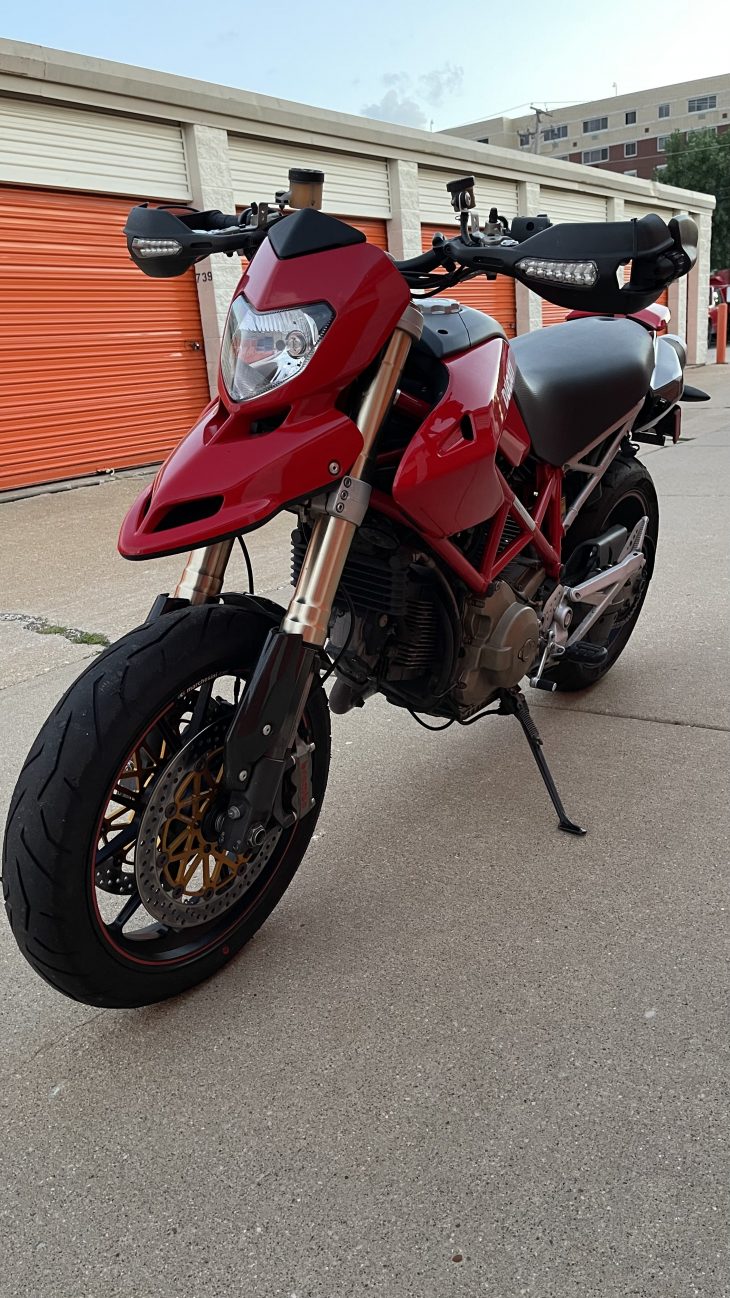 While the idea for a Ducati supermotard was likely inspired by the KTM 950 SM, there are a few key differences to note that make the Duc a much more sophisticated ride. The Duc has much more of a street oriented setup. It's not sitting on soft, long stroke suspension and it doesn't have a dirt seat or footpegs. It started as a Multistrada and was stripped of every part that doesn't further enable high lean angles and wheelies. The Bologna nerds were able come in ~21 lbs under the unchallenged KTM 950 as well. In order to give the rider proper authority in the unlikely event they wanted to engage in hooligan activities, Ducati straightened up the riding position, narrowed the seat, and added wider handlebars. You don't even have to be moving on this bike to know you can wring it's neck…if that's something you're into. One thing that's overlooked with these flickable and powerful bikes is that they truly make regular, around town riding so much more engaging. You can brake aggressively, move around on the seat, and throw it into corners all while being near the speed limit. The sensation of speed is not one dimensional and the Hypermotard allows you to feel it in more than one way. In a canyon setting, the versatility of the bike caters to all thrill-seeking riding styles. You can trailbrake hard, step out the rear, lift up the front, carry lots of corner speed, use aggressive steering inputs and the Hypermotard will never be out of it's element.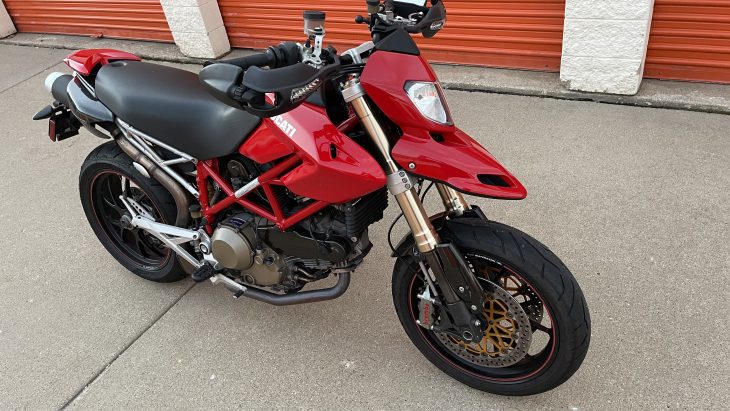 Our example today is Ducati's upscale Hypermotard. The "S" version came with forged Marchesini wheels that dropped 5 pounds of unsprung weight, fully adjustable Marzocchi front forks, and a remote-adjustable Ohlins rear shock. Furthermore, you get Brembo Monoblocs which bite down on upgraded 320mm Brembo rotors. In short, it's fair to think of the "S" version as the track edition. Duc has addressed all the weak points here that typically bubble up to the surface when you start to hustle a bike.
The most important part about hustling any bike is the motor and that's one of this bike's main strengths. The air-cooled twin found in the Monster and Multistrada of the period puts out 95hp and 76lb of torque. Usually, that type of big low-end torque is found on Bimmers or KTMs but rarely in a performance motard chassis.
From the seller:
Extremely Fun Bike to Ride, Very Fast, Very Raw, For Real Riders, No ABS , No Traction Control, Endless Torque !!!
All Stock except for the front Brakes
Oversized Front Brake Rotors BREMBO 320 mm
New Brake Pads Front and Back
New Tires + New Battery
Service all up to date, nothing wrong with the bike, had my fun with it now moving on to a more 2up friendly bike for longer rides.

Price: $8,000
Contact: carlobatt85@gmail.com or cell: 773-747-2326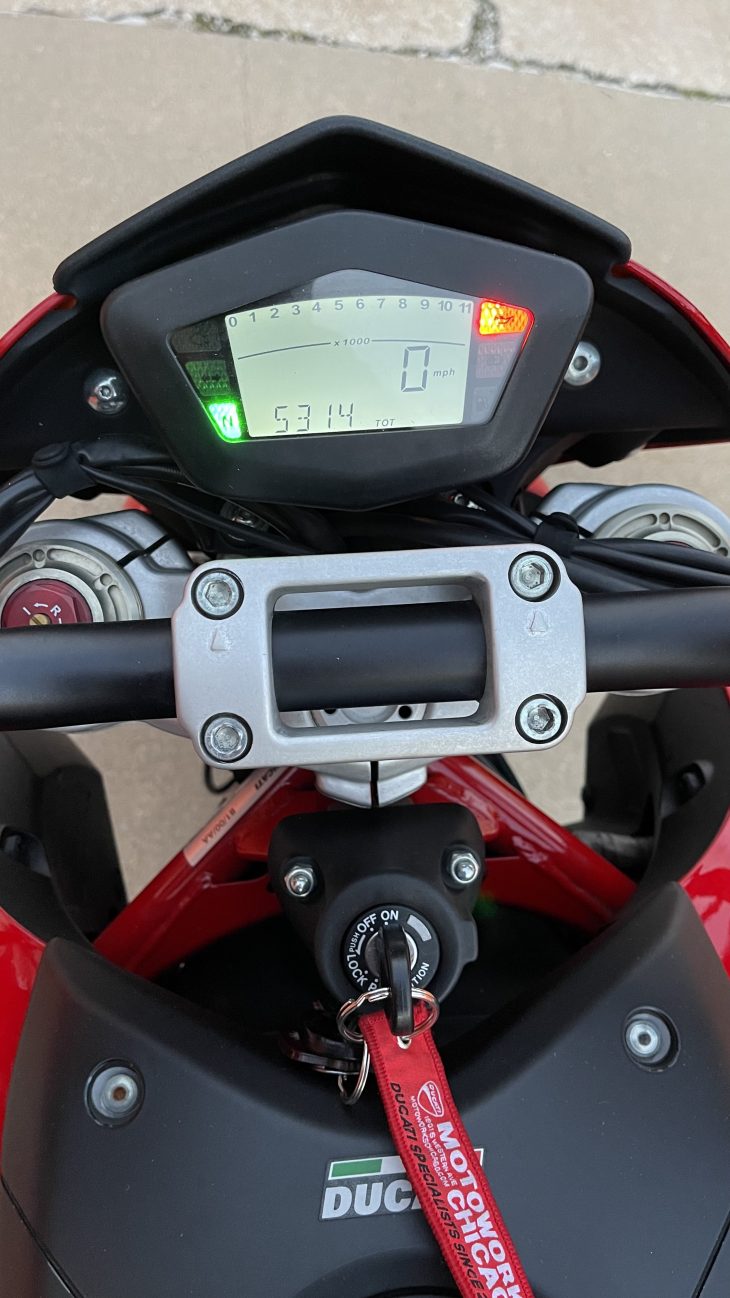 As manufacturers have started to require you to submit a service ticket to IT just to change a bike's settings, enthusiasts grew up in the analog eras have started long for that simple hooligan formula.  The current Hypermotard is the closest you can get to this today but it has all sorts of electronic aids and a price tag to match. Our featured listing takes a few steps back and is a true, barebones performance machine. The gauges show you the two most important things and don't obscure your field of vision allowing you to simply focus on the inputs for what's ahead.
As far as appreciating classics and long-term performance, it's tough to say what will happen here. We're still relatively early in the value curve. The market has been surprised more than a few times on which way the wind will blow but there is definitely something to be said about the simplicity and versatile riding experience the Hypermotard brings to the table. Having the performance bits of the "S" model won't hurt either. Our seller is looking for $8,000 on this low-mile example. The bike needs nothing and the service is all up to date. Reach out to our seller at carlobatt85@gmail.com or cell: 773-747-2326 with any questions! Check out the startup video below:
Thanks for reading!
-Norm