Warning!
This post is in our archives. Links in this post have been updated to point to similar bikes available to bid on eBay.

Update 2.24.2021: It has come to our attention that the images from this archived Featured Listing may be being utilized with scam listing circulating on CycleTrader. Thanks for the heads up from Mike. -dc

Update 7.26.2019: This bike has SOLD! Congratulations to buyer and seller! -dc
After the flak generated by the controversial 999, the Sport Classic line was a definite win for motorcycle designer Pierre Terblanche, and the bikes effectively combined modern technology with vintage design cues. But although the performance wasn't up to the standards set by the very best sportbikes of the period, the Sport Classics weren't aimed at that market. First and foremost, they were meant to look good. And the Paul Smart 1000LE, as seen in today's Featured Listing, definitely did that, with a blue-green frame and silver bodywork to evoke Ducati's first v-twin racebikes, one of which won Imola in 1972 with the eponymous Paul Smart at the controls.
But although the Paul Smart looks like it'd be best for posing, it's almost as if Ducati couldn't help themselves, and this stylish machine has the handling goods to run with the best. Pricey Öhlins bits adorn both ends, and the traditional trellis frame is wrapped around their proven two-valve, air-cooled Desmo twin, here with two plugs per cylinder in their "Dual Spark" configuration, since apparently Alfa Romeo already trademarked "Twin Spark…" Twin plug heads are especially useful for a v-twin like this, since the two plugs allow more even combustion across the surface of the large pistons.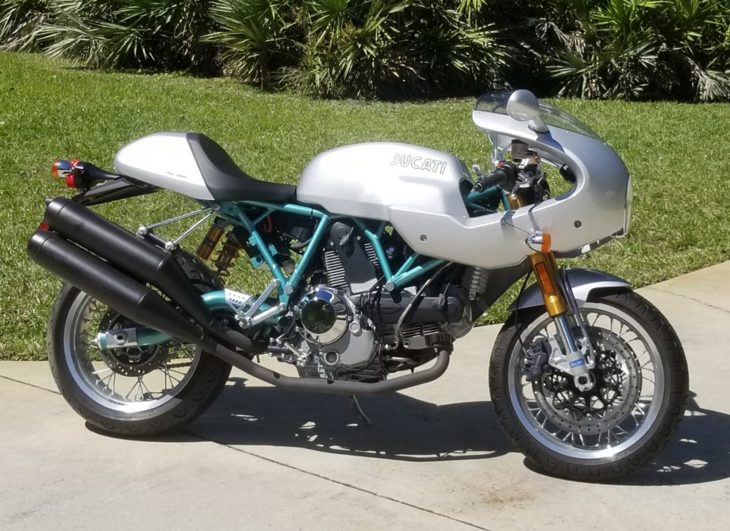 The quoted output is underwhelming on paper, but the flexible, torque-rich powerband is the perfect choice for a road bike. And keep in mind, the 92hp may have been modest, even by the long, long ago standards of 2006, but the bike is a development of the classic, race-bred Pantah engine that predated the four-valve Desmoquattro. It's fun, tunable, and surprisingly reliable when properly cared for. Modest power aside, there were some other concessions to style: the spoked wheels aren't as light as cast or forged items would be, even though they look plenty evocative, and the Phantom tires were designed specifically by Pirelli to complete the classic look with that very vintage tread design. They're supposedly reasonably competent tires, but you can find stickier rubber for much cheaper.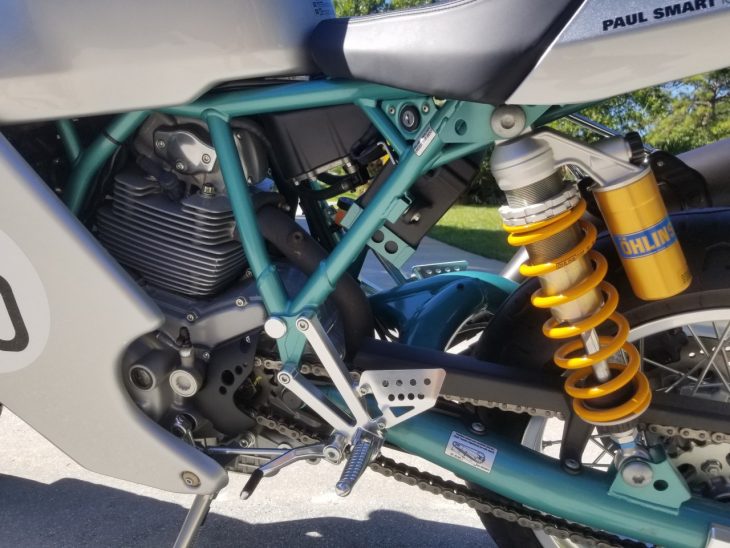 Of course, the owner of this Featured Listing isn't worried about tire choice. Or oil or gas. Or even registration. This immaculate machine has turned only three miles since new, making it a time-capsule example of a modern classic Ducati, like an insect perfectly preserved in amber.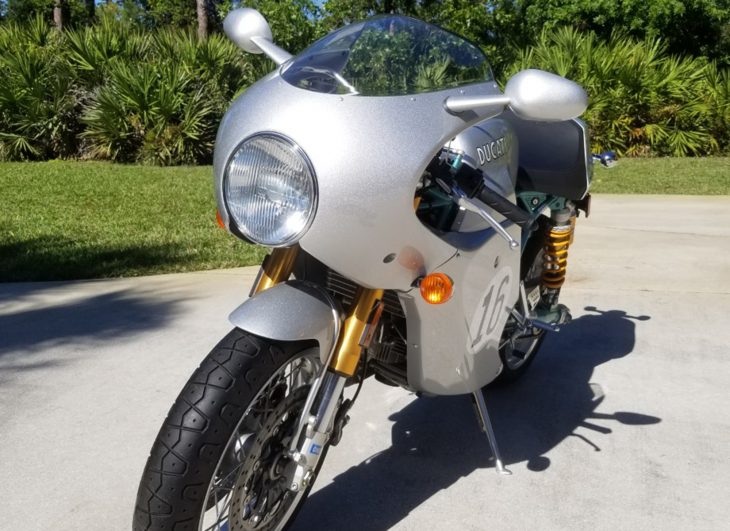 From the Seller: 2006 Ducati SportClassic Paul Smart 1000LE for Sale
This gorgeous Paul Smart has only 3 miles and is in perfect stock condition. Comes with both style fairings a $2000. dollar option. All three keys. Never registered. Certificate of origin from the purchasing Ducati Dealer – Eastern Cycle Ducati, Located in Beverly, MA. This bike has been inside my house since purchasing it in 2006. Periodically pushed in gear to keep engine moving and cylinders fogged for lubrication. No fuel inside gas tank. No dents, dings, or scratches. Ready to be a new piece of art in your collection or ridden.

An instant classic and one of the most collectible motorcycles of the last 15 years.

"Want it for Paul's achievement, want it for Ducati's heritage, want it for how it looks". Bike magazine. This Paul Smart 1000 Limited Edition Ducati has never been ridden, and is in excellent condition. It has spent its whole life pampered inside!

Smart's famous victory in the 1972 Imola 200 riding what would become the 750SS was instrumental in establishing Ducati as a high-performance brand for the modern era. So what better way to celebrate the Bologna marque's heritage than a limited edition model in the spirit of the iconic, bevel-drive, 'green frame' 750SS? And why not duplicate the rest of the original bevel-drive twins line up while you're about it? That was Ducati's reasoning behind the launch of its new 'Sport Classic' range in 2005. However, none of the three models Paul Smart 1000 LE, Sport 1000 and GT1000 – is in any way a 'replica'; all are thoroughly modern motorcycles with only the styling and color scheme(s) acknowledging the past. 

The Paul Smart 1000 LE uses the belt drive, desmo, air-cooled, fuel injected, electronic ignition 1000DS (dual spark) 90-degree v-twin engine 992cc, two-valves, a quoted 92bhp at 8,000rpm and enough torque to surprise its four-valve superbike brethren – as found in a number of other Ducatis. All this modern technology is housed in the Italian firm's trademark trellis frame in a striking shade of 'green frame' green – the latter complemented by some top-quality Öhlins suspension, Brembo brakes, a wet clutch, a six-speed gearbox, a curvaceous two pipe exhaust on the right side in black, and wire-spoke wheels beneath a swoopy silver half-fairing and tail hump. 'After 20 miles I was totally sold on the bike, as I had been after five minutes of looking at it. Exclusivity, style, power, handling… what else could I want?' queried Bike magazine's tester at the PS 1000 LE's launch. A production run of only 2,000 units was planned and few motorcycles of modern times have become as instantly collectible.
As the seller mentions: the entire first run of Sport Classics became instantly collectible, and all of them command shocking prices on the used market, especially when you compare them to Ducati's 1098 of the same era, a bike that offers far more performance. But obviously, the nods to Ducati's racing history struck a chord, and values remain high. The asking price for this showroom-quality example? $39,000. There's obviously not much of a service history to discuss. In fact, there isn't any service history at all, since the bike has never turned a wheel in anger. This bike is pretty much bone-stock, excepting the lower fairing. The original bike had a half-fairing that matched Ducati's production 750SS, but the full-fairing was a popular modification and suits the lines of the bike, although it does seem a bit of a shame to cover up that classic, air-cooled engine.
-tad