Warning!
This post is in our archives. Links in this post have been updated to point to similar bikes available to bid on eBay.

Update 11.4.2020: This bike has SOLD! Congratulations to buyer and seller! -dc
This 2004 BMW R1100S is a shining example of the Bavarians at their best. It's a long-distance sportbike with looks to match its purpose and a distinct lack of pretense. I won't call it a "sport-tourer," because I have just decided I don't like that phrase. It's trying to be too many things to too many people. Too much sport, you ruin the touring, too much touring you neuter the sport. The big Bimmer just doesn't go in for watered down anything. So, I shall call it a grand tourer, in the vein of its four-wheeled brandmate, the BMW 8-series.
With 100-ish horsepower from the air and oil-cooled boxer twin, it has enough sauce to keep the four horsemen in the rearview mirror. But its Telelever suspension, luggage worthiness, accommodating ergonomics and high-gravity curb weight don't scream track day. It is absolutely no slouch on your favorite ribbon of asphalt, but would rather leave lap times to more high-strung beasts.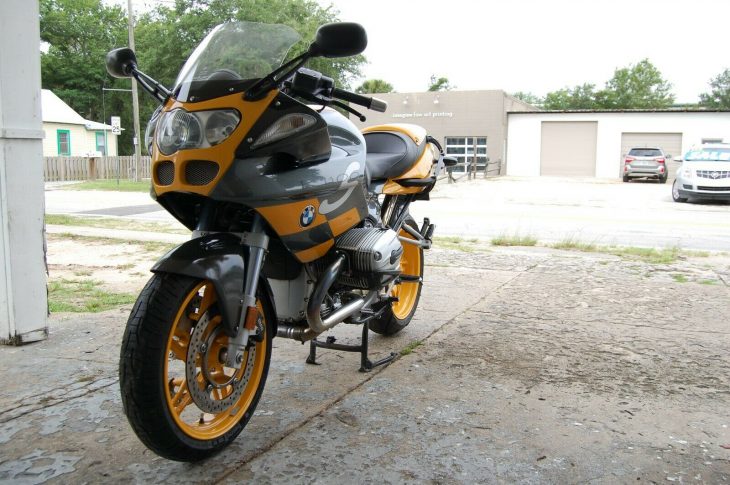 TL;DR: It's fast, versatile, comfortable and built around a power system that just will not stop running if you give it the Golden Rule treatment. This 2004 BMW R1100S, from the bike's second-to-last year, sports a long roster of tasteful upgrades that will all serve to enhance the experience that BMW intended. It also has a full set of luggage that answers to the ignition key, which leaves you no excuse but to head out to find green pastures. The careful list of upgrades is below.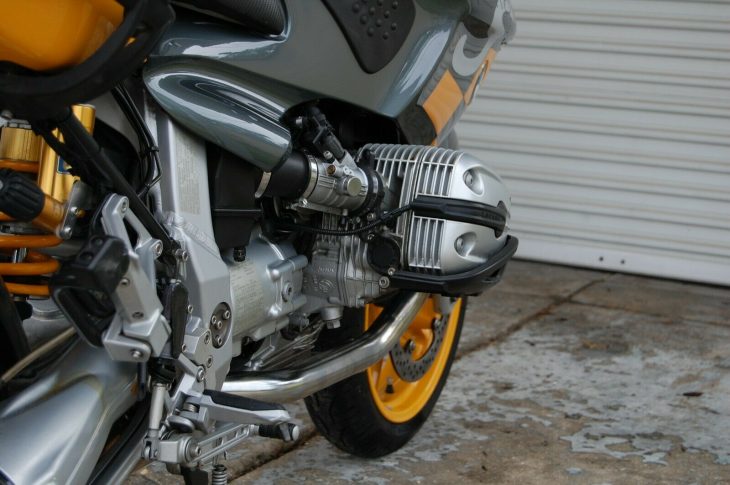 From the eBay listing:
A nice example of a great bike.

Check the pictures , I have a lot more. Almost perfect, some loss of gloss on the carbon hugger, tire changer marks on the rear rim, a small brown patch on the rear swing arm from a fuel drip, a few spots of abraded paint on the fork sliders low down on the leading edge, not through the primer. All items very minor

Many upgrades, Ohlins shocks F/R in the last couple of years, new rear pivot bushings from Rubber Chicken, SS brakes lines with banjos to match the Ohlins, Throttle Meister, center stand, complete factory tool kit, Suburban Machinery peg relocators , a Ram mount and wiring for GPS of your choice. Extra power ports, remote battery post at starter housing.

Sargent seat in brand new condition, wide rear rim, new rear tire, lots of miles left on the front.

Included is an excellent set of System luggage, keyed to the ignition, with a set of City lids and a set of standard lids as well as a nice pair of RKA bag liners.

Clear lenses F/R, pulsing rear light with a blinding Whelan Lin3 brake light stealth mounted right over the rear plate. Carbon TS nacelles in front

In the last year; new fuel pump ,inside lines and filter, metal fuel quick connects, new Beru coils, new injectors matched and flow tested, all filters and fluids changed ,ABS flush, new spark plugs up and down. New brake pads all around. New battery 3 months ago. New BMW alternator drive belt in the last 1500 miles.

This bike has no leaks anywhere, ever.

Bike is very stock, quiet and smooth. Idles like the tach needle is painted on the tach.

The stock fuel cannister and mounts, and a box of extra parts are included, with the bonus of an extra set of stock mirrors. (used, but usable)

any questions or additional photos requests just ask

I must have communication with you prior to accepting any offer.

This bike is for sale across three or four venues, all at the same asking price.

It is in ready to roll condition and could easily be driven across the US, it needs nothing except a rider.
The Ohlins suspension pieces are a lovely bonus, and the pictures show a machine that has been babied. With under 35,000 miles on the dial, this thing is ready to triple that and ask for more for way less than the cost of newer mounts that won't give you the same fizz.