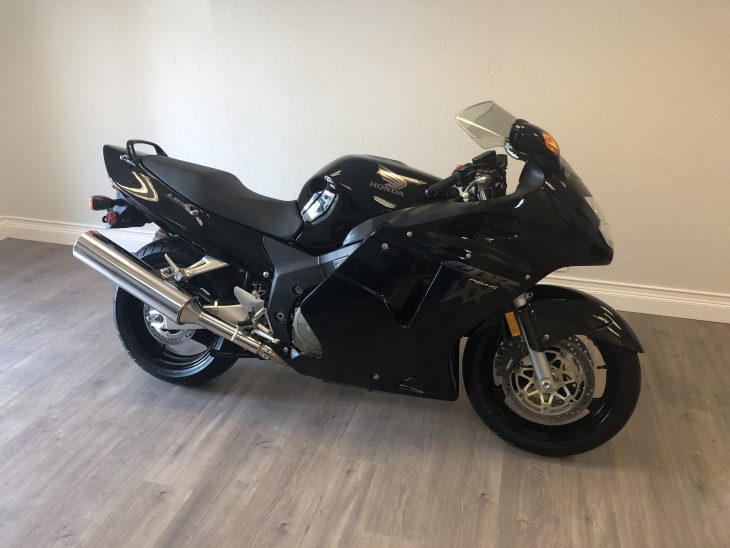 Released in 1996 and named after the sinister black SR-71 Cold War spy plane that pioneered stealth technology, today's Featured Listing Honda CBR1100XX Super Blackbird was also designed to be very fast, and very black. Also occasionally red and silver. The bike's top speed of 178.5mph stole the top-speed crown from the Kawasaki ZX11, and it held the title of "Fastest Production Motorcycle" until the introduction of the Suzuki Hayabusa in 1999.
There was nothing particularly exotic about the CBR1100XX, just a honking big inline four displacing 1137cc in an aluminum frame, with sleek, aerodynamic bodywork. The result, at 526lbs dry, was also a pretty honking big bike. Claimed power was 164hp with 88ft-lbs of torque and although the claimed power doesn't look all that impressive, the torque means smooth, effortless speed. Aside from a significant switch from carburetors to PGM fuel injection in 1999 and an updated dash with a digital speedometer in 2001 [seen here], the bike remained largely unchanged throughout its production run until it was discontinued in 2007.
With its road-going focus, they chose to fit a linked braking system to the bike. LBS II was developed from Honda's Dual CBS and sought to automatically balance braking forces between the front and rear by using the hand lever to operate both the outer pairs of the six pistons on the front calipers and the inner piston of the rear caliper. The reverse is true at the back: the pedal operates the outer pistons of the rear caliper along with the inner pistons of the front calipers, with proportioning valves to prevent lockup. Purists may scoff, but linked braking is the sort of feature improves safety for the majority of riders in a majority of riding situations: if you don't hold a racing license, you'll stop quicker with systems like this.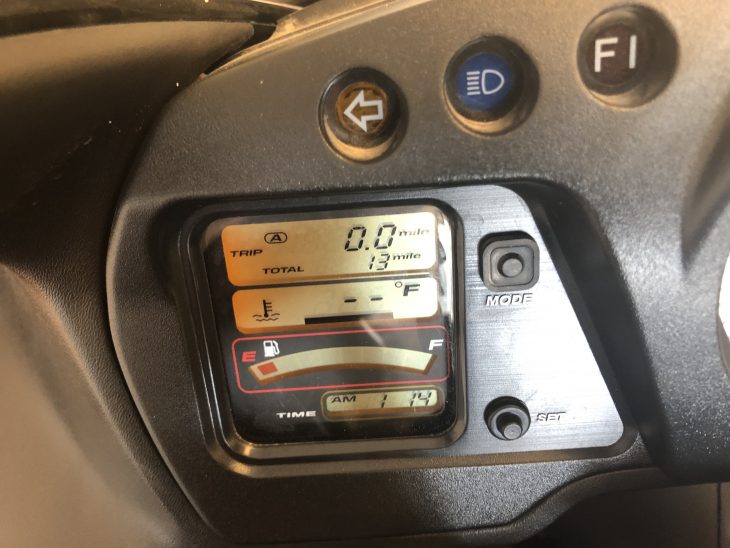 The CBR1100XX is certainly not the fastest bike now, but it's an incredibly capable one, with the high build quality you'd expect from a top-of-the-range Honda hyperbike and excellent reliability. Given that it was obviously never intended for any sort of competition, the road-bike focus also means the Super Blackbird has inherent versatility. This is a bike for riders who love all sorts of riding, but can only afford, or have space for one bike: commuting, canyon riding, sport-touring, all with ballistic speed. I'm sure you could even do the occasional track day on one, although it wouldn't be your first choice… The only downside is the extra weight you often find with do-it-all bikes, but that just means stability, wind protection, and room for a passenger or luggage.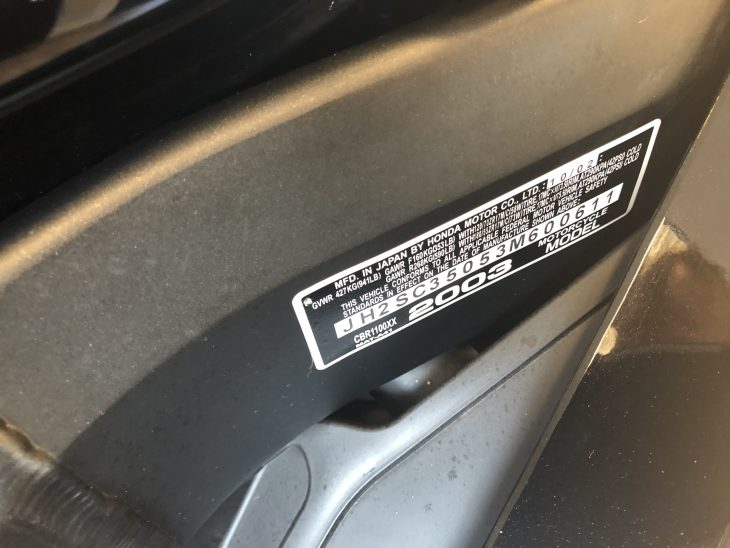 From the Seller: 2003 Honda CBR1100XX Super Blackbird for Sale
2003 Honda CBR1100xx "black bird"
Vin# JH2SC35053M600611

– at one time, fastest production bike
– Only 13 miles on odometer
– 4cyl, 6 speed
– new battery, fuel pump, fuel pressure regulator
– tank cleaned, rail cleaned, oil changed, fluids checked, tires inflated, etc.
– exhaust pipes still smell new when running
– minor blemishes from years of sitting/ storage since new.
– damage to upper fairing on right had side, see close up image
– asking $9,900
Contact Chris Moffitt (217)369-0289 or email at ko-on@ko-onconstruction.com
Performance was pretty quickly eclipsed by the Hayabusa in terms of outright performance, but the looks are more… subtle, adult, and the bike is a very polished, premium, style-over-substance product. The Honda CBR1100XX Super Blackbird is still a bit new to be truly collectible or valuable quite yet, but I would expect these to become coveted in the future. We've seen similar happen with other unfairly overlooked and highly versatile Hondas. The cracked fairing panel is unfortunate, but they made enough of these that some patient eBay trolling should turn up an original piece if the new owner is so inclined.
-tad