Moto Guzzi boarded the "special edition" party bus with a lot of boutique manufacturers, but the stance of their V11 Le Mans has held up very well, and the Tenni is a standout.  This Tenni has but 2,000 miles and is plated number 114 of 170.
The V11 Le Mans is modern enough that the Moto Guzzi Le Mans wiki doesn't even mention it, but the big axial V-twin didn't fall very far from the family tree.  Horsepower isn't wild at 92, but torque is so abundant that the 6-speed transmission is almost superfluous.  The V11's have beefy alloy side plates which on the Tenni are red anodized, part of a complex but pleasant styling job by Marabese Design.  Components are top notch with Brembo brakes ( unlinked ), lightweight hydraulic clutch, and adjustable suspension by Marzocchi in front and Sachs-Boge monoshock.  Dusty blue alloy wheels are seventeens.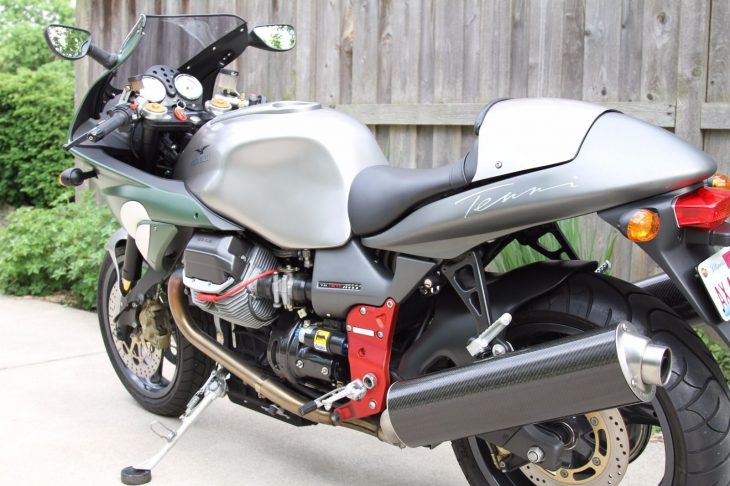 Bought after reading last year's post on the – Tenni – the owner returned it to the road with new rubber, fluids, and a tune-up.  Real life has intervened however, and Rob wants to lighten his collection by several bikes, and unfortunately it's often last-in, first-out at times like these.  With just 2,006 miles, it's in nice stock shape, though Rob notes two paint imperfections – two small cracks on the right tank presumably from sitting with ethanol aboard, and a splatter of something on the seat fairing courtesy of the previous owner.  Part of the Tenni's design is semi-flat finished accents which might not even be painted, so a consult with a paint correction guy might be in order before diving in.
The V11 had a very together design and build quality thanks to new owner Aprilia's financing, and reviewed as somewhere between "rides by itself" and "weight disappears under way".  Never intended to take on contemporary sport bikes, it's happiest on a two-lane, exploring the relationship between torque, engine braking and the close-ratio 6-speed.  The Le Mans will always be part of the Guzzi story, and the V11 is up-to-date enough to ride without vintage worries.  The green and silver livery recalls their early endurance racers, on which Omobono Tenni took the Isle of Man in 1937.  Rob asks $7,850 for the Tenni, and can be reached at (757) 784-8410.
-donn