Update 7.11.2018: Seller reports that this bike has sold to an RSBFS reader. Congratulations to buyer and seller! -dc
After a couple decades building and racing their signature V4 machines, Honda finally decided to go with the flow and switched to a v-twin that could compete on a level playing field with Ducati. Their faith in the V4 as a package has ultimately been vindicated, as now Ducati is using a V4 for its roadgoing superbikes, and pretty much everybody is racing V4s in MotoGP. But for a couple years, the Honda RC51 showed the world that, all else being equal, they could go toe-to-toe with the v-twins from Bologna.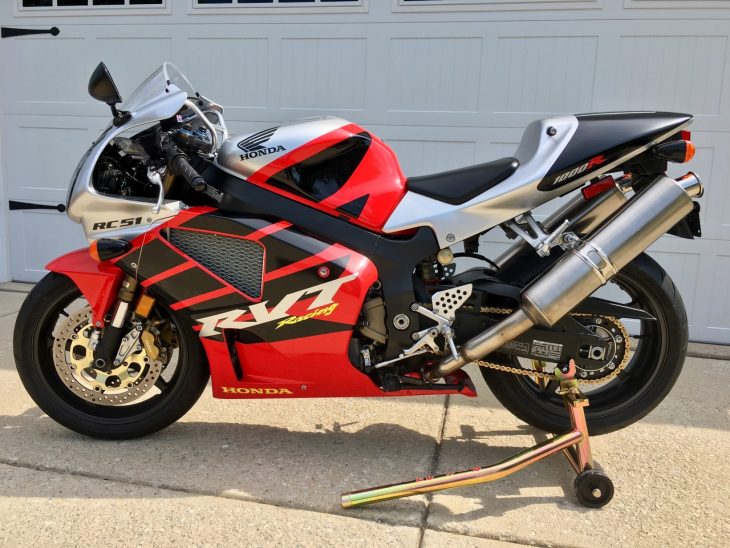 Well the new v-twin Hondas could compete with Ducati in terms of performance, at least. Style was another matter, and the VTR1000 SP1 and later RVT1000R SP2 seen here traded Tamburini's sensual shapes for altogether more practical lines and a digital dash with a bar-graph tachometer. Mechanically, the bike used an aluminum beam frame with side-mounted radiators that allowed the engine to be mounted further forward in the chassis to overcome the usual packaging issues associated with 90° v-twins, and a set of gears drove the dual overhead cams.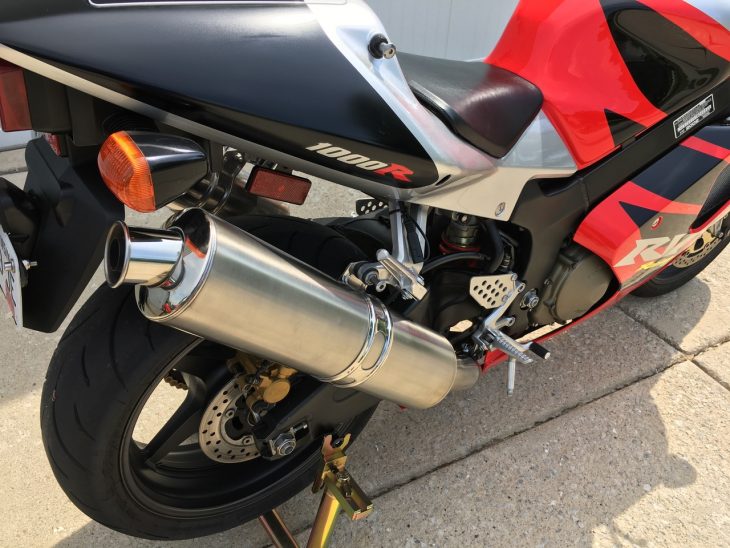 When introduced, the original SP1 was somewhat of a disappointment. Certainly the styling didn't help: it's sleek and purposeful, but not especially sexy, considering it was a follow up to the very trick-looking RC45. But more importantly, handling wasn't up to snuff, low-rpm fueling was pretty poor, and tank range was abysmal. The latter two issues are easy to overlook in a high-performance motorcycle, but the bike's understeer was a deal-breaker for many. Fortunately, the SP2 that followed in 2002 sorted out the handling with some suspension revisions, including a set of tapered spacers for the front wheel that improved feel when the bike was on its ear. Power was up slightly as well to a claimed 133hp, although the fueling was still an issue, a side-effect of the gaping throttle bodies designed for high-rpm power, not around-town driveability. If practicality is your bag, there's always the very nice and much cheaper SuperHawk… Although you'll still have to deal with limited range.
The style of the RC51 didn't really inspire lust in the way Italian machines did when the bike was new, but the clean design looks great these days. Today's Featured Listing is almost obsessively stock for a machine that's been used as intended and actually ridden, down to the rear license plate holder, huge signals, and ridiculously long hero blobs. Aside from the hero blobs, the signals and other original parts seem to suit the bike's chunky style, and the only thing I'd change personally is the stock exhaust: a big twin should sound big-twin-y and stock cans never really do them justice. I'd keep the original exhaust though, so I could return the bike to stock condition in case I wanted to sell it.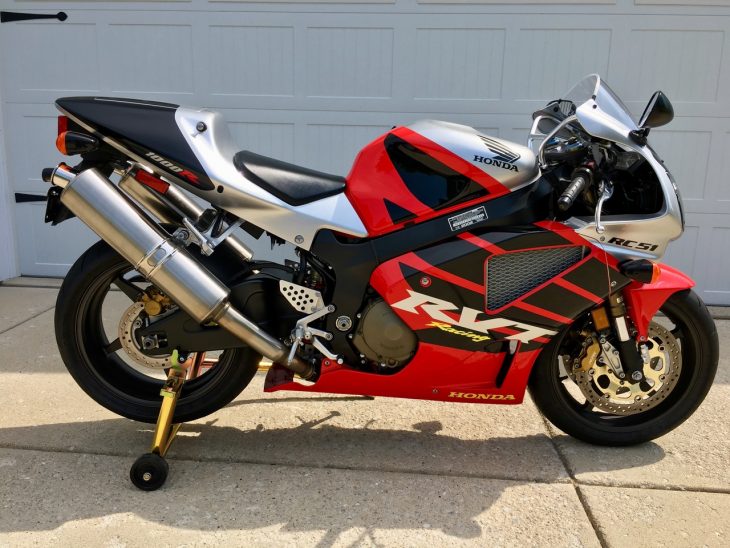 From the Seller: 2002 Honda RC51 SP2 for Sale
This 2002 Honda RC51 SP2 is 100% stock except for the addition of a Power Commander 3, and is unbelievably clean.  In 2002 the RC51 received a number of upgrades from the SP1.  This bike looks like it did on the showroom floor with all the OEM warning decals, reflectors, stock exhaust, and stock rear fender.  It has the complete stock tool kit and owners manual with it.  I recently replaced the windscreen, clutch slave, battery, and sprockets with Honda OEM parts.  It also has a new DID chain, and Dunlop Sportmax tires with less than 1000 miles on them.  This RC51 runs and rides perfectly and needs absolutely nothing but a new owner.  The fairings are clean and shiny!  The rear seat cowl/pillion cover was signed by Colin Edwards, who won the World Superbike Championship in 2002, the year this was built.  There is also an unsigned cover and the passenger pillion that go with the bike.  I had never seen an RC51 that was completely stock and in this condition, which is how this made it into my collection.  It has 22,500 miles, meaning it's been properly exercised and maintained with only about 1400 miles per year since new.  The only single blemish is a minor crack at the mounting point under the left side upper cowl that's been there for years, apparently common with these.  $5,900.00 or best offer. It's located near Milwaukee, WI.
The seller's $5,900 asking price is pretty fair for an RC51, especially the improved SP2 version in this kind of mint and nearly stock condition. Obviously, the SP1 and SP2 are way too common to ever command the same sort of interest as the RC30 and RC45, but prices have hit their low point and appear to be on the way up. As always, originality counts for collectors and many RC51s have been modified and updated. If you're looking for a fast Honda with genuine racing heritage, you won't likely find one cleaner or more affordable.
-tad