Update 6.17.2020: This bike has SOLD! Congratulations to buyer and seller! -dc
The 2001 Moto Guzzi V11 Sport may smack of a Ducati Monster killer on a quick glance, based on stance, nationality and number of cylinders. But to buttonhole the 1,100cc v-twin bruiser that way would be to handicap it. As reviewers at the time noted, thanks to weight, torque and the big mill's laconic, torquey nature, it's much closer to an Italian take on a Harley Davidson than a back-breaking canyon carver. Leave that to the Duc.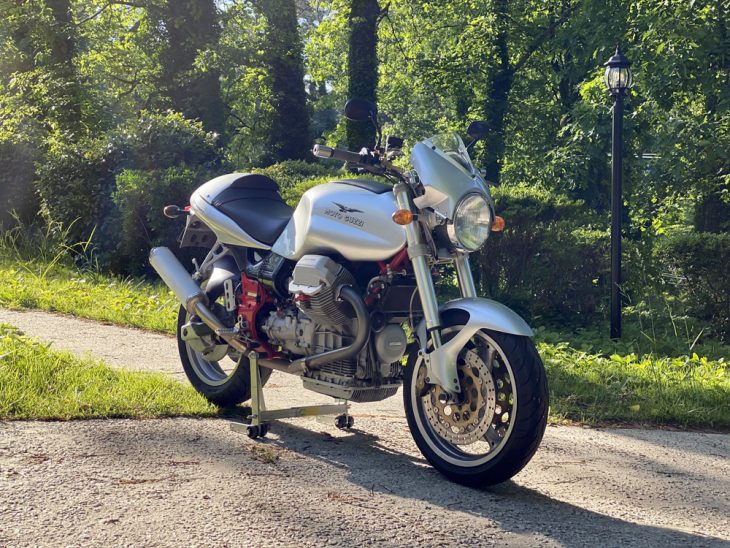 But while the big Goose wasn't exactly quick on its feet — it tipped the scales at a large-and-in-charge 563 lb with gas — it handled well, had ample grunt and made an excellent swift cruiser. Coupled with the gorgeous bodywork and Moto Guzzi's iconic, ancient engine layout and shaft drive, you get a muscle bike that doesn't ask you to pay a comfort penalty.
This one is in excellent condition with 13,600 miles on it, and a raft of tasteful upgrades to tilt it just a little closer to the sporting end of the spectrum. It has Racetech suspension bits, ECU work, mods to the electrical system and a raft of extras and spares.
From the seller:
A strong running V11, selling because I got a nearly new Stelvio which I use all the time. The Sport sits there and should be used, it's really a nice driver. I keep the nearly new battery conditioned and tires inflated and take it out once in a while. All of the weak points with these models has been addressed, including the NHTSA recall, and the performance mods have been done. It's Japanese reliable: add gas, turn the key and go. If you are a Ducati or Aprilia owner, but are curious about that other, mystical and legendary Italian marque, this is the bike you want for an introduction.

The bike is currently in Atlanta GA, with GA title and registration (formerly it was registered and titled in CA). All extras are here in GA and go with the bike. I am NOT separating the bike from the extras, or the extras from the bike. Bike is currently configured with handlebars. California emissions sticker present under the seat.

I can assist with shipping, but buyer is responsible. I have used Shipping Masters, including their title escrow service before, and can recommend them. Or you can fly and ride, and ship the extras using UPS or whatever.

3 weeks sitting, cold start video here: https://vimeo.com/406649103

Transmission recall done by Pro Italia, CA, documented
Currently 13.6k miles
Open-loop ECU (no Lambda)
Roper plate installed
Front forks rebuilt with Racetech springs and gold emulators
Rear shock upgraded to Hyperpro 460 (290mm, +/-5mm)
Stucchi crossover
Mistral slip ons with DB killers (removable)
Re-map by Todd Eagan @ Guzzitech
MG Cycle manual petcock
Motiv Cycle Works transmission brace
Upgraded oil cooler mounts (steel)
New Dunlop Road Smart 3's installed winter 2018, approx 1000 miles on them
"Lucky Phil's" shifter mod installed (still have OEM)
"Scud's re-engineered shift spring" (installed)
Upgraded relays and relay base, OMRON G8HE-1C7T-R-DC12
Casper Electronics breakout harness (to facilitate checking the TPS voltage)
Just replaced rocker cover gaskets
Just replaced the regulator with new Ducati Energia RR
Just replaced the angle drive for the speedo
Just replaced the battery (Odyssey 545)

EXTRAS:

2x Lower sump gaskets
Cortech tank bag
1 x extra "Scud's re-engineered shift spring"
OEM clip-ons (clamps, bars, bar-end weights)
OEM shift linkage lever (Lucky Phil's now installed)
OEM foot pegs
OEM owners manual
OEM tool kit
4 liters Eni i-Ride 20-50w + new Hi-Flo filter
2 keys

OTHER INFO:
Oil last changed at 11k
Transmission fluid last changed at 11k (running Redline Heavy Shockproof)
Bevel drive last changed at 11k (running Redline Heavy Shockproof)
I have used Bell ethanol gas treatment since I have owned it.
Shop stand pictured not included but available for purchase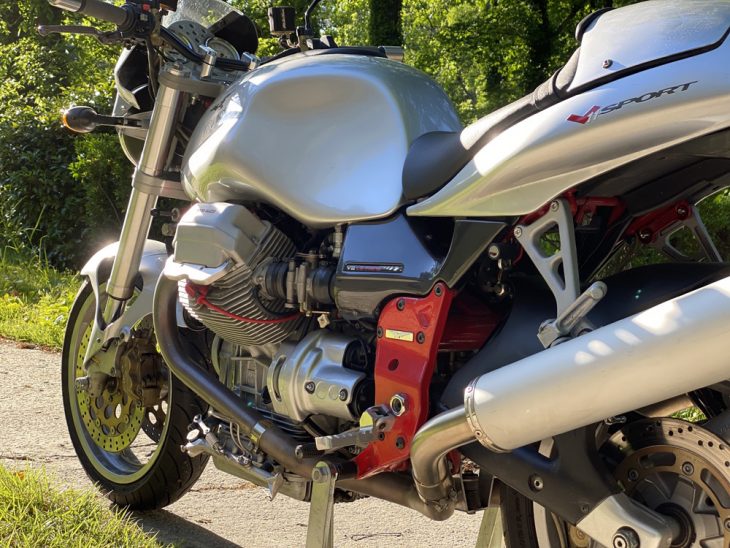 As you can see from the eBay listing, the price for all this awesome is below $5,000. That's a low bar for such a beautiful, unique machine.