Update 8.4.2019: Price lowered to $2999. Good luck to buyers and seller! -dc
Comments are optional on Featured Listings and enabled on this post so you can chat with the seller. -dc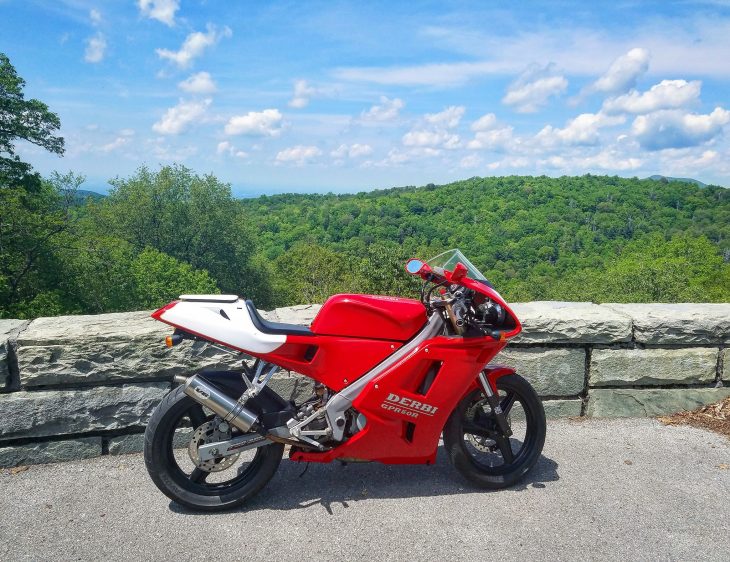 Talk about punching out of your weight class. The 2000 Derbi GPR50R made its "49cc" brethren look even wheezier than usual when it hit these shores as a storm of silky handling hornets. Popular with new riders in Europe, the GPR50R is one of just a couple of examples of nearly full-size two-stroke 50cc bikes that made it here.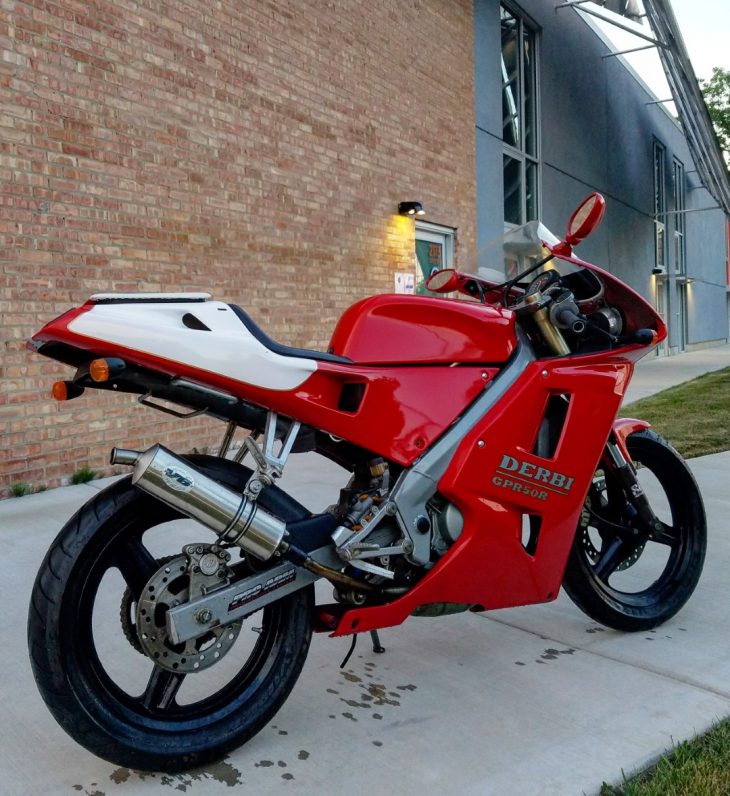 Titled as scooters though they may be, the little Derbis cheated with a 75cc engine that was good for an astonishing 9.5 horsepower. That's enough to get a sub-200-pound adult to close to 75 mph with a decent draft. They need to rev to the moon to get out of their own way, but once moving, the bikes do their best Grand Prix impersonation, with suspension and chassis characteristics of much bigger machines. 
As with any Napoleon complex street brawler, momentum — and clutch fanning — is the name of the game. 
This 2000 Derbi GPR50R has been kept quite beautifully, and does a fantastic job aping the legendary Ducati 916. A heady boast for such a reedy little machine, but the quality and pedigree are there to back it up. It has been treated to a Leo Vince exhaust, bigger carburetor, carbon fiber reeds and the afore mentioned factory displacement bump. The decals and livery are custom, and look great. The suspension has been reconfigured to accommodate a 200-ish pound rider, which should make day-to-day use a damn sight easier and more comfortable. 
From the seller: 
2000 Derbi GPR50R in Chicago

These were rare but official US imports and are titled as 49cc (scooters in most states) like the foreign versions.  However, US spec bikes came straight from the factory with the larger EBE075 motors and do 70+mph. This bike has 6,157 km (3,842 miles) and many upgrades;

Motor modifications

Airsal cylinder/piston kit (I have the original cylinder and piston in good condition)

Leo Vince exhaust w/titanium can

24mm Mikuni Carb w/throttle and cable

K&N air filter

Carbon fiber reeds

Carbon fiber oil pump block off plate

Cosmetic modifications

Red/white Ducati 916 SPS replica paintwork

Custom Cagiva-era 916 style decals

Rider's seat recovered in black leather

Passenger pad recovered in red/white vinyl

Aluminum fairing fasteners

Additional mods

Doppler rear shock with heavier spring

Forks rebuilt and resprung by Superbike Suspension

Billet aluminum peg bushings

New chain/sprockets

New Avon Viper Stryke tires

The bike is fun to ride and with the suspension upgrades will handle a full size adult.  It is currently optimized for someone in the 200 pound neighborhood. There is a crack in the paint along the seam of the dummy tank (pictured).  There is a small nick in the paint on the right side tail piece, but I've got spares of both tail sides…and they're already painted.
For just $3,500, you're getting a cool piece of superlightweight history, made even more special by its imitation of much heftier and faster machinery. To get your hands on it, contact Adam at plus790@hotmail.com.