Update 4.29.2018: Now on eBay as well for $12,500. -dc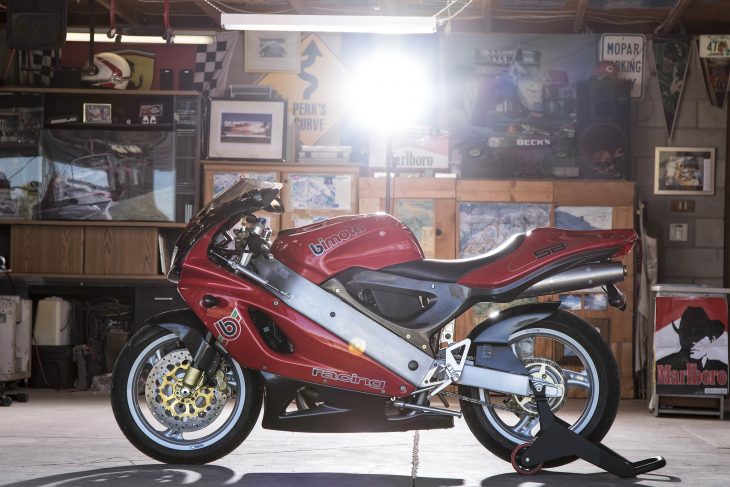 Bimota's SB6R followed the earlier SB6, one of their best-selling models of all time, with approximately 1,200 made. The SB6R likely would have been produced in similar numbers, but for the debacle that was the radical, two-stroke VDue. That bike's failure pulled the whole company down into bankruptcy, and when the company was resurrected in 2003, the SB6R was not in the lineup, likely due to the discontinuation of the SB6R's GSX-R1100 powerplant with the demise of that model in 1998.
That GSX-R engine was famously powerful and bulletproof, and was backed by a five-speed gearbox that reflects the bike's freight-train character: the Bimota's claimed 156hp might not seem all that impressive, but the liquid-cooled inline four had a storming midrange and the SB6R was very light for the era. Paioli forks up front and an Öhlins shock round out a package that can still embarrass modern motorcycles in skilled hands, but a complete lack of electronic aids means it remains an "experts only" motorcycle.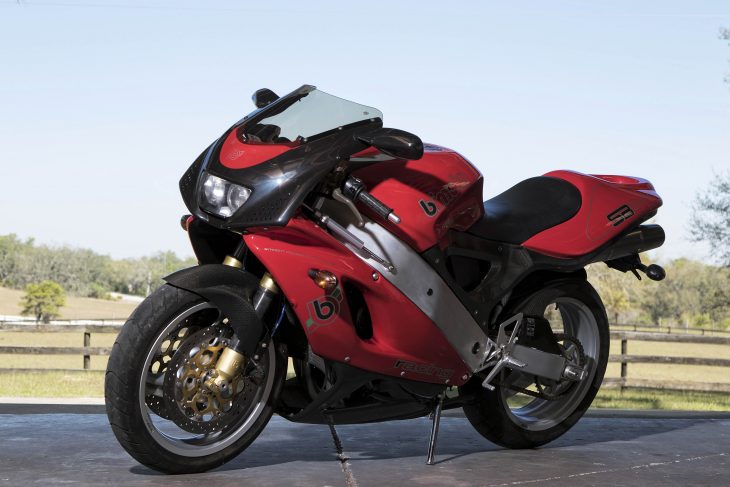 The SB6R used the SB6's massive, aluminum "Straight Connection Technology" beam frame, with more modern, conservative bodywork that lost the SB6's swoopy looks and the exhaust hidden within the tail section. The styling elements of the updated SB6R may be derivative: fairing "speed holes" from a CBR900, a pair of undertail exhausts like a 916, and a trapezoidal headlight like an FZR… Okay, it actually was the headlight from an FZR. But somehow, even though the elements are familiar, the overall look was very much a Bimota. It's almost the anti-916: bulbous and curving instead of wasp-waisted and slab-sided, built around a beam-frame instead of a trellis, powered by an inline four instead of a twin…
This Bimota certainly isn't one of the best bikes of the era, but it is one of my personal favorites. This particular example is a rarity, a machine ready for the road that appears to have had the bugs worked out and only some very minor blemishes. It's also a very low serial number: 000023.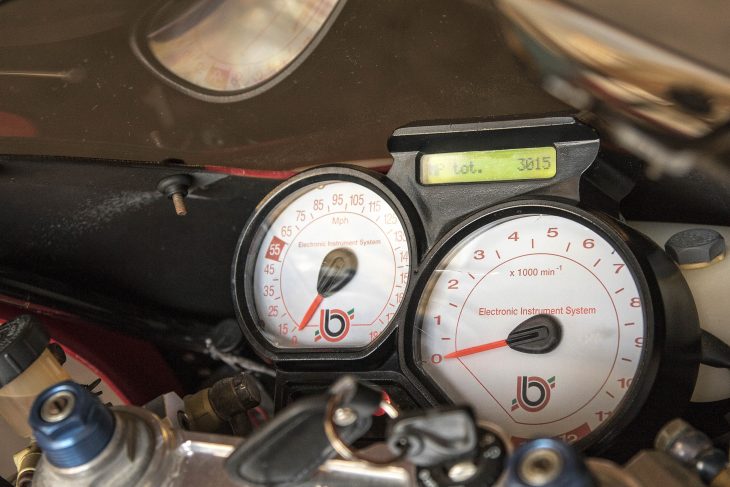 From the Seller: 1998 Bimota SB6R for Sale
I have come once again to your fine forum to move a jewel. I know you have featured a few of these, so I wont go through the Bimota propaganda and just get to the meat of what I have done. The usual Bimota story, well heeled individual purchased and rode very little, used more as a object d'art, rather than a mode of transportation for the majority of its life. She is now ready for riding. This thing rips, even with my 6'4″, 220 pound, Yeti-like mass aboard.

Equipped  with the Bimota Corse Titanium exhaust
Kevlar brake lines
Michelins
Rebuilt carburetors, new needle valves
New NGK plugs
Oil and filter
New fuel pump from Bimota Classic Parts
New petcock from Bimota Classic Parts
All new Motion Pro fuel lines
New fuel filters
Cleaned fuel tank
The fuel system is now up to original Bimota factory spec.
This bike pulls like a freight train.
2 small cracks in the gauge lens
Ridden and on the road
Every system functional
No issues
All paperwork in order.
2 Original Bimota keys.

Price: $12,500
Contact Chris: gsxronly@aol.com or 407-492-5854
The seller is asking $12,500 for this SB6R, which is on the high-end, but the bike looks to be in highly functional condition, which is critical: Bimotas are often derided for their kit-bike quality when new, so set up is key. The fact that this one is claimed to be ready for the road is kind of a big deal, and mileage is pretty low as well. The Corse exhaust is a nice addition since it reduces weight from high up and at the tail end of the machine, and any Bimota with stock pipes is likely to stay that way at this point, unless you feel like having someone custom fabricate a set for you: just 600 were made so there isn't much demand for aftermarket parts.
-tad