In the ultra-competitive home market, Honda's RVF400 was the natural successor to the popular VFR400, and came equipped to do battle.  Today's RVF400 track bike has been turned up a notch by a South African preparer, just in time for racing or track days.
1996 Honda RVF400 Track Bike asking $8,250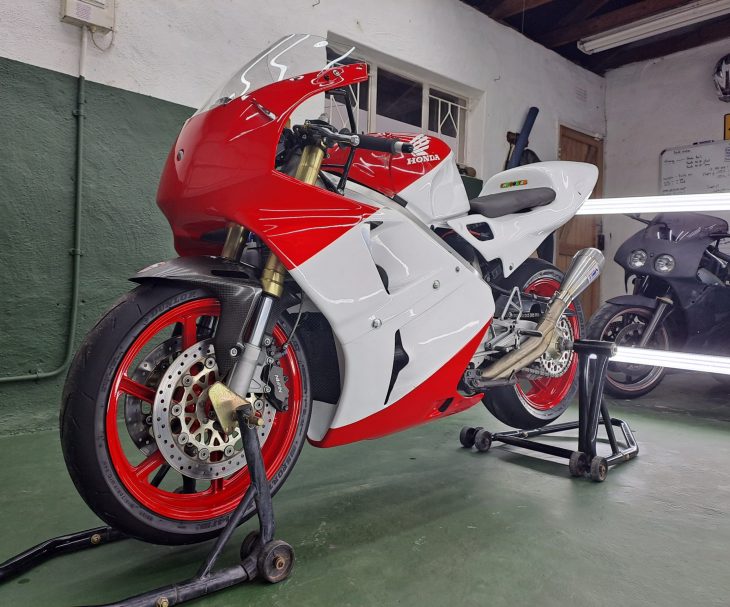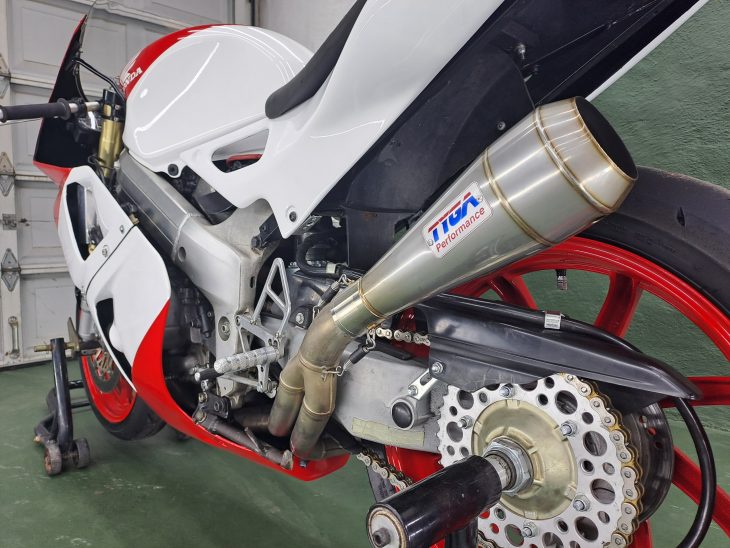 Only natural that the junior model to the RC45 was spec-ed beyond the usual, with fully adjustable upside-down forks, 4-pot Nissin brakes, and 17-inch wheels.  The little V-four was quite oversquare, and made 61 hp on the street with a 14,500 rpm redline.  Gear-driven cams sing a tune not heard often these days, though a little harder to hear behind the open exhaust on this racer.  Reviewers drained the superlative tank on the RVF, and though expensive for the time, build quality was such that it was a wonder Honda made a dime on them.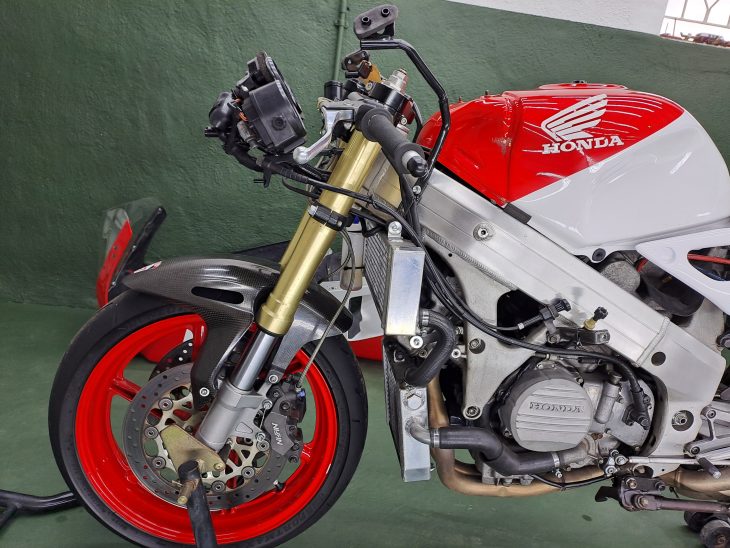 Importer and RSBFS fan Brian offers some insight on the preparation shop – Autohaus Breytenbach:
With a very focused and niche approach, the recipe is simple. We focus primarily on "RR" spec motorcycles, in the 400cc class. Carburetor fed, multi cylinder, multi valve, high performance 4 stroke, from the four Master Marques grace our floors. Honda, Kawasaki, Suzuki, and Yamaha all battled to create the most powerful and best handling motorcycles in each segment.

Aiming to write beautiful stories together, Autohaus Breytenbach uses only premium OEM parts, expert technical knowledge and a global supply chain forged over the past decade. It was once thought someone would require a time machine to own a new Honda VFR400RR NC30 for example, but it turns out all you need is Autohaus Breytenbach.

Autohaus Breytenbach Motorcycles are bespoke and very limited, the family business produces less than 10 units per year. As we say in our home and our business, "you only have 1 chance to have a good name – use it wisely."
Brian also sent a cold start video in three segments –
Ready to be imported, this RVF400 had been a previous owner's track day special in South Africa, and updated under the shop's care.  Beside a set of fairings nicer than the usual expendables, there are a lot of mods hiding in plain sight  The free breathing Tyga exhaust is most evident – especially in the videos.  Almost too tidy for a race bike, it looks ready to load in the van. Mods and maintenance in list form –
– New Tyga Exhaust, full system, race Maggot system
– Upgraded thick core upper and lower radiators
– Custom quick release bodywork – fibreglass and plastic and foam for the seat
– Swing arm and hub bearings replaced
– Water Pump replaced with OEM Honda new. Coolant flushed and bled
– Valve clearance adjustments performed – all in spec
– Carburetors rebuilt, balanced. New intake rubbers
– Front brake lines replaced with braided – bled and flushed
– Forks professionally rebuilt, new hard chrome and grind, new seals, and oil etc.
– New fuel tap
– New clear windscreen, Tyga
– New top triple clamp, Clip-on's, tacho surround, fuel Cap – all genuine Tyga pieces
– "Technical sports" Gearshift and rear brake linkages – CNC cut items high quality
– Carbon fibre front fender
– New brake pads all round
– Fully serviced – new plugs, fluids and filters
– New side cover gaskets/packing
– New final drive chain
– New oil filter, new premium semi synthetic oil from Castrol
– New air filter. New fuel filter
– Stainless steel fixings fitted throughout
– New throttle cables
– New OEM carb intake rubbers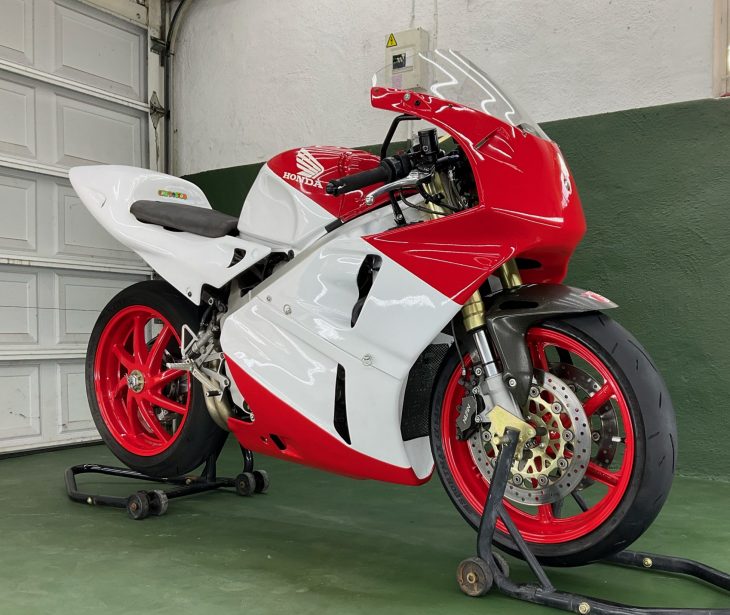 Brian asks $8,250 for the RVF400, and can be reached by email – here -.

Autohaus Breytenach also has an in-country relationship with – Chedza Global Logistics – to ship cargo from Africa to the United States and elsewhere, in a safe, convenient and cost effective way.  For example, a single unit transport from Johannesburg, South Africa to Los Angeles, California starts from $2199.  Crating and purging services are handled in house, at an extra fee of $299, making the total shipping cost $2498.
The race exhaust and ECU make enough horsepower to make this RVF feel like it's in a different class, but the lightness is really the key.  The strong fan base and support from leaders like Tyga will be there to help the next owner.  Not quite as sensitive about the rider's size as smaller classes, the RVF400 can teach most riders a great deal about momentum riding.  For a rider ready to study, Brian's RVF could unlock the schoolhouse doors.
-donn