Update 3.26.2015: The seller notes that this bike has just sold in less than two days after listing on RSBFS. Congratulations to buyer and seller! -dc
Exceedingly rare in the U.S., the Yamaha TZR 250 SP (Sport Production) was inspired by the TZ250 racer and much of that technology from the racing engine followed on to the street machine.
This 1992 TZR 250 SP was built roughly in the middle of the model's run from 1986 to 1999, with 50hp available at 10,000 rpm.  A shade over 300 lbs. fueled, it takes advantage of upside-down forks and fully adjustable rear suspension.  DeltaBox frame, brakes and tires able on a much larger bike indicate you'll run out of power or something else before you run out of handling.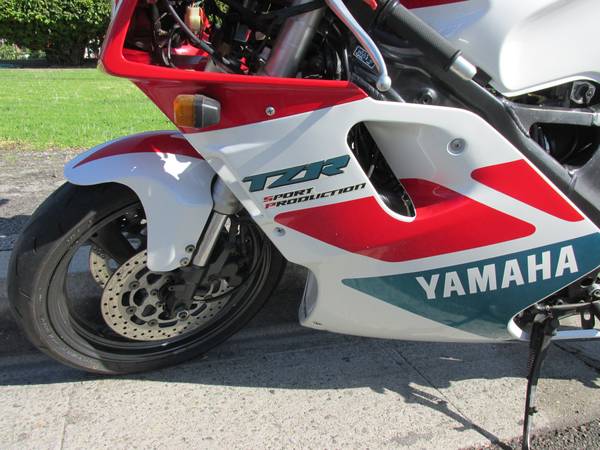 Very low mileage at 1500 km, but recently made ready for riding – the owner reports:
Health issues forces sale. I am ready to sell my bike ( never thought I would). Took it out for my last spin probably. I am having trouble with my knee and can't bend it enough to shift comfortably. Bike runs strong! Started first kick after a couple of months of sitting. IT ONLY HAS 1,529 kilometers. I recently had the Race pipes installed, pet-cock replaced, air box removed, fresh clutch plates (dry) and carbs rebuilt/re-jetted. The bike comes with the original pipes, air box and a full race cdi box for the next owner. This bike is probably one of the nicest examples of this "RARE" 23 year old bike # 406/500. Current California plates, registration, clear title and currently insured. There were only 500 made. I am asking 12,500
Has correct Vin/Registration.
Last 2 pictures show the bike with the stock pipes!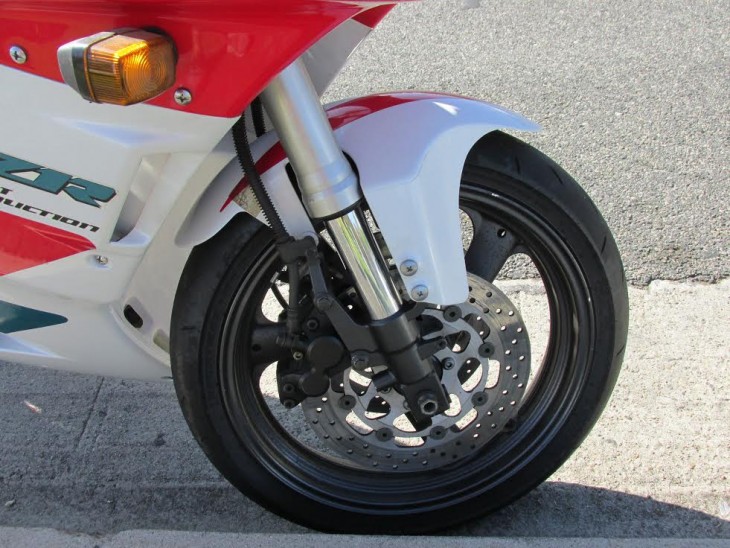 Street legality is always a bugbear with a super special like this, but the owner reports current California title, registration, and insurance.  Asking price is $12,500, a lot for a 250, but for number 406 of 500 of a model that was never imported, unmolested and ready to rumble, it'd be worth a thought.
Interested parties can contact the seller though email.
-donn