Warning!
This post is in our archives. Links in this post have been updated to point to similar bikes available to bid on eBay.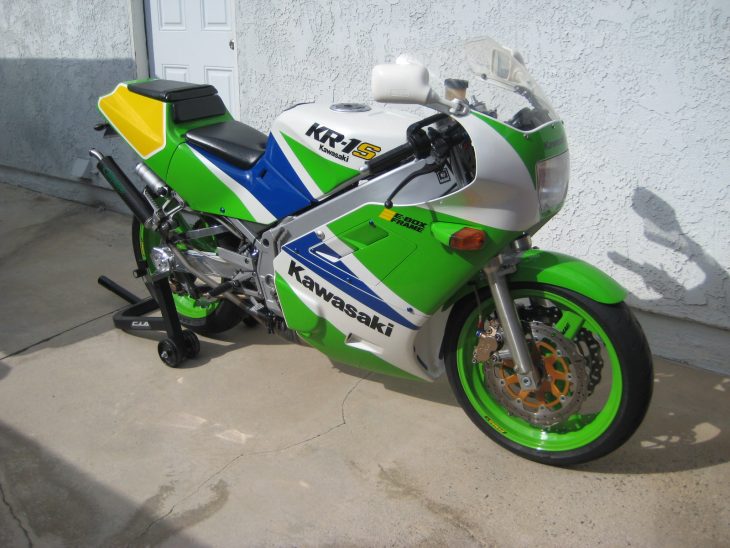 As rare as the 250cc two-stroke sportbikes are on these shores, the Kawasaki KR1-S is the rarest of them all, limited edition models of bikes like the NSR250R SP aside. Considering Kawasaki made some of the hairiest two-stroke sportbikes of the 1970s, it's surprising that Kawasaki seemed largely uncommitted to the class, making just enough to satisfy the demands of the Japanese market. Only 10,000 KR-1s were built during the bike's entire production run from 1988-1992. Compare that to the more 100,000 NSR250Rs that were built, and you can see why these so rarely come up for sale.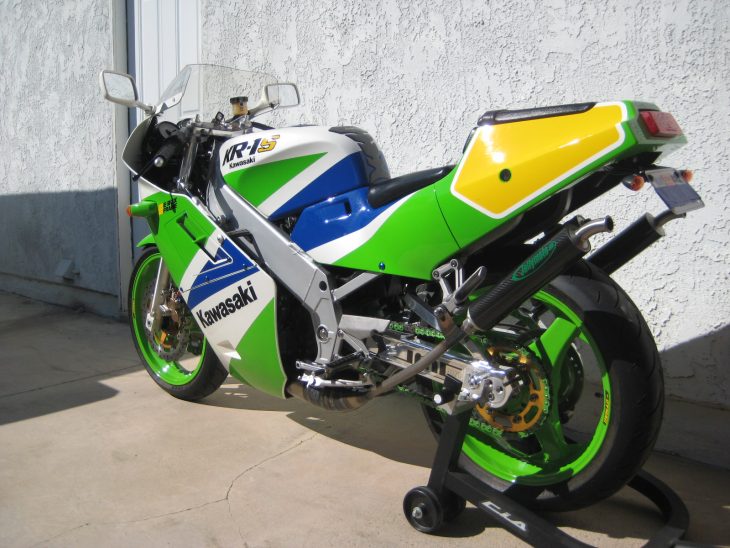 There were no significant updates to the KR-1 during its lifespan, but this was no half-hearted attempt from Kawasaki: the quarter-liter two-stroke class was ruthlessly competitive during this period and there'd have been no point in even participating if that had been their attitude. Instead, it seems like the bike was good enough to go head-to-head with the NSR, TZR, and RGV right out of the box.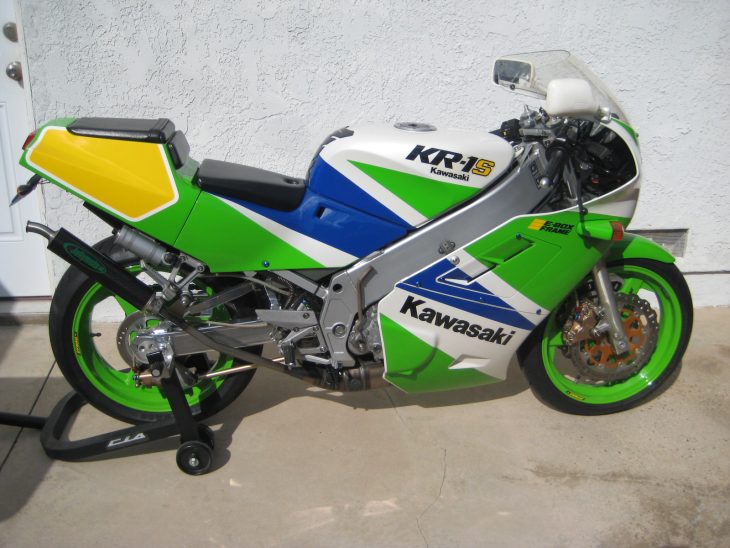 Specifications were similar to other bikes in the class: a liquid-cooled parallel twin displacing 249cc making the expected 45 government-mandated horses was hung beneath the beams of the aluminum frame, with only the airbox in between the spars. Keep in mind that this, unrestricted example should make significantly more power. Kawasaki's proprietary KIPS powervalve system helped widen the powerband and the little smoker was backed up by the de rigueur six-speed gearbox. The complete package was claimed to weigh in at a gossamer 270lbs dry.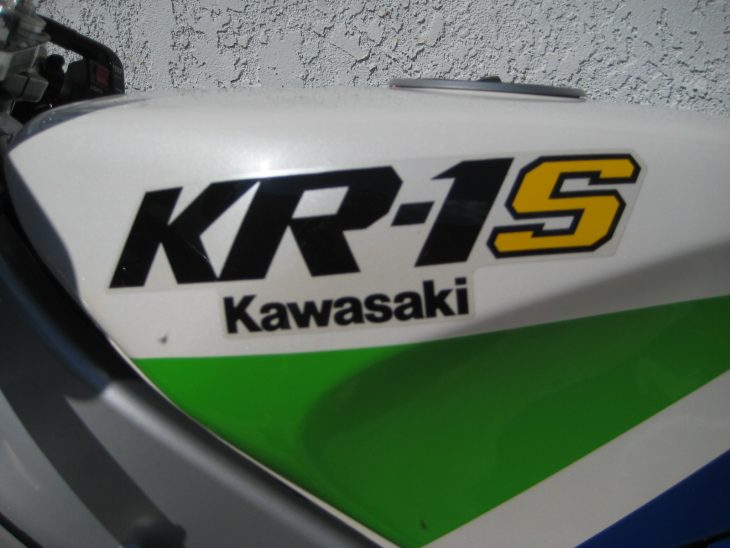 Three versions of the KR-1 were available: the base KR-1, the KR-1S that included wider wheels at the front and rear, and a few hundred examples of the KR-1R featuring larger carburetors and a close-ratio gearbox. From a performance standpoint, the entire 250cc class was separated by the thinnest of margins, but all were extremely competent motorcycles. Of course, each emerged with a slightly different character, and the Kawasaki KR-1S was the fastest of the bunch, with a tested 139mph top speed that's very impressive for a 250cc machine even today and lively handling that made the corners interesting as well!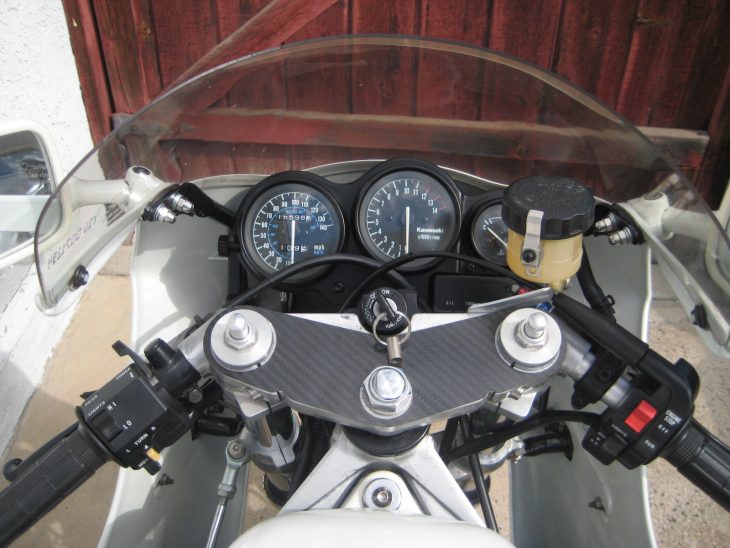 From the Seller: 1990 Kawasaki KR-1S C2 for Sale
1990 Kawasaki KR-1S C2. I am relisting and selling another bike out of my prize collection. Journalist called the KR-1S the most exotic and fastest of all the 250 2 stokes of that era. This KR-1S is a UK model. Which means UK CDI power box, mile per hour speedo. Non-restrictive. Always been in street bike form. Not a converted back race bike. This is truly a rare bike. Unlike NSR's, TZR's and RGV's and even Aprilia RS's that come up for sale now and then, you very rarely see one of these for sale especially in the states. I have owned this bike for over 12 years. I have spent many of thousands of dollars on upgrades. I mean many! I installed a pricey set of Dyna mags magnesium rims. The old KR-1S aluminum rims came with a 17" front and an 18" rear. These are 17" front and back. Light weight magnesium and make sporty tires more available. I have put on a set of Michelin pilot sport tires. Green D.I.D.  O-Ring chain with gold aluminum sprocket. Beautiful high end custom steering damper. Then I had made a JMC fulling braced swingarm with eccentric adjustment. Beautifully polished. I was told at the time that this was the only top braced swingarm that JMC has ever made for the KR-1S. I installed a huge custom made "Pace" radiator made for the KR-1S. This radiator is huge, and solves the problem of any overheating. If anything I have to tape of part of the radiator when it's cool out. But a nice position to be in. Silicone radiator hose are used. Then I purchased a nice new set of Jolly Moto pipes with Carbon silencers. Bikes sound great and pulls better. I had the rear shock rebuilt and the shock spring powder coated green to match the bike. Front forks have been recently rebuilt with all new bushings, oil and seals. Rebuilt both the front and rear calibers with new stainless pistons, bolts, and seals. I had them powder coated too. Custom made steel braided brakes lines with aluminum fittings. They look like new. I also installed new light weight disks front and back.  Have a fortune in light weight titanium, stainless, and aluminum bolts throughout.  All the lights and switches work. The bike has about 16,600 miles on it. So a far as I know the motor has never been touched.  I had plans to rebuild the motor and including all the parts to do it.  I have everything needed to build it included. But now I have gotten old and don't have time for this project. I recently have tuned it up, changed all the fluids. Adjusted the power valves, etc. Bike does still run strong but mileage is getting up there for 29 year 2 stroke. The original bodywork on the bike is not too bad for its age but not perfect either. I had a few tabs and small cracks repaired. The tank has a couple tiny little chips, but is in remarkably in good shape for its age. No dents. The tank is clean inside without rust. The body panels have a few scratches and touched up spots.  Still not all that bad for its age either. Please refer to the pictures for more details. I am including the stock rims with a brand new fresh powder coat on them. The stock pipes, radiator, manuals, and various other parts as seen in my list and pictures. Lots of stuff.

The following is a list of some of the parts that are included with the bike, but not complete. No much to list. Please refer to pictures.

4 brand new piston sets, including, rings, pins, clips, and small ends
Complete set of crank seals and crank bearings, plus new rod sets. Everything needed to completely rebuild the crank like new.
3 gaskets set, plus one extra head gasket
New Water pump part set
New carb sets including floats
Power valve seals
New billet aluminum power valves and power valve wheels
1 extra new front disk
Numerous new seals and bearing that go into the motor
Stock pipes in good condition
Stock swingarm with fresh paint and new bearings and seals. Like new
Stock radiator in excellent condition
Stock wheels with fresh powder coating, sprocket,  and cush drive
All the old wheel bearing, wheel spacers, front and back disks, sprockets, brake lines, and caliber parts. The old original nuts and bolts that were replaced with titanium and stainless, aluminum

The bike is sold without any warranty or guaranties. Buyer assumes any risk of purchase. Any crating, shipping is the responsibility of the buyer. I will assist if possible. Also available to visit and examined in person. Bike comes with a current California registration (Good until May 2020) and title!  Bike is located in Southern California. Has all the correct serial and engine numbers, but is listed as a 1980 instead of a 1990.  Only cash or certified cashier's cheque, Bank Wire from US bank accepted. Please don't make me a low ball offer. You might think that wow I am asking way too much for this bike? I say "fine, don't buy it then". What I can say how often you see one of these for sale in this condition, with all these extras and titled too? Try to find another in the states? These bikes are only going to increase in value as time passes. History has shown this. Plus I am including thousands of dollars in extra parts.

Selling Price is USD $17,500. Serious buyers feel free to e-mail for more pictures and information. mr2stroke@usa.net 
These do show up from time to time, but clean ones are very rare here in the US, and they almost never have valid California titles, making this one quite the unicorn! The seller is open about the fact that it might be getting about time for a rebuild, but the bike includes everything you'd need to do that. Just add labor! The originality is great for collectors, and the stash of extra parts is appealing for anyone looking to keep this rare, Japanese-market bike on the road for years to come. It won't come cheap, but this has clearly been owned by a knowledgeable enthusiast and that makes a big difference for a bike like the KR-1S.
-tad