Update 2.16.2020: Joe has updated his remaining inventory with competitive pricing. Asking price for this RC30 is $53,000. Call Joe at 847-668-2004 -dc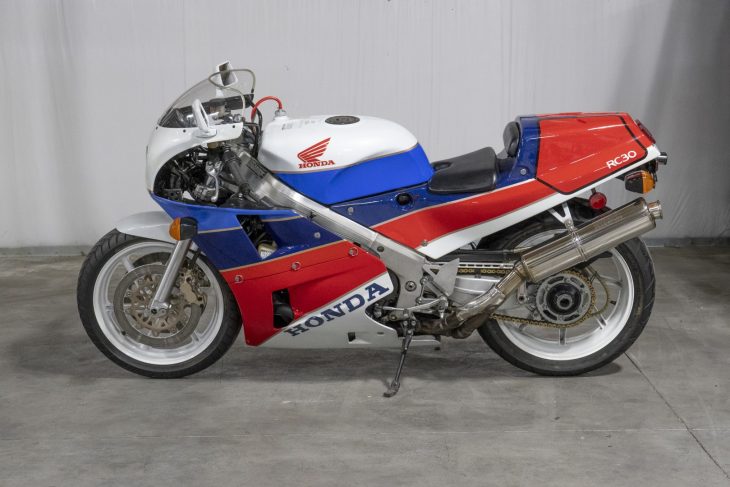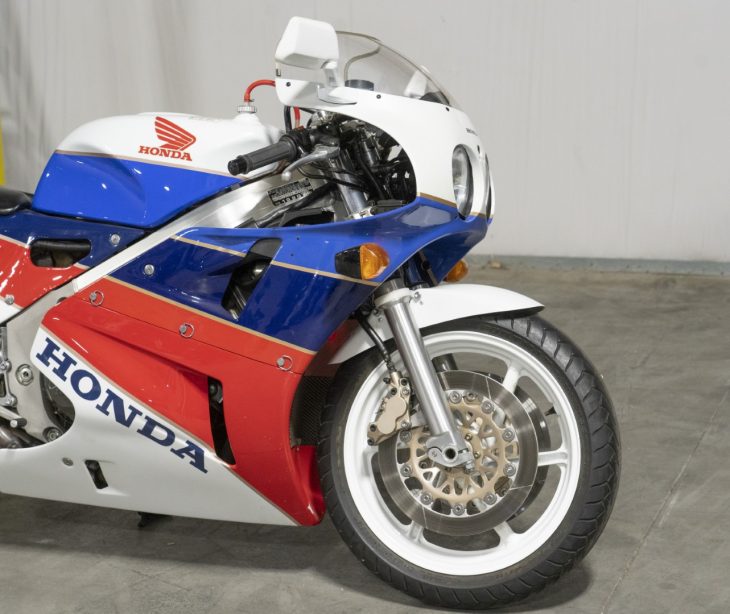 Even if not fans, RSBFS readers will acknowledge Honda's long history of success in motorcycle production and racing.  These days, Honda seems to have the engineering chops ( and resources ) to do almost whatever they put their minds to – witness their Formula 1 winning V6's for Williams and McLaren, several years as CART's engine of choice, and more recently the HondaJet aircraft ( with turbofans developed by Honda and GE ).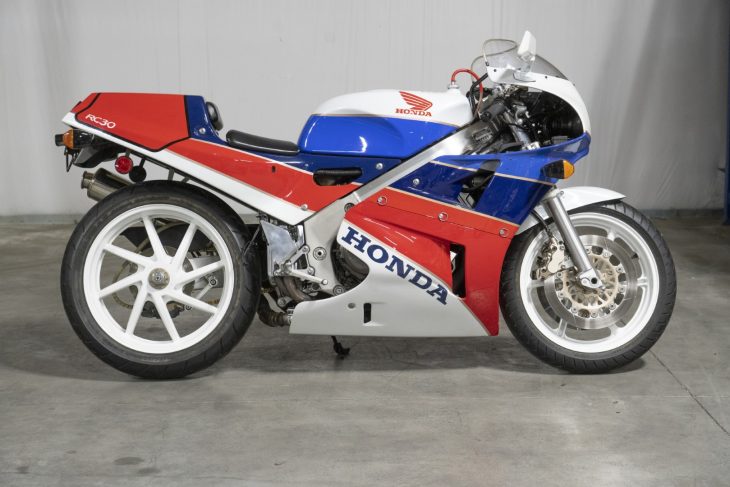 The VFR750R/RC30 from 1987-1990 is just one more example, where engineers and designers pulled a winning concept together, and the manufacturing side of the company executed beautifully, about 3,000 times.  As testament, the factory team won the inaugural WSBK season in 1988.  This rare example has been in a collector's display since new, and occasionally exercised, turning under 1,200 miles.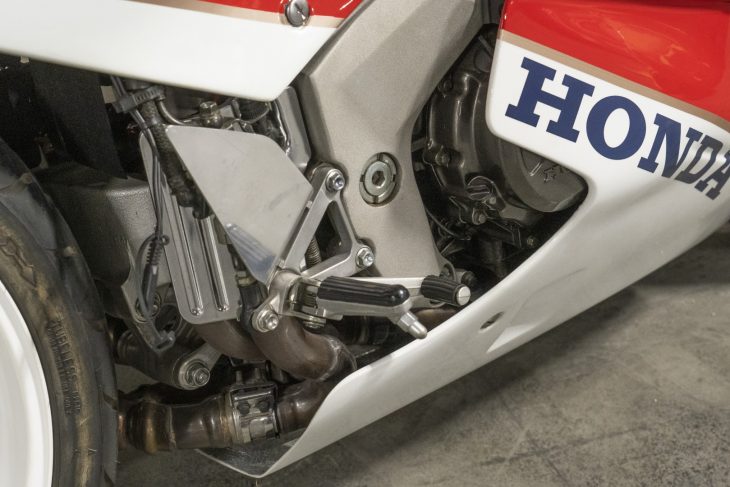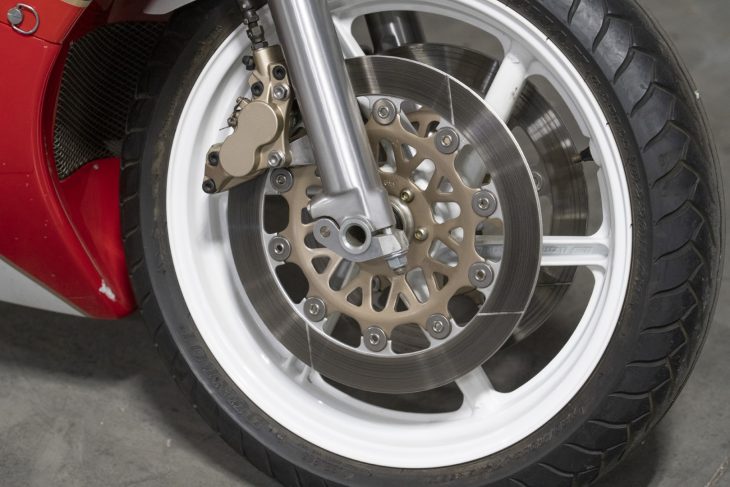 As their homologation special for the Superbike World Championship, the RC30 really was the mythical race bike with lights.  From the sharp-steering alloy chassis to the 296mm front disks to the single-sided Pro-Link swingarm, the RC30 provided the racers what they needed.  Shocks and forks on the single seater were only adjustable for preload, since the race teams would be putting their own special parts.  The compact V-4 looked similar to the preceding VFR750F, but shared almost no internal parts.  Even the exhaust note with the new 360-degree crank was specific to the RC30.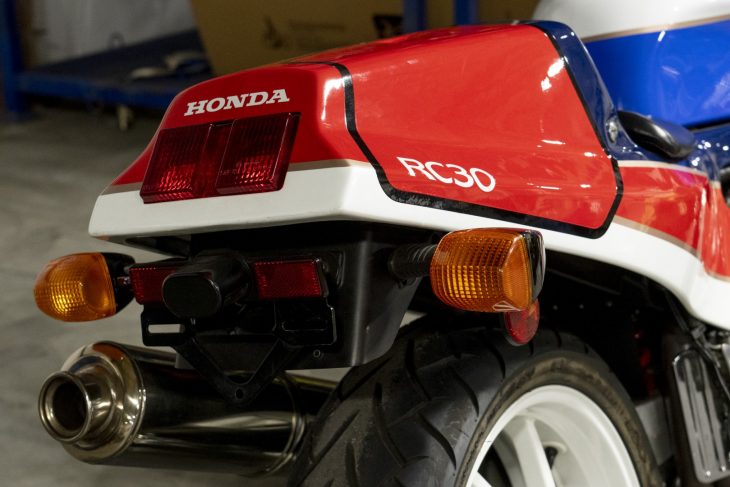 Resting in the motorcycle wing of a large auto collection, this RC30 has received excellent care and not even break-in miles.  The pictures show an apparently new machine, even though a generation has passed since it was built.  The owner tells of a mid-life cosmetic refurbishment:
In general, I do believe super rare Italian motorcycle of the 1970s and 1980s are the future Ferrari of motorcycle collecting. We all know what has happened to Ferrari.

An exception would have to be my super low (under 1,200) miles, almost perfectly like-new 1990 Honda RC30.

Yes, there are a few exceptions to what I call my Italian collecting rule and one of those would be the 1990 Honda RC30. This 1990 Honda RC30 needs no introduction or explanation by me as it is such a famous Honda, that the only thing you need to know about an RC30 is if you are getting a good one or a really great one or one of the very best.

The RC30 in this listing was purchased for the collection several years ago and is an extremely low mileage bike. It was absolutely 99% perfect, however, some of the detail parts that were white rubber or painted white had become slightly discolored. At that time, almost ten years ago, Honda was still had these parts in stock and we purchased each and every part to bring the cosmetic looks of the bike back to 99%. This 1990 Honda RC30 has not been raced or abused or messed with in any way. It currently looks like new, runs just as it should and is kept on a trickle charger and is exercised thoroughly during the spring, summer, and fall; and again it has never been raced or abused (most have been!).

As you may already know, there is nothing more exciting nor handles better than the Honda RC30. The looks, graphics, and colors of the bike need no apology either. They are absolutely a stand-out in any crowd of motorcycles. Most RC30s were extensively raced and it is very hard to find one that has not been modified or raced. You are looking at one that has not been abused in that way shape or form. This bike is always kept on a trickle charge and ready take a trip to any bike show at a moment's notice. This is truly a bike for a serious collection and it would be a shame to abuse it. Oh yes, it comes with a new Honda rear wheel stand still in the box.

All my bikes are kept in climate controlled storage and on trickle chargers when not in use so they are always ready to take a day's ride at a moment's notice.
Honda might be accused of an obsession with the V-4, which brought it multiple WSBK titles along with TT and endurance racing wins.  After Superbike rulesmakers made a short dalliance with the V-twin an offer they couldn't refuse, Honda returned to the four with the RC212V.  But for road riders, the RC30 was a moment when you could buy something very special from the local dealer, even though it cost twice as much as the nearest competitor.  That moment is reflected in recent asking prices even for fairly well-used examples.  But in this case, we have an RC30 that has been in a collector's hands from day one, without damage history and in impeccable shape.
-donn