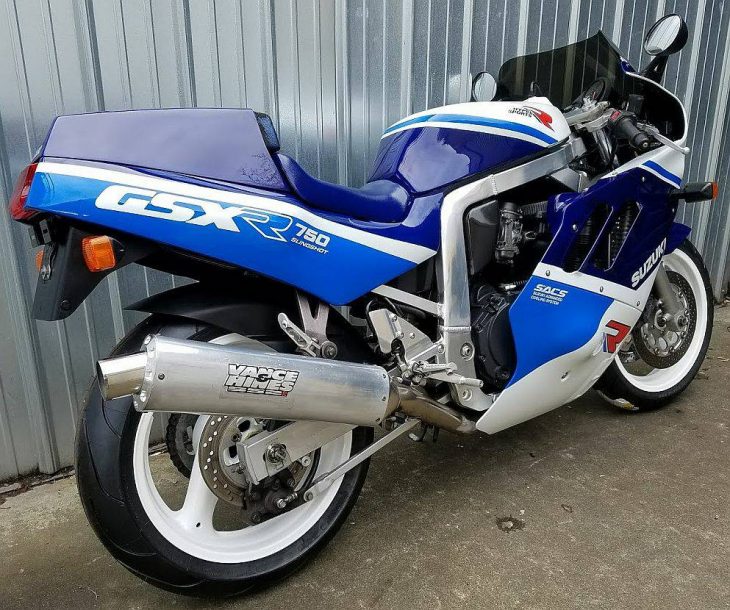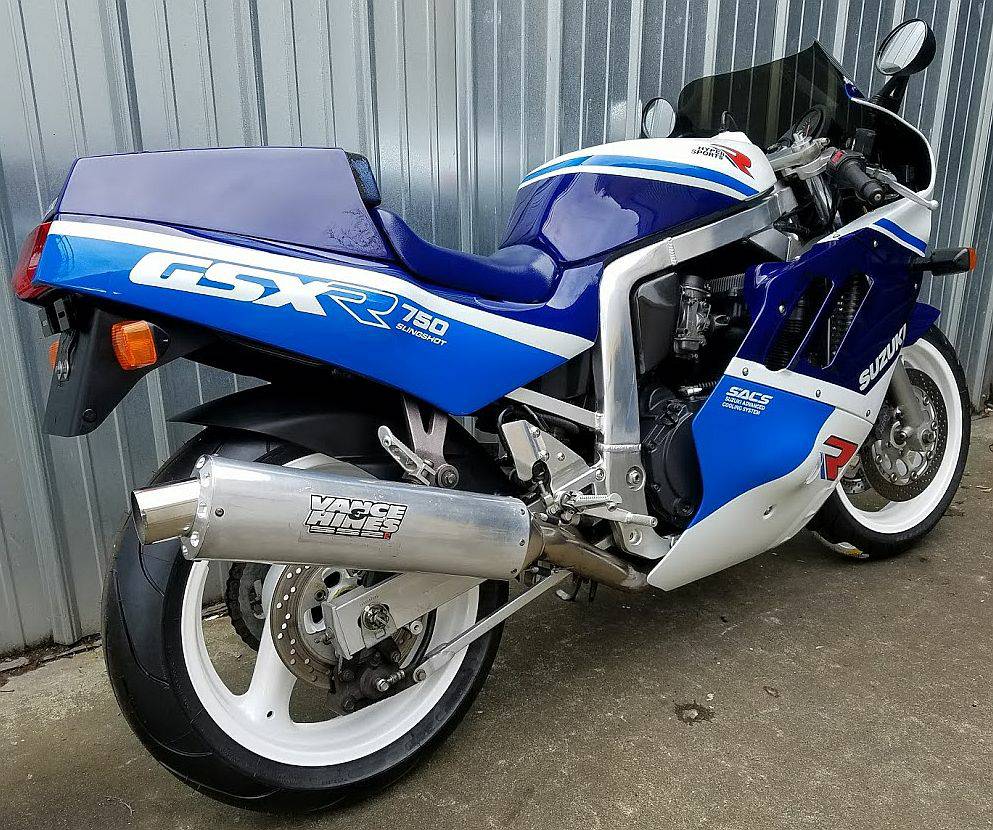 When Suzuki introduced the GSX-R750 (G model) to US buyers in 1986, the racing world was set on fire. With four-stroke, race-bred technology - devoid of the corny race-replica shortcomings - the original GSX-R was a privateer's dream. This was as close to a race bike as one could buy in a showroom, and Suzuki capitalized on that fact with lucrative sponsorship opportunities in both professional and amateur racing series. This first generation of the GSX-R is often referred to as "slabbie" due to the flat, narrow bodywork along the sides and rear of the bike. Notable chassis features included an aluminum alloy frame, adjustable suspension and large, ventilated triple disk brakes. But the big story was the motor: to save weight the GSX-R was air-and-oil-cooled. This setup was pioneered on the XN85 Turbo project, and resulted in a much lighter package than the liquid cooled competitors. Bottom line: The GSX-R was a formidable track weapon.
Fast forward only a few years, and already there were significant changes. While the unique air-oil cooling was retained, 1988 (J model) introduced a shorter stroke power plant that could rev higher than previous models. Gone were the flatslide carbs, replaced by new, larger Mikuni "slingshot" carbs with vacuum-actuated slides. The newer carbs worked better at lower RPMs and ultimately made more power than the first generation setup. The bodywork gained some fluidity through subtle curves, although the paint scheme remained familiar and relatively traditional. Chassis changes included a stronger frame, a bigger front fork and new wheels allowing for wider rubber. With the additional performance and handling capabilities came an increase in weight. The 1989 (K) model was the culmination of these changes, producing a meaner, faster GSX-R - and a neo collectable in its own right.
From the seller:
This gorgeous 1989 Suzuki GSX-R750K "Slingshot" edition was brought to SUB moto service for a "make run" and ultimately a full restoration. Our service department took it apart, looked it over closely, any parts showing excessive wear and tear were repaired, refinished or replaced. This almost 30 year old GSX-R had held up well.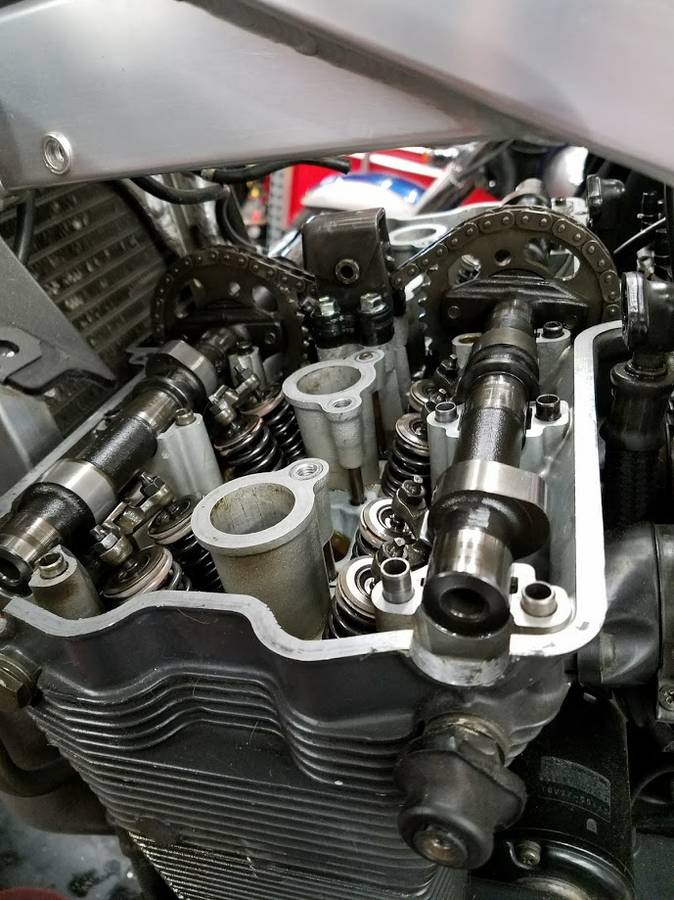 Its hard to believe that 31 years have passed since the US introduction of the original GSX-R. The model has held up well, and the J and K models have started to appreciate in value just like the slab-sided generations have done. The problem is finding a solid example of the breed. Three decades ago, these were mass-produced motorcycles of reasonable cost. Many found their way onto race tracks or (worse) into the hands of teenage squids who wanted to emulate Roberts, Lawson or Spencer. Today even a clean K model Gixxer is old and will likely need serious refurbishment. That is the appeal of this particular 1989 Suzuki GXR-R750 Slingshot - it presents well and has been thoroughly refurbished. This is a rider that you can collect. Or a collector that you can ride. Either way, you will be sitting pretty.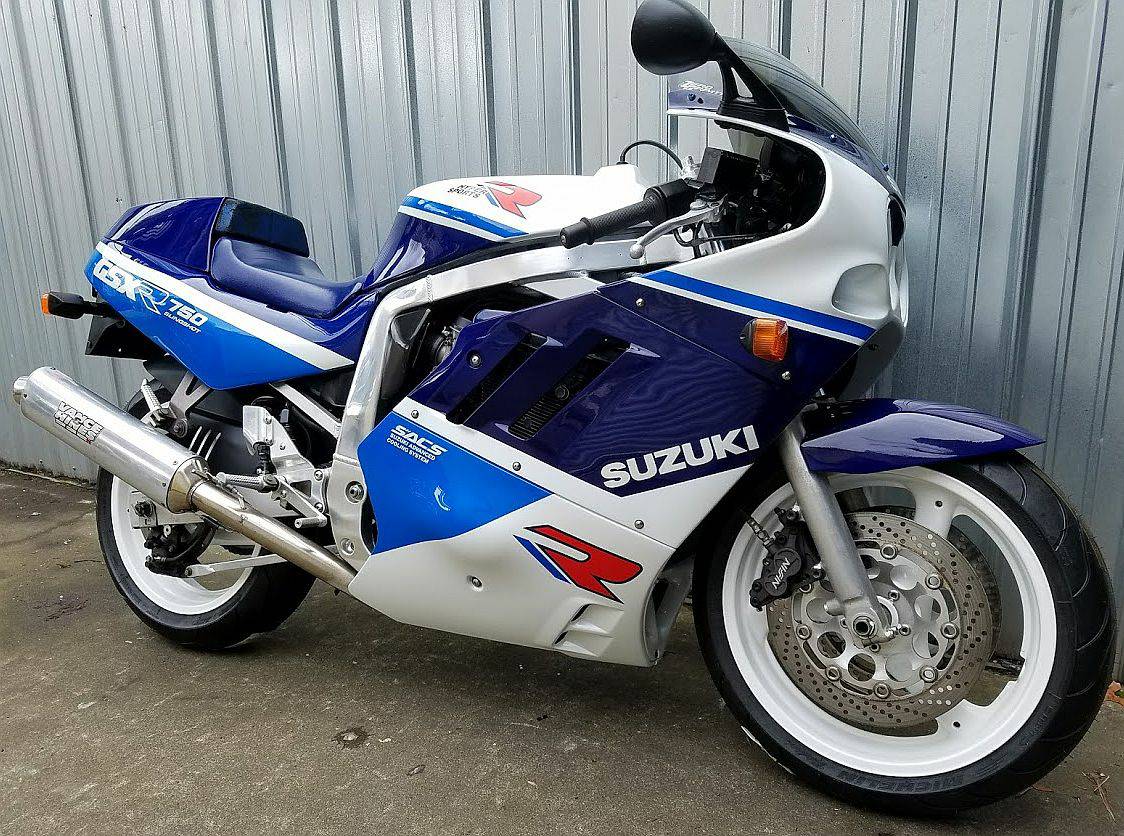 More from the seller:
It received a full service, new tires, all fluids were replaced and a complete carburetor rebuild including all rubber internal parts.. The original bodywork was sent out to be professionally inspected for any cracks or weak spots, Then repaired, gas tank cleaned out and everything repainted to exact factory specs even using an NOS Suzuki decal kit! All rubber pads and cushions mounting the tank and bodywork were also replaced. The original white wheels were sent out to be professionally powder coated, we cleaned and re-greased all the wheel bearings, reinstalled and then slipped on a fresh pair of Michelin Pilot Power 2CT's.

This GSX-R750K is not a concourse level restoration and really should be ridden and enjoyed, these are great bikes and a wonderful model series.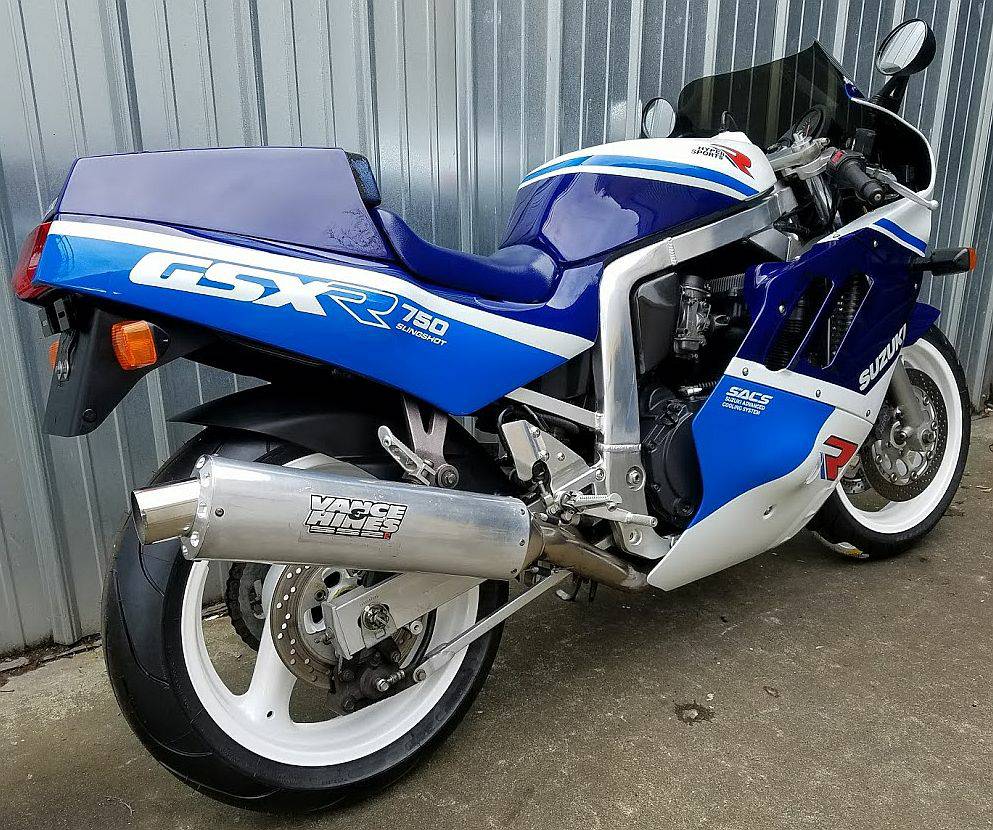 More from the seller:
Over $6500 spent in restoration! It will stand out in the crowd, Blue/White combo is always Suzuki's most popular and this one is a true classic. We just finished up some final details and it is ready to go!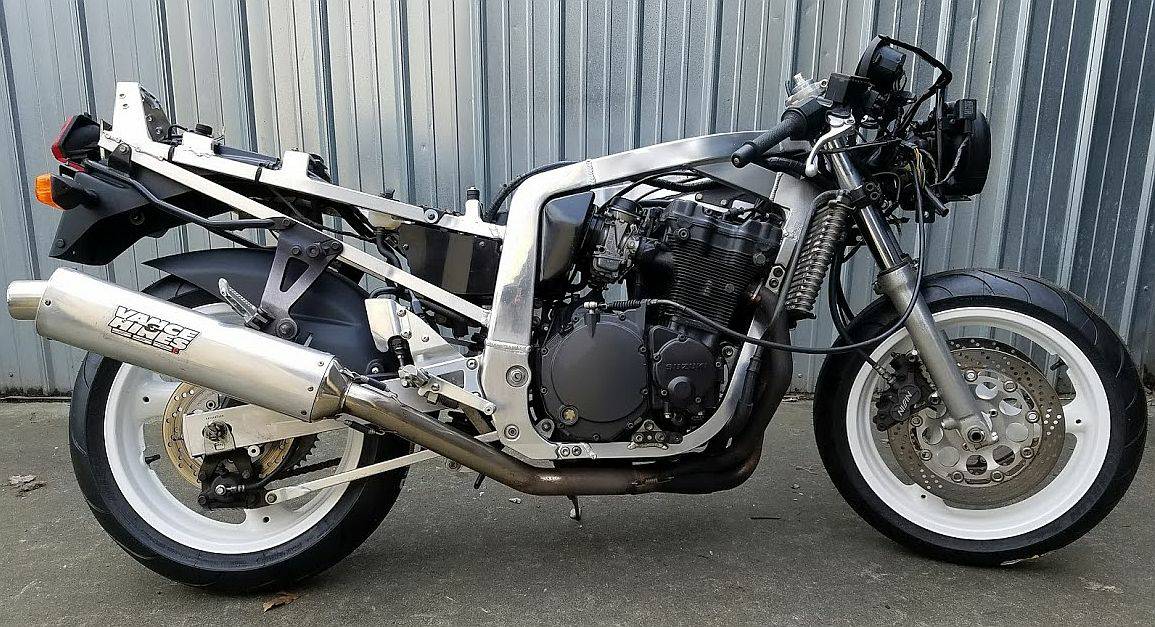 If the beautiful pics are not enough to whet your appetite, check out the short video provided by the seller. Be sure and crank up the volume, as this Slingshot sounds fantastic! Take note of how clean everything looks. This is not just some used bike, but rather an example that really stands out from the crowd:
A few years from now (or a few years ago) you will be making comments like "I remember when the non-slabbie GSX-Rs were unloved and you could pick them up for nothing..." Those days are gone, as are many of the good examples of this breed. Good looks, great performance and a solid pedigree - what is there NOT to like of this generation GSX-R750? If there is a downside, I certainly can't find one. The K model does not have the distinction of being first generation, but other than that it is a superior motorcycle in every way to the earlier series of the line. With values on the rise, the time to get in is now. Check out this beautiful example courtesy of Seattle Used Bikes (a reputable shop in the Pacific Northwest) and be sure and tell 'em you saw it on RSBFS.
MI