Update 7.11.2018: Seller reports that this bike has sold to an RSBFS reader. Congratulations to buyer and seller! -dc
Looking very much like an attempt by Honda to out-Monster Ducati, today's Featured Listing Honda Hawk GT in fact predated the Galluzzi-designed machine by several years. The Hawk was also known as the NT650 and Bros in other markets, and less often by its "RC31" model designation, perhaps because it was designed as a versatile streetbike instead of an exotic homologation special.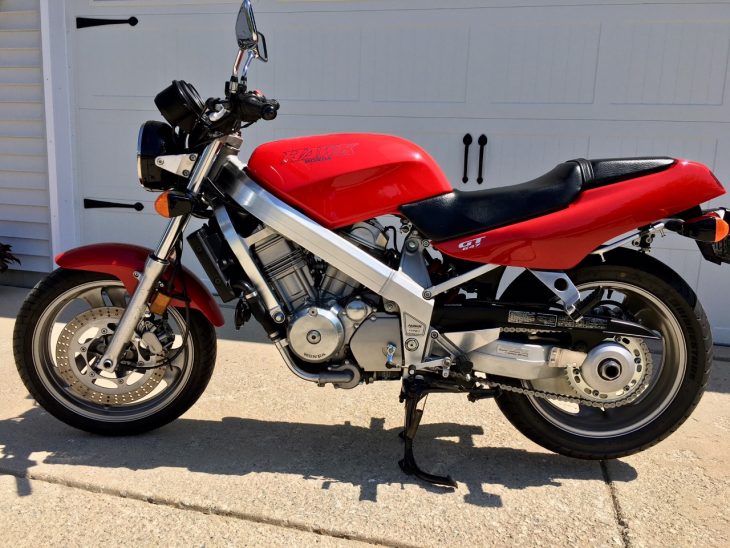 Nevertheless, the Hawk GT incorporated some unusual technology, specifically the distinctive single-sided Pro-Arm rear swingarm that gives it a clear visual link to the RC30 and NC30. The 647cc 52° v-twin engine was liquid-cooled and had three valves per cylinder, with a claimed output of 58hp, enough to push the 393lb dry machine to a top speed of 107mph.
Overseas, the bike was successful and variations survived into the late 1990s but it was not popular in the US and sold for just three years here: 1988-1991. So what went wrong? Well the bike handled well and was very versatile, but it wasn't really fast and was generally expensive, considering the price of a CBR600 Hurricane was just a few hundred higher and was far more exciting to American buyers for whom motorcycles were more toys than a practical means of transportation.
Of course, the general quality, nimble handling, and solid engineering meant that, although quickly forgotten by most, the Hawk GT has become something of a cult bike. Commuter, budget race bike, weekend canyon scratcher: simple modifications can give the bike focus it didn't really have from the factory, and a Hawk can be all things for those of limited means, since prices have remained relatively low, in spite of the bike's relative rarity.
GT-L-Frame-730x548.jpg" alt="" width="730" height="548" / data-rel="lightbox-image-0" data-rl_title="" data-rl_caption="">
From the seller: 1989 Honda Hawk GT for Sale
This 1989 Honda Hawk GT / NT650 is 100% stock and is an exceptionally clean example.  It currently 14,880 miles and was recently refreshed with a few OEM Honda parts including a new chain and sprocket, along with grips and bar ends.  The fork seals were just replaced as well, along with a new battery.  The chrome on the stock muffler is perfect.  The paint was professionally redone by Artistimo, saving the factory tank decals, and looks absolutely stunning.   The original tool kit and owners manual are included with the bike.  This bike starts, runs, and rides perfectly and needs nothing.  I took it on a nearly 400 mile ride two weeks ago.  There are some very minor chips/scuffs in the paint on the rims consistent with the age and mileage of the bike.  The pictures accurately reflect the condition.  Asking $3800.00. It's located near Milwaukee, WI.

Interested parties can contact John by email: jmilotzky@gmail.com

This example falls into that sweet spot between quality and price: the miles may not be just-out-of-the-crate low but the bike appears to be in stellar, very original condition, and includes the original tool kit. The $4,000 asking price, while high for a Hawk GT, is very reasonable, considering the overall presentation and increasing values of these quirky cult machines. And unlike the 9 mile Honda CB-1 that we recently featured, this Hawk isn't such a time-capsule bike you'd be afraid to actually ride it, if you're looking for a fun, quirky, versatile, weekend roadster.
-tad