Two stroke 250's have proved a bit of a niche market in bigger-is-better USA, but with a de-restricted 60 hp pushing 300 lbs. around, they are plenty quick.  RSBFS reader Simon's example is pristine, nicely upgraded, and ready for a grand re-opening.
1988 Honda NSR250R / MC18 for sale
Since the 250cc formula was the penultimate MotoGP class until 2010, each competitive manufacturer had one in the showroom on Monday morning.  The 249cc L-twin was a popular solution, and Honda had one in their stable from 1984 to 1999.   The MC18 was the second NSR generation, with new 32mm carburetors and PGM-I electronics controlled ignition.  Similar to the race machines, the alloy chassis held the engine and the straight-leg swingarm was also alloy.  Triple-disk brakes are way up to the task and the angular fairing cuts through the air.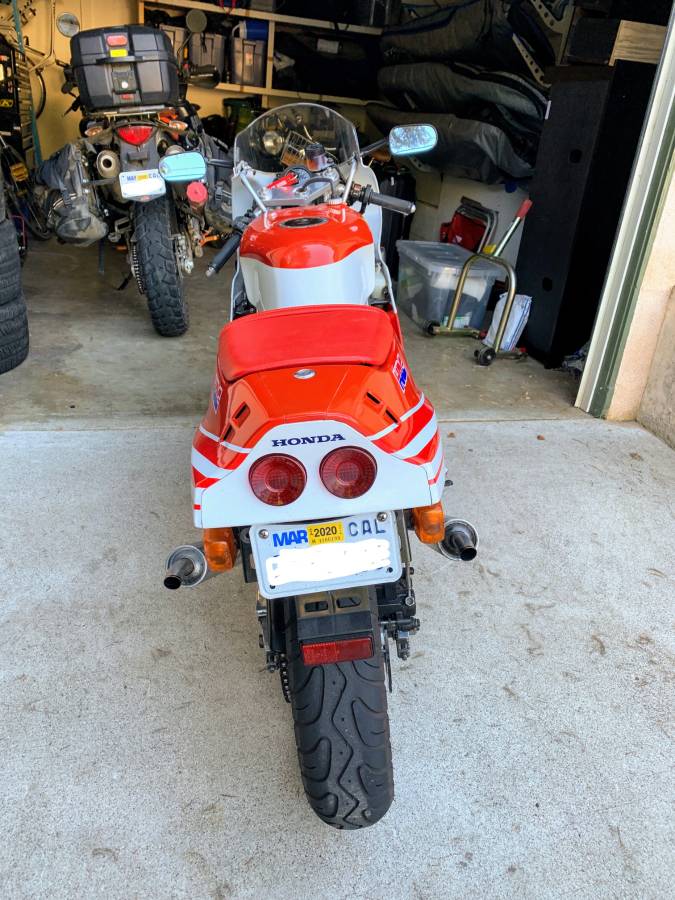 Simon's NSR looks sharp in Honda red with lightly polished alloy frame, forks and muffs.  Except for the updated brakes it shows very factory, with 16,000 Km's or around 10K miles.  Comments from the Santa Barbara Craigslist post:
Fully sorted and ready to ride. A few very minor mods to sharpen up the brakes, Galfer Wave brake rotors, steel braided lines with some aggressive pads. 16k KM. Recent carb clean, good tires, new plugs, new power valve controller and new lithium ion battery. Bike is de-restricted (of course). Starts easy, idles smooth and rips. Comes with some spares. Have clear title in my name and current CA reg.

Have factory service manual 

No rust in tank

Simon asks $8,000 for his NSR250R, and can be reached by email – here –.
Always a pleasure to review a machine with a caring owner, and this is certainly one.  The California registration is a nice selling point, no need to re-invent that wheel.  Looking ready to ride, Simon's NSR should vacuum up the twistie bits.
-donn