Warning!
This post is in our archives. Links in this post have been updated to point to similar bikes available to bid on eBay.

Update 1.18.2017: Sold in 11 days! Congratulations to buyer and seller! If you have an outstanding Rare Sportbike for sale, email us about a $59 Featured Listing for exposure like this this GSX-R 750 received! -dc
Today's Featured Listing is the grandaddy of modern sportbiking, the Suzuki GSX-R750. Sure, you could probably argue that other bikes like Kawasaki's GPz or pretty much every Bimota were also significant, but Suzuki's original "Gixxer" had all of the pieces in place: a fully-faired, bug-eyed endurance-racer aesthetic to match the performance available from the inline four and the lightweight, aluminum-framed monoshock chassis to put that power to the ground. Bimota may have perfected the formula, but Suzuki made it affordable to the masses and, in the process, created an icon. Obviously, boatloads of these were made, but boatloads were also crashed and thrashed and neglected, meaning these have suddenly become very collectible and not easy to find in this kind of condition.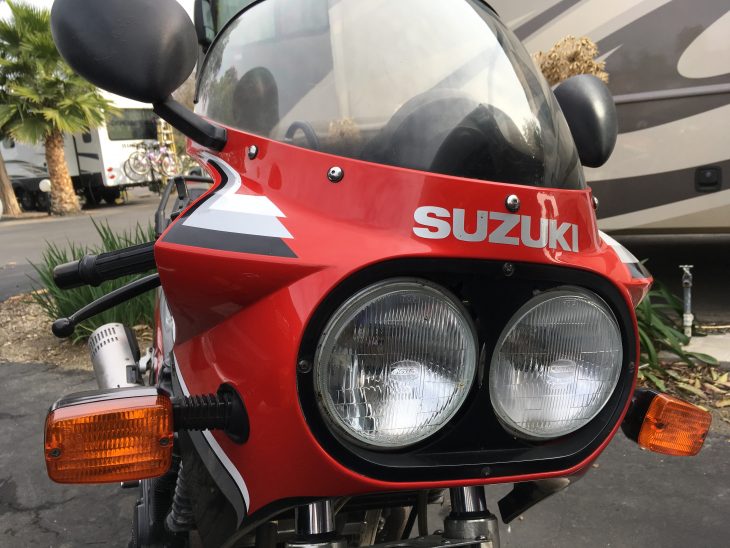 Introduced in 1985, the first-generation bikes like this one are sometimes known as "Slabbies" due to the large, slab-sided fairings. Early bikes eschewed liquid-cooling for their 750cc inline four in favor of a high-capacity oil system known as SACS: Suzuki Advanced Cooling System. The system used a sophisticated oil pump to direct jets of oil at critical components and was used up until 1992, when the GSX-R received more modern liquid-cooling. Why SACS? It was felt that the addition of a radiator and associated plumbing would add unnecessary and undesirable weight and complexity to the new sportbike. Colin Chapman would have been proud, although he probably would also have drilled a bunch of holes into that aluminum frame…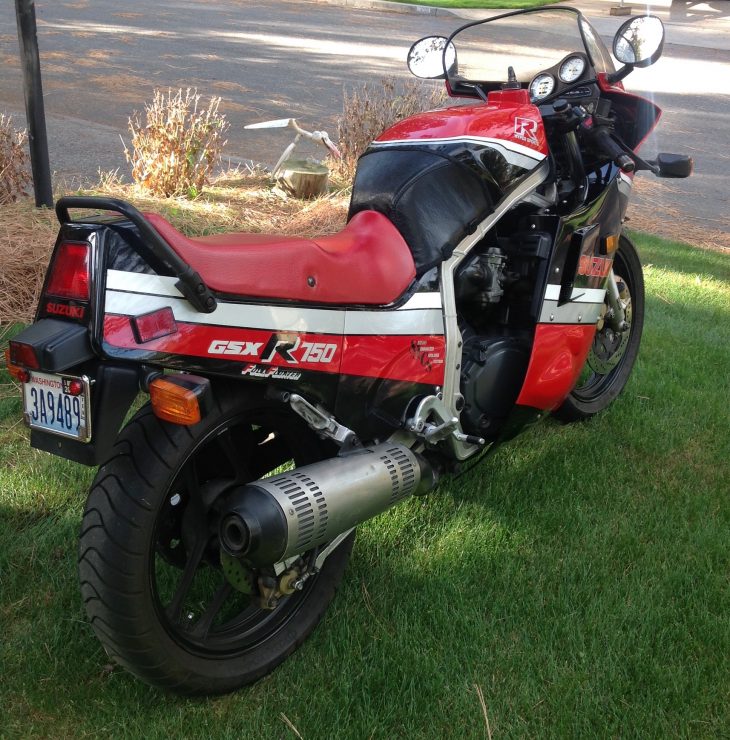 The bike arrived in the US in 1986 and was virtually identical to the 1985 model, excepting some updates to lighting, slightly revised bodywork, and a longer swingarm for improved handling. This particular example looks very clean and appears ready to ride, with fresh plugs and tires!
From the seller: 1986 Suzuki GSX-R750 for Sale
One owner, expertly maintained, synthetic oil used entire life, never been crashed, garaged all its life, all original parts with the following upgrades: Progressive fork springs, Works rear mono shock, advanced ignition rotor, K & N filter and front braided metal brake lines. Old parts are available along with a Suzuki shop manual. Bike has new Metzler Z-rated tires, Iridium spark plugs and a one-year-old AGM battery. 

With almost 60,000 miles on the bike, it is mechanically top notch; the plastic does show some wear with three minor cracks that have been repaired and stop-drilled. Close-up photos are available. The tank and frame are flawless. Most of the plastic is in great condition. Regular oil/filter changes have been made at 5,000 to 6,000 miles or once a year when not ridden often. Brake and clutch fluids were regularly changed, and fork oil was changed every five years. The valves have been recently adjusted. Other than new fork seals–replaced twice–there have been no mechanical failures in the bike's history.

The bike is in excellent mechanical condition with 60,000 miles on it. Cosmetically the bike is in original and very good condition. I am asking $5,800.00 for it. The bike is currently in Ventura County, CA. The bike, while a collectible, is regularly ridden. It runs and handles great!

 
With some pretty outrageously-priced Slabbies out there, the $5,800 this seller is asking seems very reasonable. The miles are pretty high but, as with most collector vehicles, condition is far more important, and this example appears to have been very sympathetically owned. Upgrades are practical and, in my mind very appropriate. Few compromises are needed to own this classic sportbike: no basic maintenance that requires engine-out servicing and no unobtainable parts or esoteric knowledge are required, making these pretty practical collectibles, assuming you find a good one. In fact, probably the biggest limitation will be finding modern rubber for those skinny, 18″ hoops.
-tad