Update 8.31.2019: This bike has SOLD to an RSBFS reader! Congratulations to buyer and seller! -dc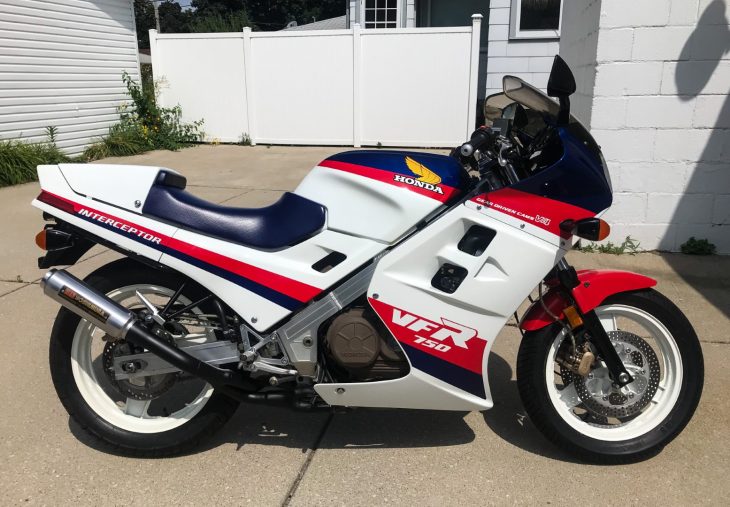 Even legends have parents. They don't often get lauded for their offspring's exploits, but their influence is indelible, and without their genes, what would our heroes be? The 1986 Honda VFR750F is a minor legend in its own right, but its offspring — the Honda RC30 and RC45, are the beasts everyone remembers. But in 1986, Honda was hungry to catapult itself past the other Japanese marques in the sportbike arms race, and to cure its new V4s reputation for weak valve trains.
The VFR750F delivered. Under Fred Merkel, Wayne Rainey and Bubba Shobert, the bikes cleaned up in AMA. And under a crew from Cycle World that included Nick Ienatsch and a motley crew of racers and journalists, blew the '86 Suzuki GSXR750's 24-hour speed record out of the water by nearly 20 mph. Follow the link to that story at the end of this writeup. You won't regret it. The red-white-and-blue beasts achieved the feat thanks to an improved 105-horsepower 750cc V4 that represented a 20-horsepower gain over the Magnas and fixed reliability questions. The bikes were also something like 40 pounds lighter than the previous model.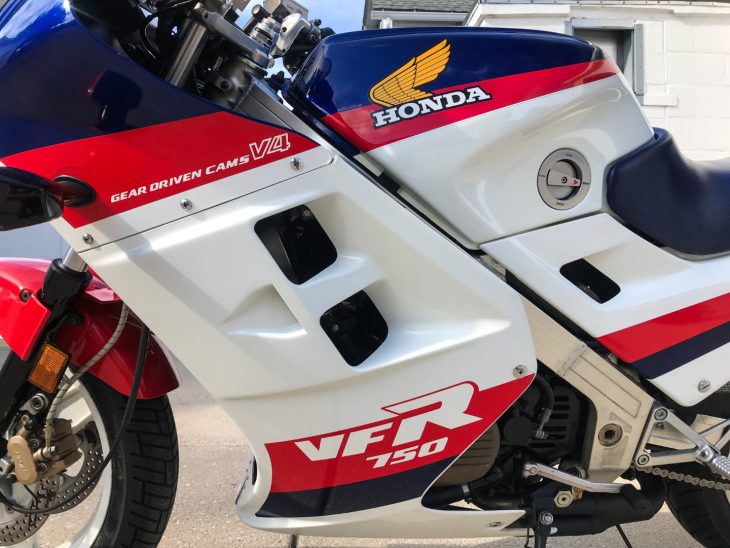 Coupled with a roadrace-worthy suspension and wide, sticky tires, the VFR had the goods to take it to Yamaha and Suzuki.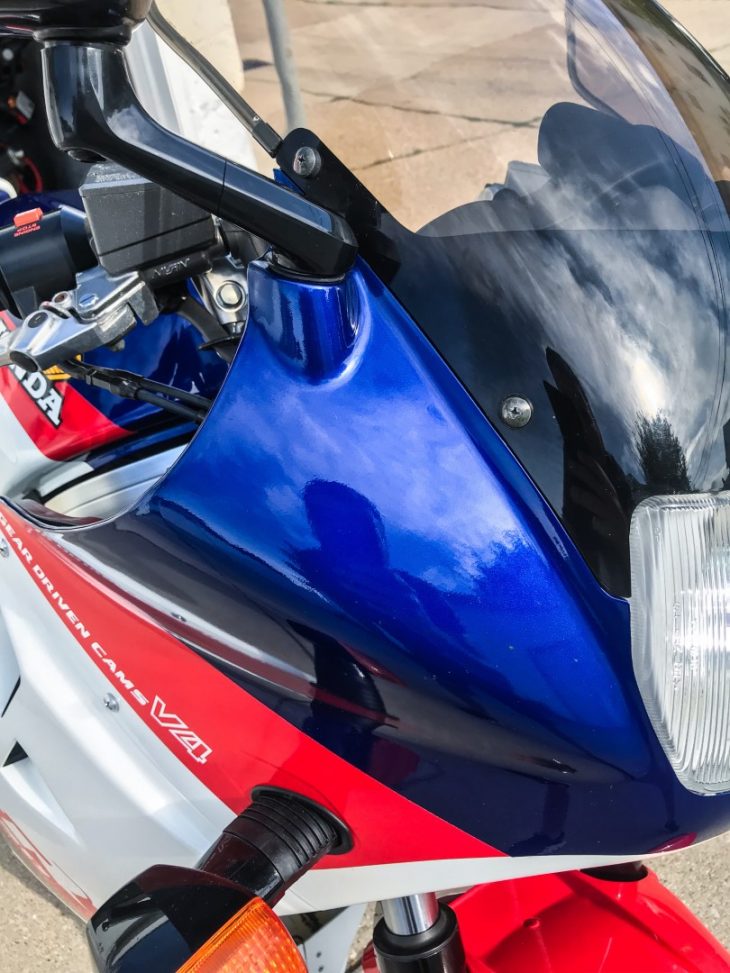 This 1986 Honda VFR750F is in impeccable, low-mile shape, with a long list of recent mods and maintenance to make it even tastier. It sports a Yoshimura exhaust and an RC30-style front fender, among other improvements. Seller Joe spent a long time on his description, so we'll let him take it away:
1986 Honda VFR750F

Honda collector for over 30 years. My recent focus has been V4 bikes of the 80s/90s, including both RC30/RC45. This is my second 1986 VFR750F, which I purchased in 2016. I bought this bike because of its low mileage and overall survivor condition. Plus, I really wanted one with a pipe. The videos don't do the sound of this Yosh pipe justice. The bike has 11,357 miles. As you can see from the title, I've put less than 100 miles on the bike while freshening up a few things. I have over 20 bikes and like to work on them, but I don't ride them enough, so it's time for someone else to enjoy it.Upgrades – all done within the last 18 months: New Honda fuel pump (specific to this bike and $200 for part alone); New fuel filter; New choke cable; New Yuasa AGM battery; New Honda grips; New Metzeler rear tire (Metzeler front matches but older – see code); New DID x-ring chain with rivet; re-zinc'd rear sprocket; Cut down front fender to match race bikes/RC30, and painted to match (includes uncut stock front fender); Valve adjustment and carbs disassembled and ultrasonic cleaned and sync'd (see video – work done by Joe Nelson of VFR Dreams); Fresh oil and filter; New brake fluid front and rear; New clutch master fluid; Known blemishes: 20-25 tank "pimples"appeared over this last winter. Odd, because always stored in a heated garage. Scrapes on left rear cowl/tail. A few very small scratches on windscreen. Hairline crack on LH fairing (3/4"). Normal cracking on mirror arm. Clear title in my name. Includes factory shop manual. I do not have factory owners manual. 2 keys, including original stamped key and a Honda duplicate. Multiple videos show carb sync, cold start, fast idle, fast idle warm up with two other of my bikes. Asking $4000.

Located in Milwaukee, WI 53207

Shipping is solely the buyer's responsibility. I can assist with the shipper of your choice. I have used Haulbikes.com and JJ Bagwell Shipping.

VFR750F 24-hour world record recap: https://www.motorcyclistonline.com/hondas-1986-vfr750f-interceptor/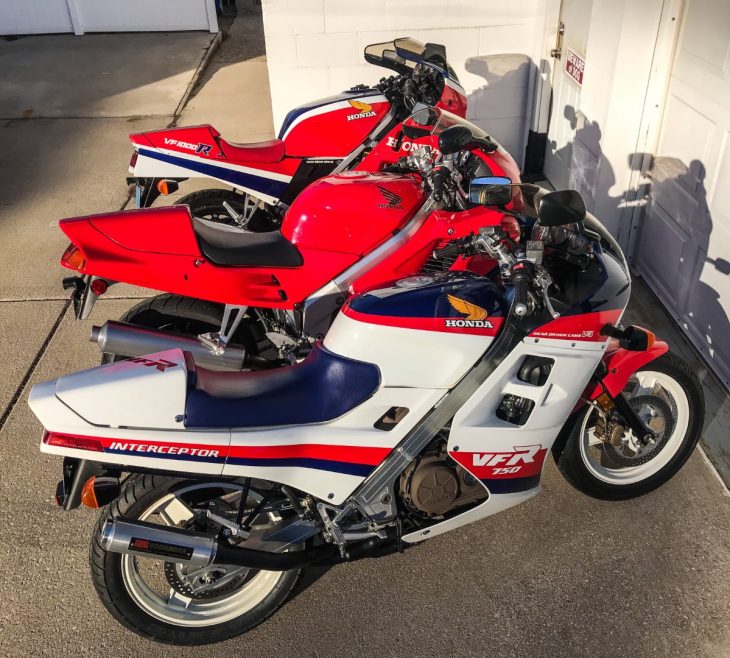 While later sport-touring RC36 VFRs don't command the same coin (somehow) as the earlier bikes, VFRs are still a bargain compared to a slab-side Gixxer in similar shape. For such a jewel of a machine in such gorgeous condition, the $4,000 asking price is almost a no-brainer.