This Featured Listing is part of the The Edinger Ducati Collection. Thank you for supporting the site, David! -dc
The Ducati F1B is a very 1980s example of Ducati's trademark trick — to take a race bike, stick lights on it, and see who bites. In most cases, the answer is damn near everyone, or at least everyone would, if the things were widely available. The 1986 Ducati F1B is a 76-horsepower race repilca that aped bikes Duc took to glory at Daytona, just before the takeover by Gagiva. By 1986, Cagiva had taken over, and the F1B, not to be confused with the F1A, had some cosmetic tweaks, the most obvious of which is a set of red wheels.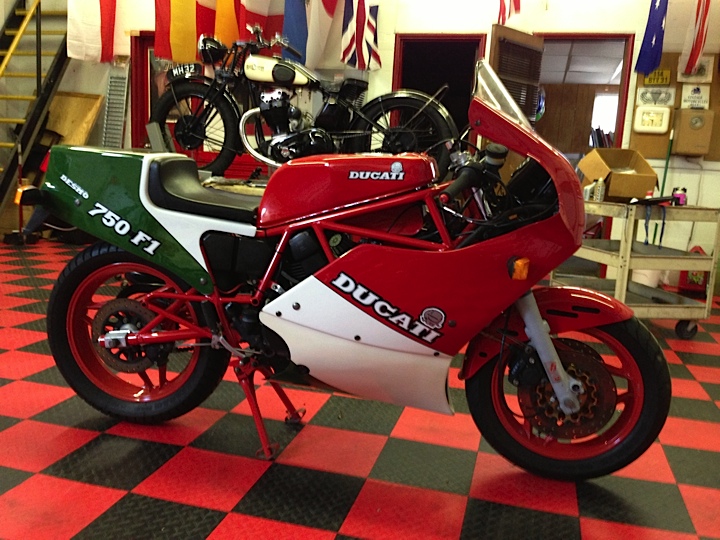 With its minimalist frame, gorgeous tubular swingarm and thin, simple bodywork, the F1B looks incredibly purposeful. Added to the no-frills chassis, the two jugs of the big air-cooled v-twin, fed by a pair of 36mm carbs, is on full display. While it's not anywhere close to the power levels we have come to expect from repli-racers in 2020, there is no doubting that under most people, this thing will still feel ridiculously capable, and with no computers on board, incredibly communicative and alive.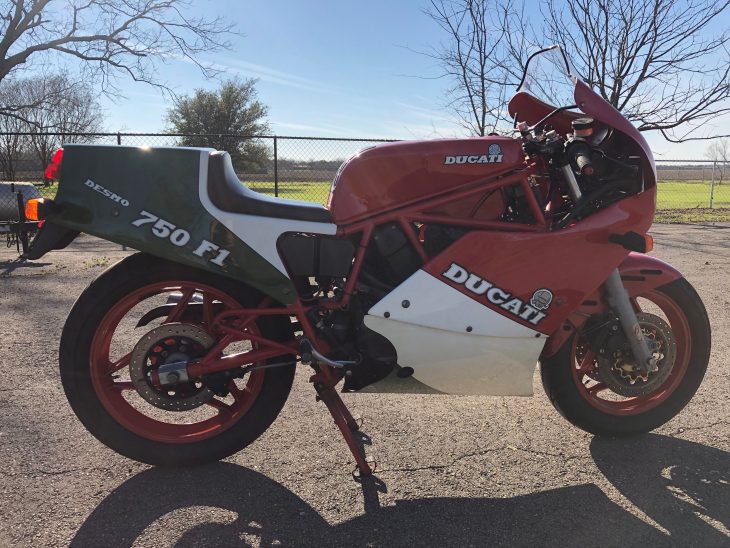 Cosmetically, this one is very nice and original, with just a couple age marks on the seat cowl to keep it from near-perfection.
From the seller:
This is a special 1986 F1B 750, it was owned by one of the top Ducati trainers nationwide. He added an Ohlins rear shock. I added new tires, the profile is slightly taller than stock to get matching sticky street tires. The bikes runs good, carburetors are spot on. There is a bit of patina on the top of the rear seat cowling shown in the pictures. The white on the lower cowling is a different shade of white. I have a shop manual and every receipt that came with the bike and everyone since I bought it. The bike is a 34 year old Ducati Classic. The bikes has 27,165 mikes or 43,719 KM's

I am asking $16,000 which is what I paid for it
David Edinger
Edinger.david@gmail.com317-908-2573
The bike is located in Texas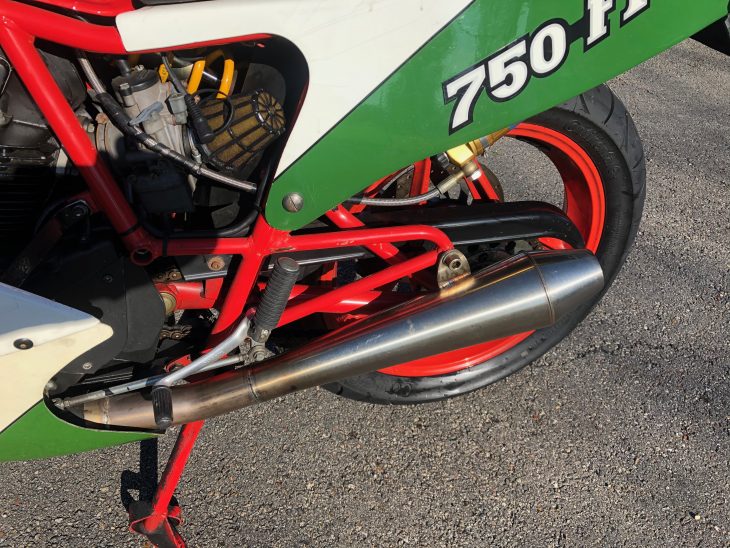 For a bike this cool and rare, $16,000 is a damn attractive ask. It's also right in line with what these things tend to go for. With the groundhog predicting that we're just about done with winter, it won't be long before it'll be time to enjoy this machine to the fullest.