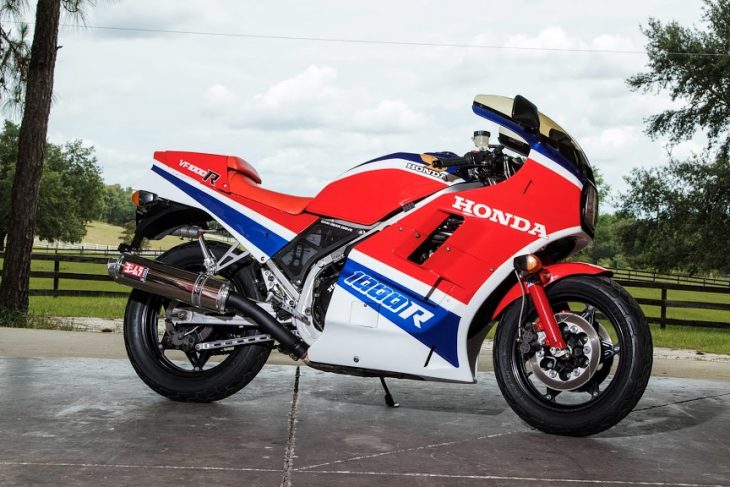 Honda, especially during the 1980's, didn't do things by half-measures. When they decided that the V4 was the future of motorcycling, they went all in. This engine configuration could be found in a half dozen bikes or variations by the mid-1980's, with today's Featured Listing VF1000R at the top of the heap. With such pedigree, and as almost a dry run for the legendary VFR750R, why then has the bike been overlooked by collectors? Perhaps since the bike doesn't have the race-winning history of the RC30 to drive its mystique and value. Either way, the Honda VF1000R was a very trick motorcycle and well worth consideration.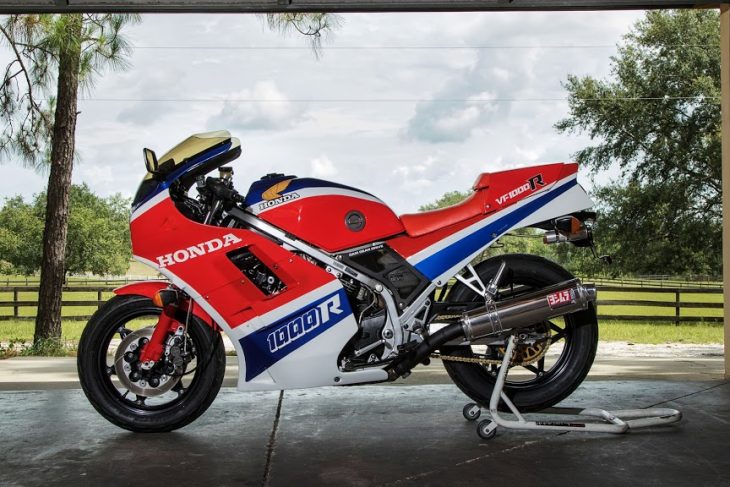 The VF1000R was an impressive technological achievement, with a 90 degree 998cc V4 that included gear driven dual overhead cams, air-assisted Torque Reactive Anti-Dive Control forks with a quick-release front axle, a Pro-Link rear shock, Comstar modular wheels, and radial tires. That might seem pretty obvious, but radial tires were very new to motorcycles at the time. The bike even had adjustable bars, a ventilated rear disc brake, and spring-loaded flaps in the fairing to aid cooling.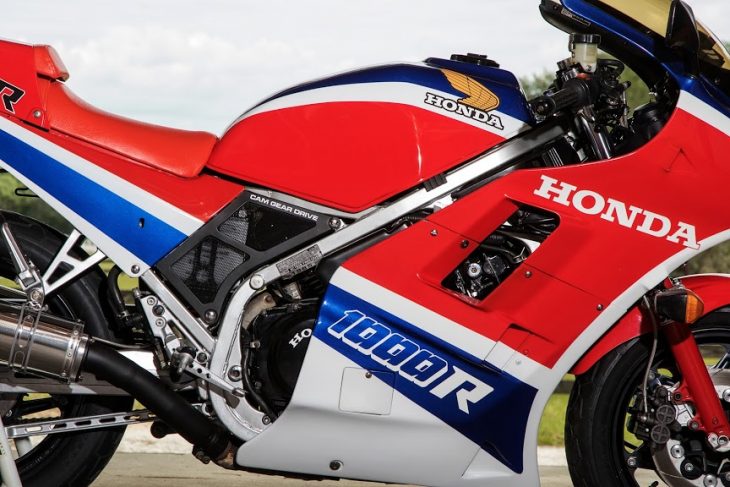 However, that technology had a price, and that price was weight: the VF1000R weighed in at 520lbs. dry. Handling was stable but not the most nimble. That stability made for a pretty great roadbike though, with flexible, effortless power accompanied by a musical gear whine from the cams and that V4 exhaust. If you're looking for Honda racing looks and heritage in a practical, affordable package, this bike might be for you.
The VF1000R has been off collector's radar until recently, but that is already changing and prices are on the rise. Today's Featured Listing isn't a purely original collector bike, but the more modern forks and fabricated exhaust are practical upgrades that suit the bike, as well as freeing up some additional horses and accentuating that great V4 growl.
From the Seller: 1985 Honda VF1000R for Sale
VF1000R's are not the easiest motorcycles to build, service or source parts for. Making the task more frustrating, is the lack of mods that can be done. The suspension on these bikes is the first mod that has to be done. The temptation to go inverted on the forks is overwhelming. However, talking to the current guru on the suspension for these first generation superbikes, Jamie Daugherty, indicated there really was not a viable swap. The stock forks are about 3 inches, on average, longer than the current crop of USD forks available for this build.

Built to be a rider. Functional, adjustable and upgraded modern conventional forks by Jamie Daugherty at DMr and an upgraded rear shock using a Fox Twin Clicker fully serviced by DMr  was essential. The rear shock can not be rebuilt or upgraded, except a few seals, so a Fox Twin Clicker was refurbished. Here is how Jamie Daugherty describes his work on the VF1000R suspension…

"Forks – the VF1000R forks were setup with our DMr BD20 cartridges. This is a full cartridge conversion with Ø20mm valving and Sonic Springs. It features external spring pre load and damping adjustments and is setup with the correct spring rate and damping configuration based on the rider weight and type of riding.

Rear Shock – the Fox Twin Clicker was revalved to upgrade the damping performance to meet the needs of the VF1000R application. It was assembled with the correct spring rate to complete the package. All adjusters were set on the suspension dyno to the ideal settings so no adjustment is needed once the shock installed."

The 34 year old fiberglass body work was in decent condition, which is a testament to Honda quality. A few liberties were taken with the paint, an 86 style decal on the tank and a few other subtle touches. PPG products were used, exclusively for the paintwork.

Stock Comstar wheels. Just, because I like the look and vintage feel.

The exhaust was fabricated using Yoshimura RS-3 dual units to replicate the stock look,

The seat material was sourced from Motorcycleseatcovers.com who sent  a few samples of the Honda red that they stock. After ordering the covers in the proper color, a pre-sown set of covers, the main seat and the solo pad cover,  arrived in a very timely manner. Excellent materials and workmanship. Orlando Auto Upholstery did the seat and solo pad re-skin quickly and efficiently.

The exhaust on the VF1000R is unavailable from Honda, unable to source any aftermarket bolt on units, a custom set was fabricated using Yoshimura RS-3 cans and custom mid pipes. Special thanks to Tim and Yoshiumra RD in California for all the help and consideration.

The intent of this build was to update the bike for riding in today's environment, not to be a static display. It may not be the fastest, lightest most technical bike on the road in 2019,  but it was the top performer in its day.  Too many of the these old bikes are restored and shelved. Lets get them back out on the road to enjoy, not to look at in an office display.

15,979 miles

Asking $7500 bike is located in Clermont, FL
Contact Chris: gsxronly@aol.com or 407-492-5854

Products and Services used.

DMr FRONT FORK CONVERSION
FOX TWIN CLICKER REAR SHOCK
SUPERSPROX CHAIN WHEELS
RK Gold CHAIN
YOSHIMURA RS-3 MUFFLERS
CBR1000RR CLUTCH MASTER
GSX-R750 BRAKE MASTER
SPEIGLER STAINLESS BRAKE LINES & CLUTCH LINE
EBC BRAKE PADS
REFRESHED PAINT WITH PPG PRODUCTS
SHINDY DOUBLE BANJO WITH SPEED BLEEDER
UPGRADED MASTER CYLINDERS FOR EASE OF SERVICEABILITY

Special thanks to:

ORLANDO AUTO UPHOLSTRY
MOTORCYCLESEATCOVERS.COM
SLIPSCREENS LTD
YOSHIMURA RD IN CALIFORNIA
Seminole Powersports North
I imagine a restoration on one of these isn't exactly a lucrative proposition, given the bike's rarity, complexity and relative values, but I'm glad someone's doing it! Especially since the motorcycle is selling for $7500. That seems like an amazing deal, unless you are a collector who prioritizes originality above all else. As the seller indicates, it's built as a rider, not a museum-quality collectible. More of a "restomod" than a restoration. Personally, I'm most interested in riding these great old machines, and some Honda enthusiast will scoop this one up and understand why.
-tad