Update 2.28.2020: This bike has SOLD! Congratulations to buyer and seller! -dc
We're on a roll over here with rare Italian beauties from our buddy Joe, and this 1977 Ducati 900SS is no exception. It might not quite carry the provenance of his MV Agusta 750S America, but a '77 900SS is absolutely nobody's idea of plain.
The Ducati Super Sports entered the market just as Ducati had finished establishing itself as a maker of world-beating race bikes. Paul Smart won the Imola 200 aboard a Ducati Super Sport in 1972, after which the 90-degree v-twins became synonymous with Italian racing prowess. The early SS bikes had right-side shift and almost no provisions for DOT-legal street equipment. Such as, you know, turn signals.
Fast forward to 1977, and Ducati decided that the American market was primed for its desmodromic-valved beasts, and the 1977 Ducati 900SS made its way to our shores in extremely limited numbers. Just 137 of the featherweight, 80-horsepower repli-racers landed here that year, but they had an immediate and forceful impact.
This Ducati 900SS has been restored completely with gorgeous paintwork.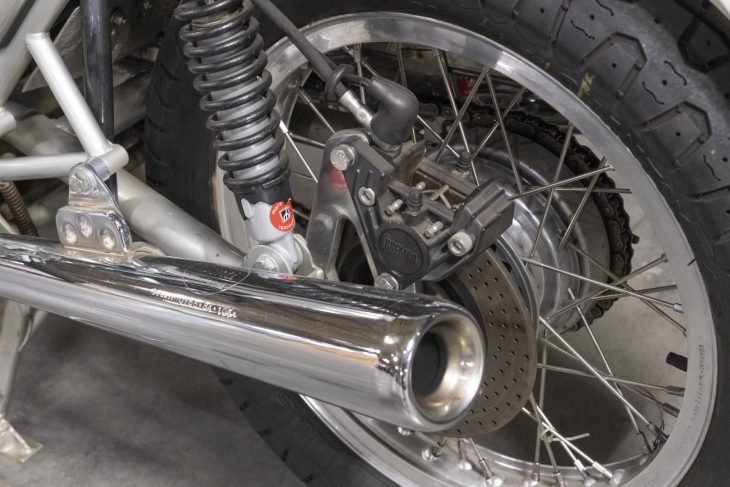 From the seller:
1977 Ducati Super Sport

You should know that I am a serious collector, with a large and important motorcycle collection. I decided to sell some of the most valuable motorcycles in the collection. These motorcycles represent some of the most iconic motorcycles of the 1970s, 1980s, and 1990s. Those motorcycles are now being offered up for sale one by one. These motorcycles were targeted by me for adding to my collection many years ago when the best of the best were available and that is exactly what I purchased.

In general, I do believe super rare Italian motorcycle of the 1970s and 1980s are the future Ferrari of motorcycle collecting. We all know what has happened to Ferrari.

It doesn't take much introduction to talk about a 1977 Ducati 900 SS. They seldom come up for sale and when they do they generally look like they have been ridden hard and put away wet.

This particular bike was restored in Chicago and definitely under the supervision of the famous Dr. Desmo. It is kept on a trickle charger and exercised regularly during the warm weather. Restored to perfection and still makes an outstanding presence and performance at any show and is equally prepared to go on any extended ride and tour at a moment's notice.

We all know what's happened to the prices of the Ducati 750 SS's and the 900 SS's are not far behind. If you want the best just take a look at the pictures of this bike. You will see that it is the best of the best and then some. If you want technical information about the bike just check the Internet. It is loaded with that and plenty of road tests shortly after the bike was introduced to the public. As I have mentioned in some of the other bike ads for bikes coming out of our collection there is not question that the 900SS is the Ferrari of the future for motorcycles.

This bike is always kept in climate controlled storage and kept on a trickle charger and ready for a 500-mile trip on a moment's notice. Check out the pictures and you will be impressed!

Most everyone would agree that the 750SS and the 900SS are the epitome of motorcycle design.

I would suggest that you check out the other rare cycles that I am offering for sale by clicking on "other items for sale" in the upper right corner to see the other bikes being offered from my collection.

Thanks for looking at one of the best!
Given its rarity, condition and position as the spiritual birth of the American Ducati market, you're not going to get this one for a steal. But the cash outlay will well be worth it to have this gem in your collection.