Update 2.4.2020: A handful of Joe's bikes remain after Las Vegas and are STILL AVAILABLE. 847-668-2004 CALL FOR PRICE! -dc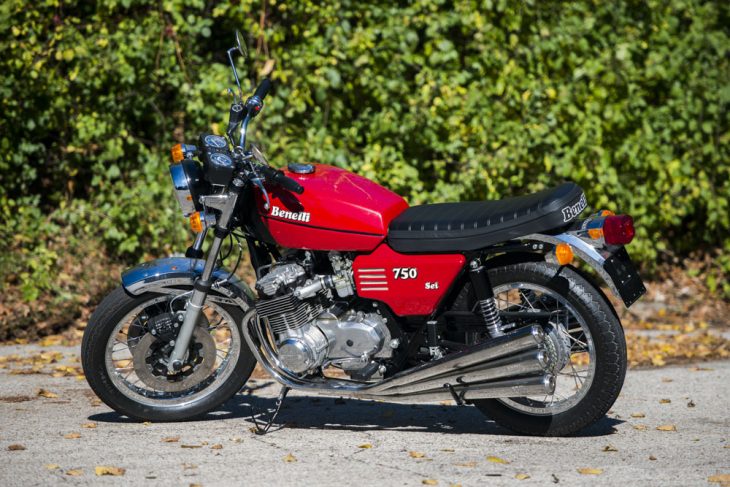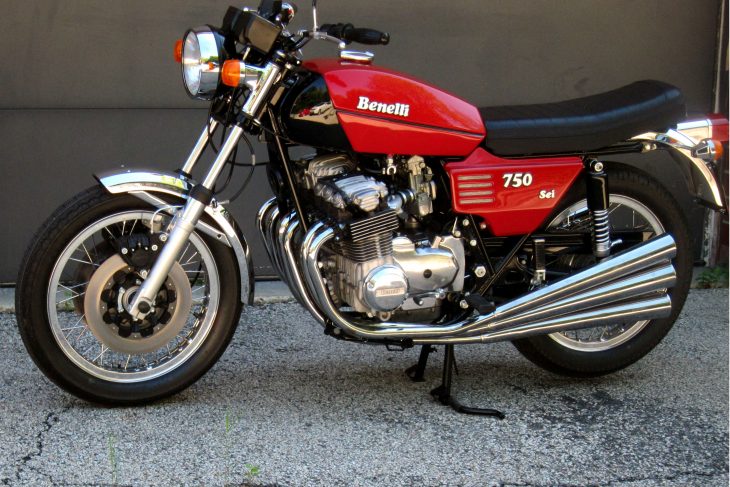 Benelli and Honda exchanged flattery in the 1970's, which began with Benelli creating a six cylinder look-alike of Honda's CB500 Four in 1972.  Their flagship Sei began as a 750 and progressed to a 900 by 1979.  Honda returned the compliment in 1978 with their CBX.  Restored by a previous owner, this Sei is a magnificent labor of love.
Benelli made a careful study of the air-cooled Honda and made a few changes – the gear-driven alternator, located behind the cylinders, keeps the engine's width manageable.  With three Dell'Orto carburettors, 76 hp was almost effortless and the Sei created usable torque from 2,000 rpm.  The chassis is a hefty downtube with right-side-up Marzocchi forks, and twin Sebac shocks.  Dual front disks make up for the tried-and-true rear drum.  Styling is dominated by the six-way calliope, with a few angular details on the instrument cluster, side covers, and cylinders.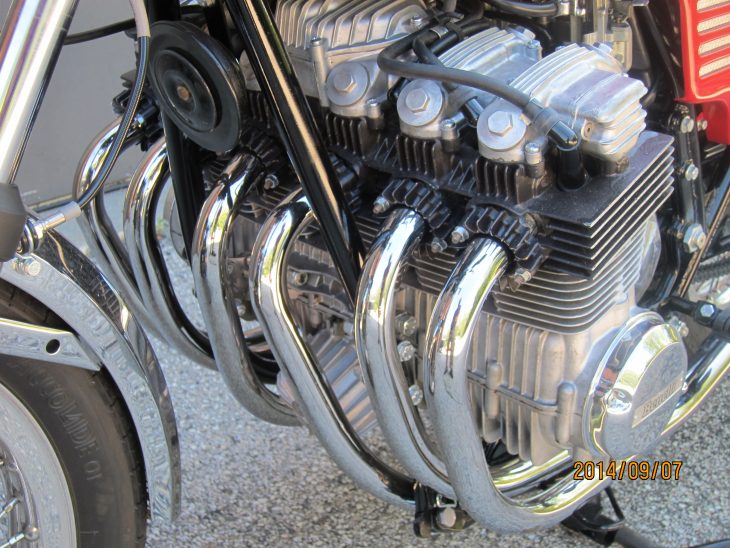 A bottle of chrome polish might be on the new owner's shopping list, since the Sei is all metal, with not even the side covers executed in plastic.  On display since shortly after the restoration was completed, it shows almost as a new machine, with sparkling finishes and new rubber parts, like the carburetor boots.  The owner shares these notes:
In general, I do believe super rare Italian motorcycle of the 1970s and 1980s are the future Ferrari of motorcycle collecting. We all know what has happened to Ferrari.

The 1976 Benelli SEI 750 six-cylinder is another one of those iconic Italian motorcycles. It was the first six-cylinder production motorcycle, and, yes, those six exhaust pipes not only sound great but look phenomenal. The bike was restored by a gentleman that spent what looks like half a lifetime to get it to such perfection. This bike starts and runs as it should and I don't personally know of one important criticism that I could make on the bike for show or riding.

The Benelli winding through the gears sound like a Gran Prix rarer and the slick handling is something has to be experienced. These six cylinder Benelli bikes have a long way to go in terms of collector appreciation. When you buy a first series Benelli six cylinder you will find a crowd wherever you stop.

Then just wind up through the gears and it seems that the roar of those six exhaust pipes can be heard a mile away.

Check out the pictures of this Benelli it has to be one of the best, if not The Best, restored 1976 Benelli SEI 750's ever!

All my bikes are kept in climate controlled storage and on trickle chargers when not in use so they are always ready to take a day's ride at a moment's notice.


Check out the pictures and be a little amazed – you are seeing the best!
As the 1970's opened, industrialist Alejandro DeTomaso had high hopes for his new acquisition, and funded the development of the magnetic Sei.  The big-band sound of six individual 125cc cylinders is more like a fleet of motorcycles than just one.  Never destined to be in every garage, the bright light in the Benelli showroom was reflecting off the Sei's six chrome mufflers.  The owner has curated and preserved this example to a high standard, and not insignificantly, kept it ready to ride. 
-donn