Warning!
This post is in our archives. Links in this post have been updated to point to similar bikes available to bid on eBay.

Update 7.10.2021: This bike has SOLD! Congratulations to buyer and seller! -dc
When it comes to bikes that have made their mark on history, few can stack up with the Yamaha TZ750. A winning GP factory racer built for the Formula 750 class, the TZ750 was remarkable in its adaptability; from dominating Daytona, to winning the Isle of Man TT, to being converted into a dirt tracker of sorts, the mighty TZ sent a message to the world that to win you needed to be on a Yamaha. And far from the factory-only efforts of today, the TZ750 was available as a customer race bike. Show up to your local dealer with references and some cash, and factory speed and power was in your hands. Today's 1974 example of the TZ750 is just such a privateer bike, and includes some interesting history and a trip to Daytona as some of the stories it has to tell. This Featured Listing is an amazing part of our motorcycling past, and can be raced in historics, parked in your man cave museum as artwork, or even ridden on the street (!). The sheer volume of quality pictures should say enough, but read on about this labor of love.
Featured Listing: 1974 Yamaha TZ750 Racer!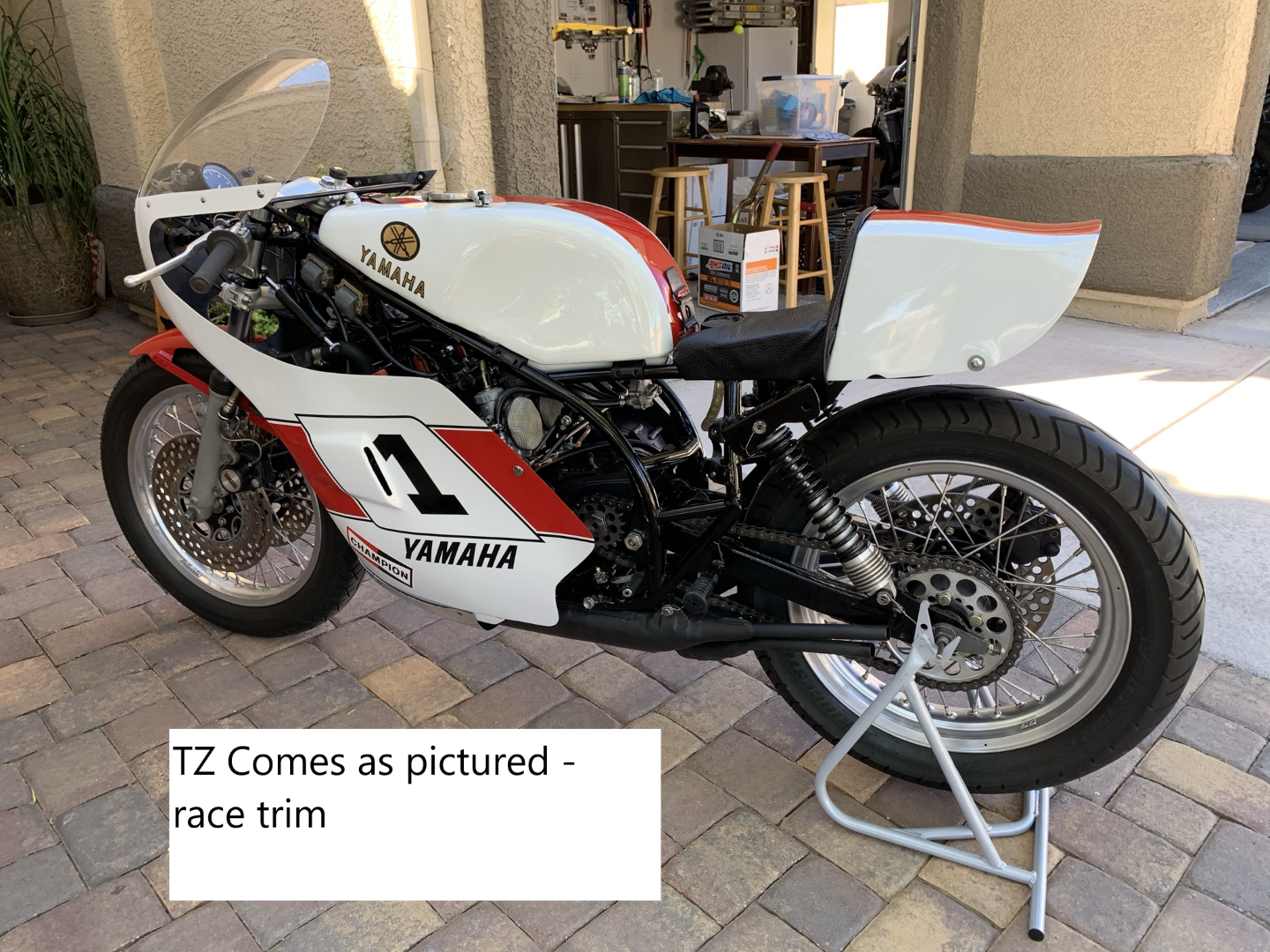 From the seller:
This is a 1974 Yamaha TZ750A, with true 750cc D-model cylinders. It was purchased by the current owners in 2015 from the previous (2nd) owner who had it since 1979. It was raced at the 1975 Daytona 200 by the original owner Doug Libby (from Michigan). We have been in touch with him, and he confirms that he did race this bike there, finishing mid-pack (pictures of Doug on this bike below).

The bike will come in the original race trim, as seen in the pictures with the flat-side open pipes and the #1 bodywork. The TZ also comes with a rare, clear Nevada Title so that it can be ridden on the street. We have the street trim equipment available to the buyer which can be negotiated separately, and includes the street exhaust (Swarbrick pipes built by Rusty Bigley), extra bodywork #40 (AirTech), kickstand, and electronics (headlight, taillight, license plate holder, turn signals, cooling fans and battery). All street parts were all installed with a "do-no-harm" mentality. Nothing was drilled or damaged to the bike in any way and parts can be added/removed as if they were never there. Both sets of bodywork have been professionally painted with automotive grade paint and clear coat over the pinstripes/color. The stickers are over the clear and can be removed by new owner.

First-year TZ750's are very rare and we know of fewer than 10 in the United States and most of those are in museums. Ours also comes with a clear Nevada title and is the only twin-shock TZ that is street legal that we know of in the United States. Historically there may only be 3 or 4 TZ's of any generation that were titled in the United States for the street.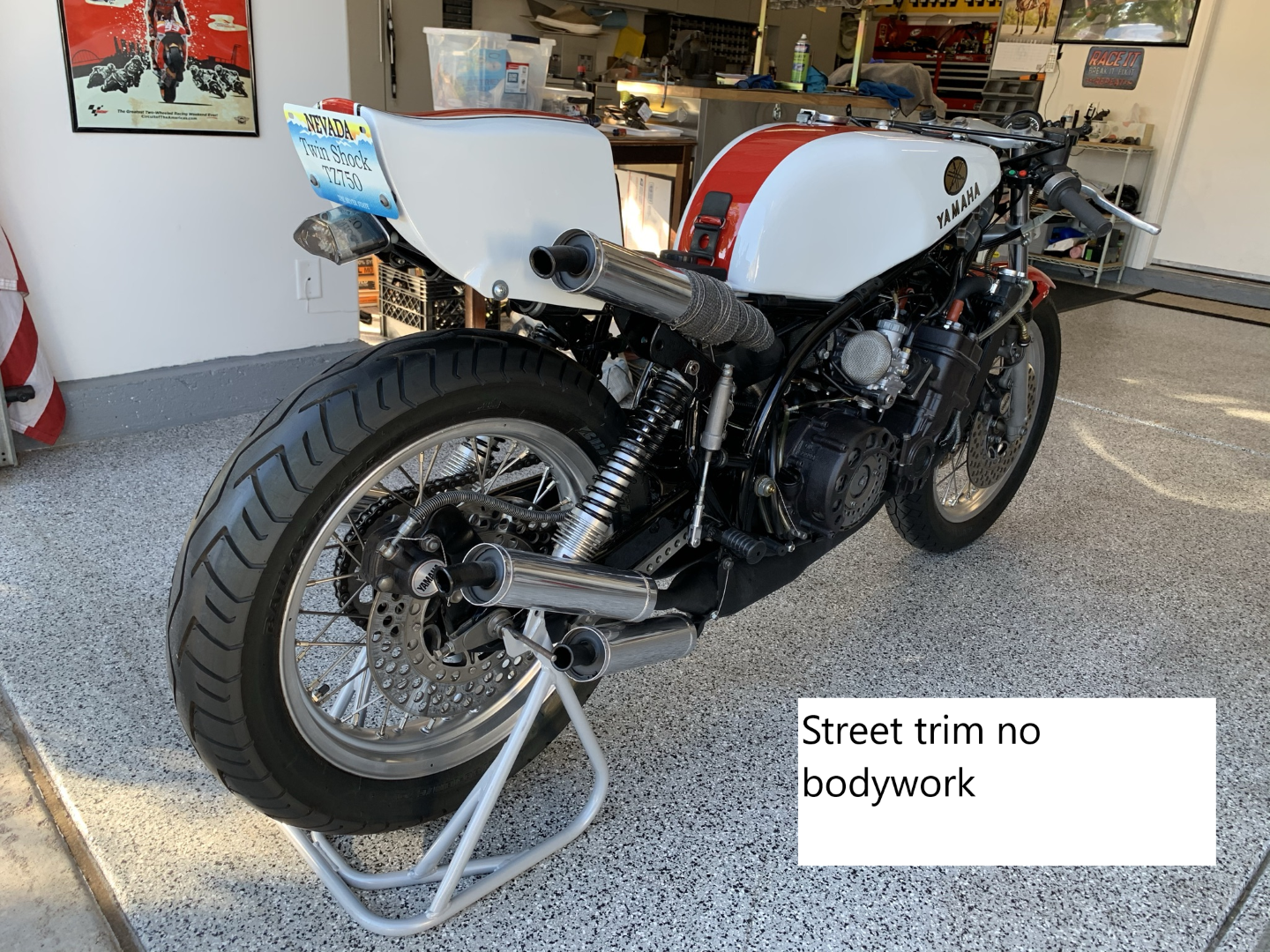 More from the seller:
The bike went through a full restoration about 10 years ago by the previous owner. It has run 2-3 hours since 2015, when we purchased it. The previous owner stated that he inspected the engine for wear and compression and all is within spec, we have done a borescope inspection on cylinders and gearbox with no concerns found. Some of the fasteners i.e., bolts, washers, etc are non-factory Yamaha. It is always stored inside our home. A new set of Mikuni carburetors are installed that have idle screws (originals did not have them, making it hard to idle at a stop sign). The original 409 carbs will come with the bike and are in excellent condition however, they were all drilled for idle screws by the previous owner (see photo), as such the drill holes would need to be sealed to return them to original condition. Also, a new aftermarket radiator has been installed and the original is preserved and comes with the bike. Finally, a set of mid-80's Michelin slicks will come with the bike if someone wants to make it truly period-correct for show. The slicks are not showing cracking but are only good for static display (due to age). The engine case does not come stamped with a serial number, indicating it was a factory replacement. The frame # is: 409000177 meaning it was the 76th TZ750 built in 1974.

For reference, we attended the Mecum motorcycle auction in Las Vegas in January 2020 where another first year TZ sold for $60k plus $6k premium for a total of $66k. That machine wasn't even close to the quality ours is. It was missing various parts, and the finish was subpar at best. We constantly keep track of TZ750s that are for sale and only one or two per year come on the market. Most have not been restored or require significant time/money investment to become ridable. Ours is a ready to ride, race, or show either on the track or on the street.

Asking price: $65,000 USD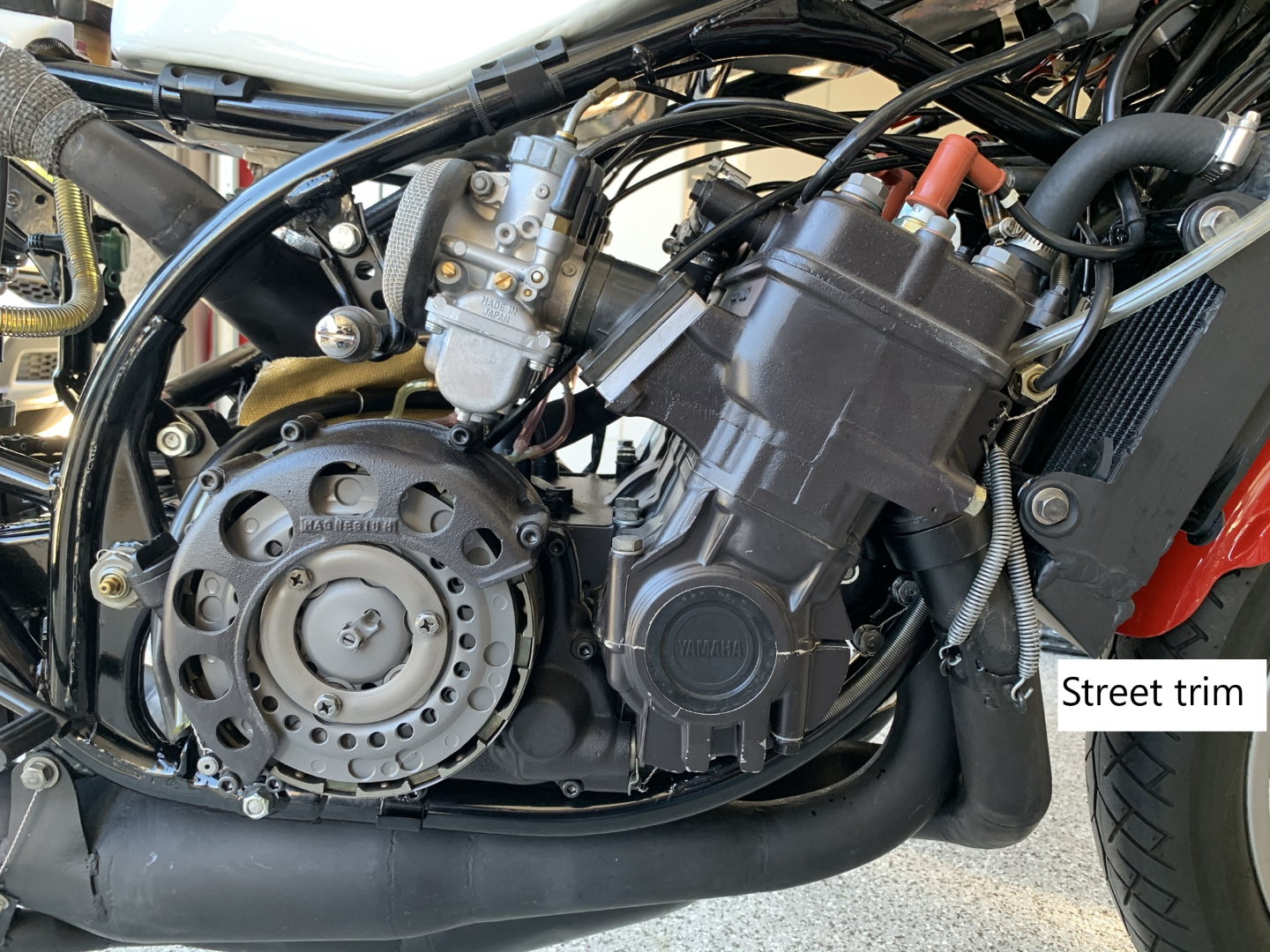 More from the seller:
The street gear can be negotiated as part of the sale. The original flat-side "open" pipes will come with the bike in race/original trim. We also have significant spares that can be negotiated as we have another CMR chassis TZ750 that we are building to race. We are located in Las Vegas, Nevada, and can assist with shipping or transporting, depending on the situation and location of the buyer.

All of the pictures and videos posted in this ad were taken on 10/31/2020 (except for the vintage pictures, of course). We have put comments on the pictures to make it clear what comes with the bike. We took photos of all the parts available and made comments on each photo stating which come with the bike and which are negotiable.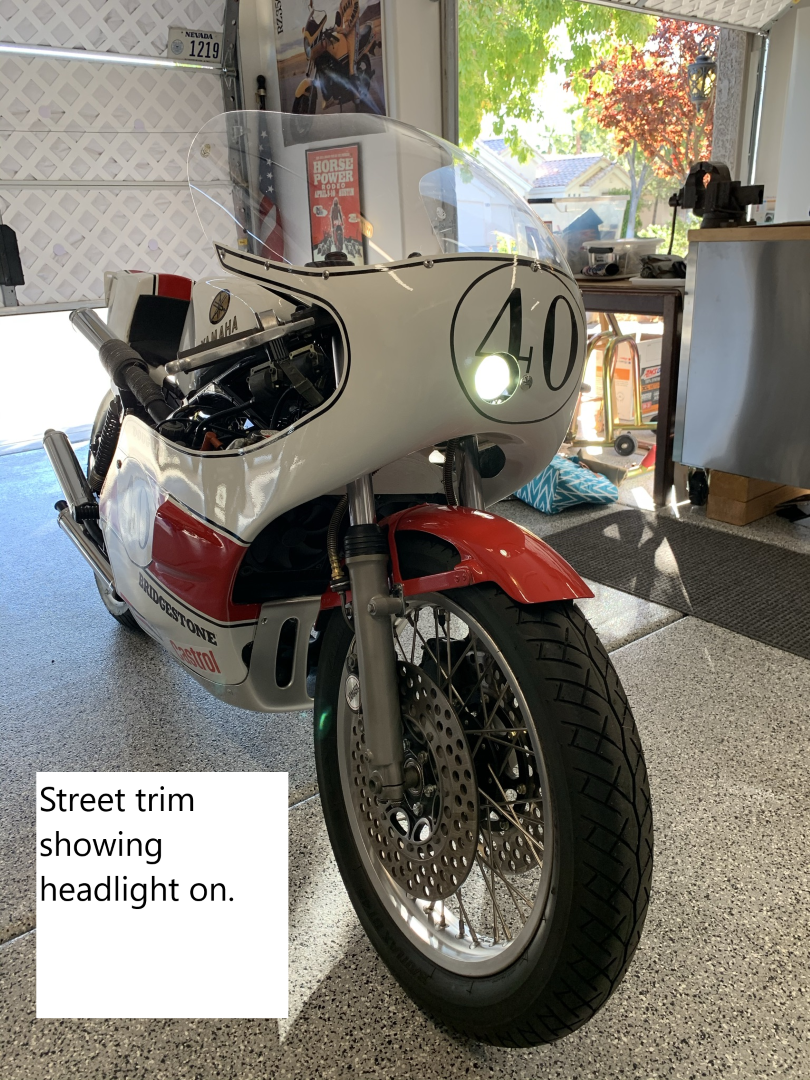 A bike this magnificent needs to be seen in motion to truly appreciate the visceral elements of the breed. Check out this video of the bike running (in full race trim), and tell me that the sound does not send chills up and down your spine!

How do you like this view from the office? Not many riders have had occasion to enjoy this particular view, but the lucky buyer can chose what they see through the bubble: the racetrack, the canyons, or the man cave!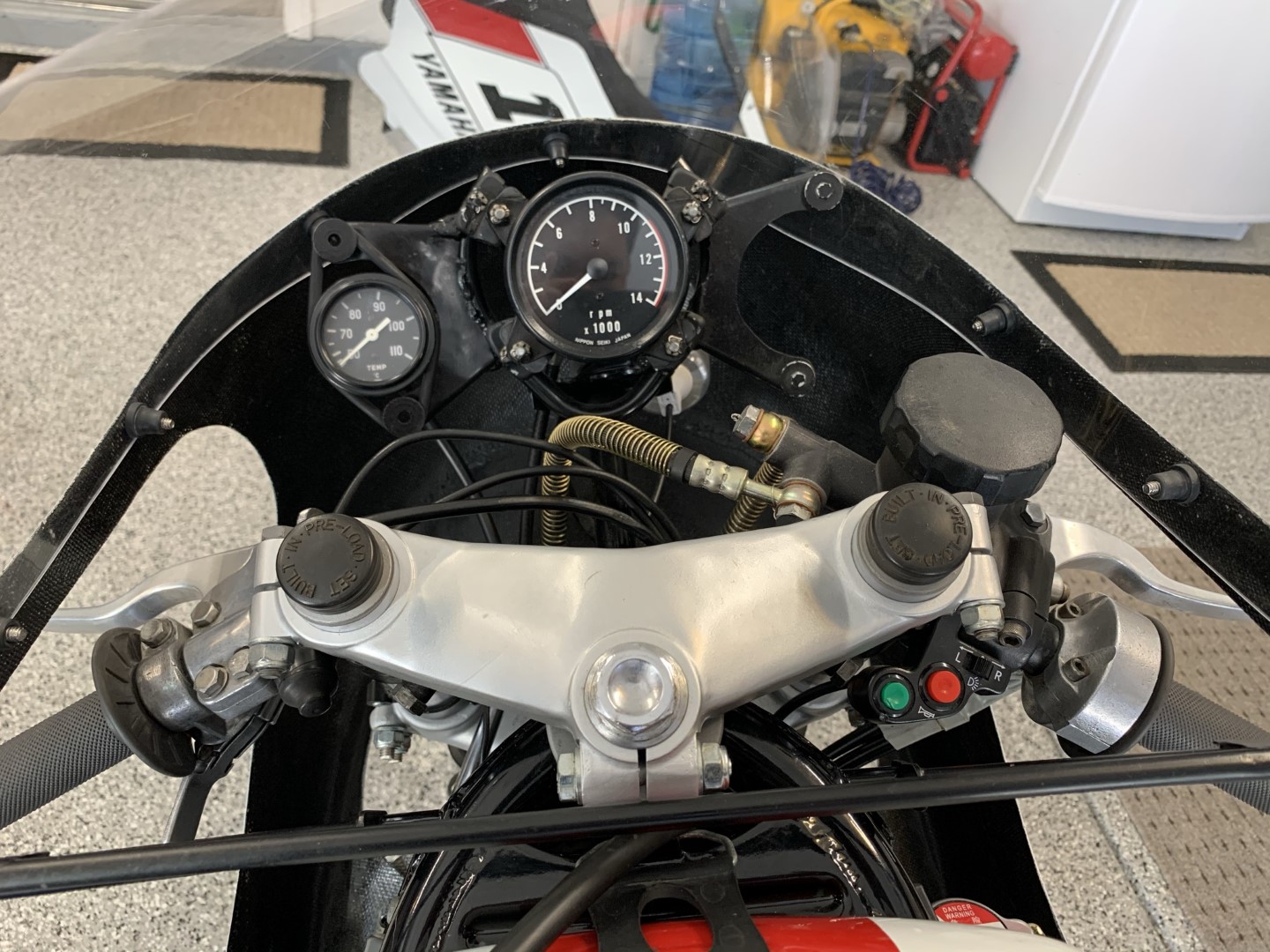 Another video provided by the seller shows this incredible TZ750 sporting street trim. That's right. Forget all about those "GP Replica Racers" such as the RG500 Gamma or RZ500 – how about an *actual* race bike on the street? Where do I sign?! Once again, the sound is glorious – and I could only imagine how this would feel on my morning commute:

The TZ750 went through several iterations over the span of years, including frame updates (and a change to single shock rear suspension) and motor mods that greatly increased horsepower. Weight was also marginally reduced over the years. But like all racers, these privateer machines were generally used hard and funds were not always available to put them back together again. Many were crashed – hard. Others were destructively modified as rule books changed and teams struggled to keep older bikes competitive. Surviving racers in this kind of condition are a rare gift; we do not see them often because they did not live in a collector world. With a comprehensive restoration behind it, tons of documentation and photos, and the rarity of being a first-year, twin shock bike, this 1974 Yamaha TZ750 is sure to drive a lot of interest. Serious parties should contact father and son team Jerall & John Lawrence for questions or negotiations. At $65k USD, this bike is priced right in line with the market, and has plenty to offer in terms of history and potential add-ons. Good Luck!!
MI