Update 2.16.2020: Joe has updated his remaining inventory with competitive pricing. Asking price for this MV Agusta 750S America is $67,000. Call Joe at 847-668-2004 -dc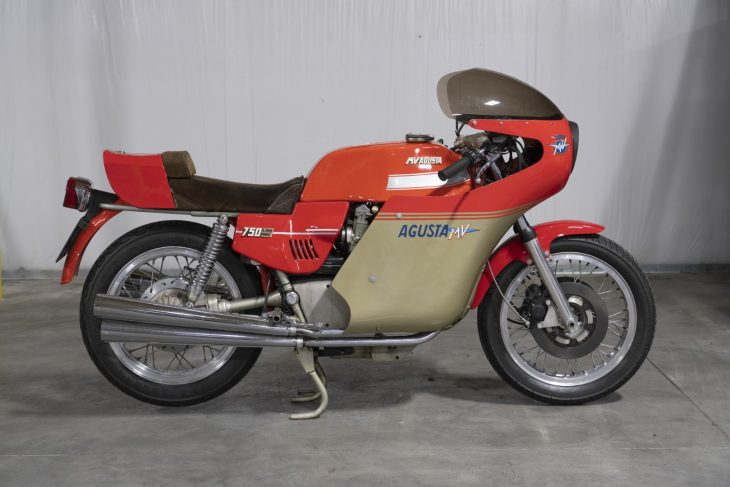 Back in 1974, there was no other bike to have, really. Regardless of what you were able to shop for, the MV Agusta 750S America was the bike you wanted. First of all, it was Italian, and red, which meant it had that little something extra that nobody else had. Temperamental, yes, and expensive to be sure, and perhaps not even the fastest thing on two wheels, but none of that mattered. It would more or less keep pace with the cruder, brawnier two strokes, and it would go around corners without killing you. Then there was the noise.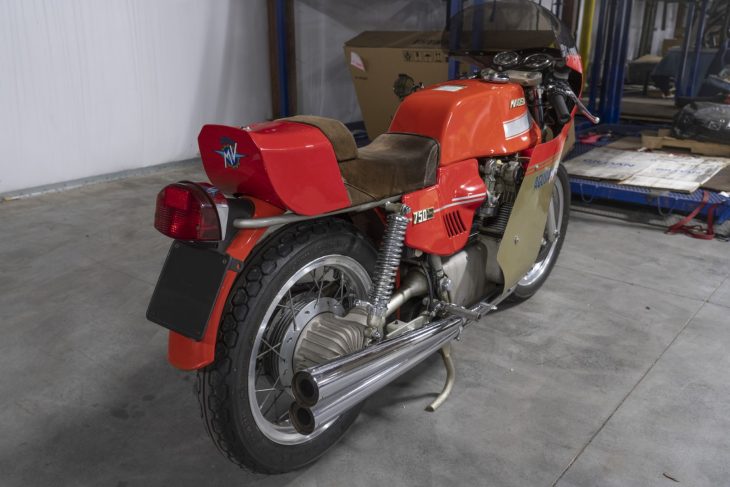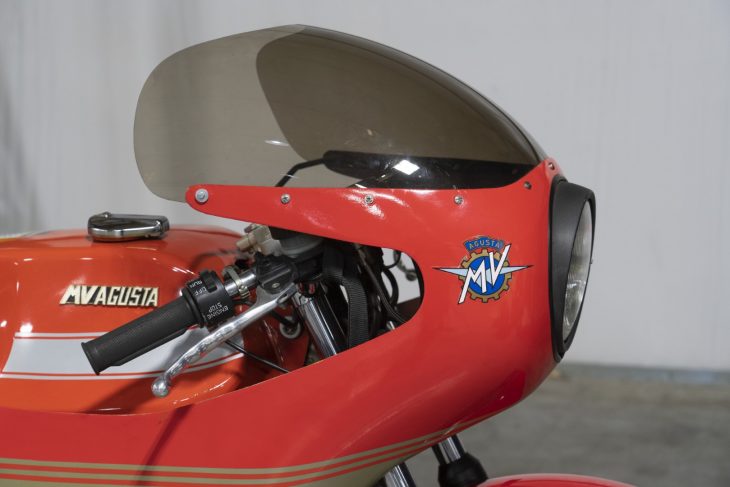 Whether you're listening to a Colombo V-12 at full song, or the rorty throb of a Lancia Fulvia's V4, or the percussive pop and rattle of a Ducati 900 SS/SP, the Italians long ago mastered the art of the proper internal combustion sound. The 750 S America may have them all beat, with a rhythmic, tachycardic and slightly uneven throbbing at idle cracking into a full-chested wail at higher revs. It's quite the song and dance for 90 horsepower, but in its day the MV's voice was the siren song of speed.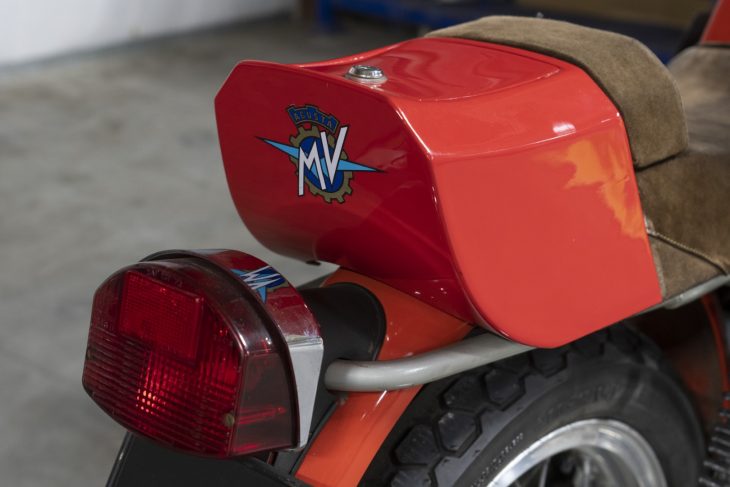 This 1974 MV Agusta 750S America is in magnificent shape, and appears to be all or almost all-original. The classic red-and-gold livery is without blemishes, and the bike's numerous nooks and crannies appear to be clean enough to eat off of. The condition is thanks in large part to a fastidious seller, who has kept the bike stored in a heated facility and made sure that it remains ready to run.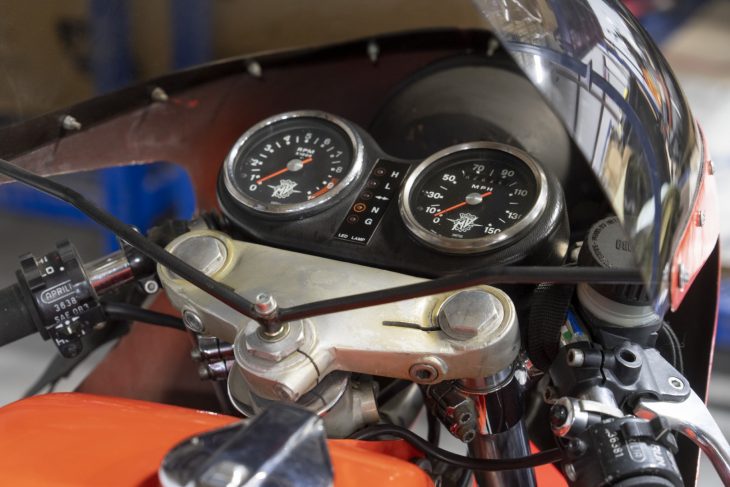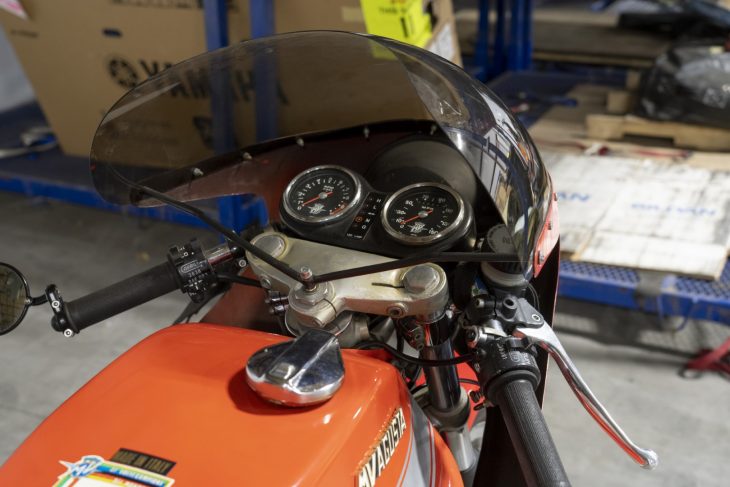 From the seller:
You should know that I am a serious collector, with a large motorcycle collection.  I decided to sell some of the most valuable motorcycles in the collection.  These motorcycles represent some of the most iconic motorcycles '70s, '80s, and '90s.  Those motorcycles are now being offered up for sale one by one.  These motorcycles were targeted for by me for my collection many years ago when the best of the best was available and that is what I purchased.

In general, I do believe super rare Italian motorcycle of the '70s and '80s are the future Ferrari's of motorcycle collecting.   We all know what has happened to Ferraris.

For many people the MV Augusta American is like the Ferrari of motorcycles.  It is a typically great Italian design that when new cost an unthinkable amount of money and has been held in the highest esteem since it was produced.

In the world of motorcycle collecting it is one of the most prestigious Italian bikes that you can have in your collection.   This bike, as far as we know, is entirely original.  It runs perfectly, and, is, without question, one of the best sounding motorcycle that were ever made and yes, it is kept in fully heated storage when not in use.   It is always kept on a trickle charger. It is ready to travel 500 miles on the first day.

If you ever heard of Ferrari GTO run through the gears you will know that the 1974 Augusta MV 750 S America has a very similar melodic sound of authority which is just music to the ears.

This is a very expensive bike for serious collectors.  It is a very limited production bike.  By searching the Internet, you can read all the accolades that have accumulated over time for this particular breed, this is for serious future collectors.

They are only original once.

I would suggest that you check out the other rare cycles that I am offering for sale by clicking on "other items for sale" in the upper right corner to see the other bikes being offered from my collection.

Thanks for looking at one of the best!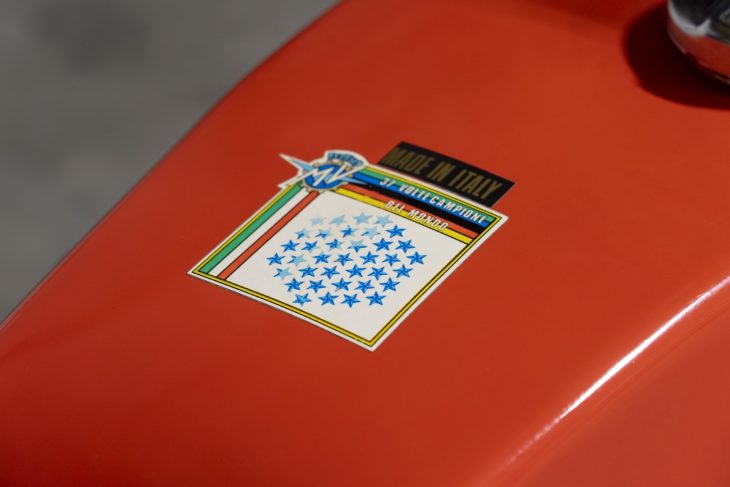 Back in '74, these things were the most expensive bikes on the street, with a raft of super-expensive parts keeping them out of the hands of you average grocery bagger. With just 550 or so MV Agusta 750S Americas built, the story is more or less the same today. If you have the means …