Warning!
This post is in our archives. Links in this post have been updated to point to similar bikes available to bid on eBay.
Back in the 90s, it was pretty clear that Ducati was a racing company that made roadbikes, not the other way round, and this 748RS is an example of that ethos. Today, Ducati's R-designated bikes are typically homologation machines, designed to make certain components legal for production-based racing series. They're generally in a higher state of tune than the regular or S-designated motorcycles, but are most definitely roadbikes. That's not the case for Ducatis with an "RS" in their name and this 748 was built from the ground up to be a race bike. It wasn't even issued with a title!
The Ducati 748 was intended to compete in World Supersport and AMA classes, maximizing the permitted displacement advantage to match the power of the screaming 60cc inline fours favored by the Japanese manufacturers. An extra 148cc wasn't enough on its own, and the RS featured a raft of internal modifications required in order to produce the 124hp Ducati needed.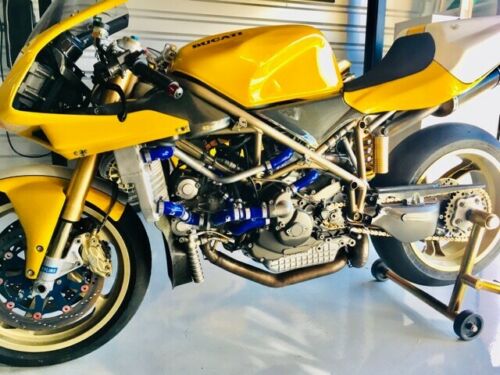 Radical cams, valves specific to the RS, a 54mm Termignoni exhaust, a close-ratio gearbox, high-spec suspension combined with lightweight bodywork and a simplified wiring loom to increase performance in every dimension. Today, these are sought-after collectibles, and often have extensive racing history. That's certainly the case here, as this bike happens to have won an AMA Championship in the Pro-Thunder class!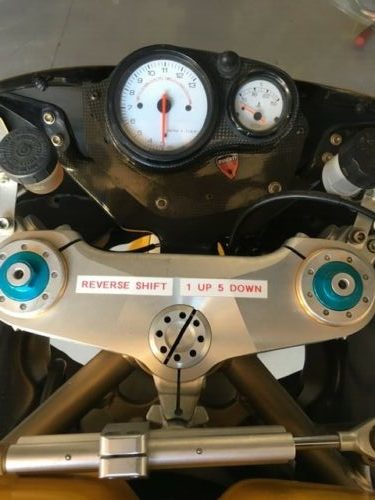 From the original eBay listing: 1999 Ducati 748RS Corse for Sale
Ducati enthusiasts! I'm starting to list many bikes from my Ducati collection… This one is a very rare opportunity to own a piece of history… a Ducati race bike that actually raced and WON a AMA event!

This is a TRUE factory built race bike. This bike was 1 of 100 built in 1999 and one of only about 40 that were imported to the USA. It was purchased directly from the factory in Bologna Italy along with 3 others for the HMC Ducati Racing Team. This bike was 1 of 2 bikes prepared and used by Shawn Conrad. He rode both bikes to win the 1999 AMA Pro-Thunder Championship. Yes that's correct… this bike was raced and won! 

He beat some big name guys such as Jeff Nash, Tom Montano, and Monte Nichols. 

The machine as it sits, is effectively new. The owner prior to me had it rebuilt from the ground up and any part not 100% has been replaced. The engine was rebuilt by Chris Boy's team at Motocorse Ducati in Fort Lauderdale and has few miles and little time on it. Everything has been refurbished except the side panels which are original and "as raced". This is again, a factory race bike and ready for your living room or to take racing or for track days. 

I have ridden the bike minimally just to keep it happy 🙂 Otherwise idled regularly. 

As with any pre-owned bike, you would want to do your own safety/mechanical checks before use.

And yes there are nicks and scratches as expected from a bike that was raced. 

No kickstand.

There is no title as this is a factory race bike. Ebay makes seller choose title status so I chose Clean. But again, factory race bikes didn't come with titles. But I will create a bill of sale that transfers ownership and lists VIN/engine and description.

VIN and engine numbers correlate to the factory race bike history.

Here are some specs and parts as I've been told and researched. I'm not a mechanic, just a fanatic for the sight and sound of these bikes. Happy to take close up pics or look for specific things to answer your questions.

Full "Corse RS" spec motor with cams, ti rods, and factory installed slipper clutch
Superbike style wiring harness, keyless ignition 
Full Carbon Kevlar bodywork by Carbo-Tech
Dymag magnesium wheels
Harris fully adjustable rearsets
Full Termignioni 50mm exhaust
Brembo 18×20 radial front master cylinder 
EBC Pro-Lite full floating rotors 
ITG airfilter

Everything on the bike that matters is carbon fiber, underseat oil breather box, undertail plate, one piece airbox, air runners, large intake upper fairing.

This is a collectors item. It really is a piece of American Ducati Racing history!

Here is more info from online about this era…

The Ducati 916/748 was the poster child for performance motorcycles throughout its production, with the same sort of ubiquity the Lamborghini Countach enjoyed in its heyday. With so many of them made over such a long timeframe, it's easy to forget how huge an impact the bike had when it was new: Tamburini's creation may have been uncomfortable, temperamental, and expensive, but Ducati sold streetbikes so they could go racing, not the other way around. This makes today's 748RS one of the purest Ducatis you can buy… aside from a used World Superbike machine.

The 748 was the baby-brother to the 916 and came in standard, S, R, and RS flavors. Naturally, the RS was the trickest of the bunch, a pure factory racebike with plenty of trick parts and a highly-strung engine with maintenance requirements to match. The 748cc v-twin was pitched against 600cc inline fours and the displacement bump allowed by World Supersport rules helped the Ducati compete, but heavily-revised internals were also required to keep them on relatively equal footing. Wild cams opened RS-specific valves needed to make the claimed 124hp, while a 54mm Termignoni exhaust ferried exhaust gasses to the undertail "mufflers."

Happy to assist with your chosen shipper but cost and insurance is your expense. Happy to provide a video of bike starting and running. Please be respectful and only inquire with serious interest.  Located in Monterey, CA area.

Thanks!
The seller is asking $17,900 for this 748RS. That's a bit more than the last one we featured, although this example is extremely clean, features a fully rebuilt engine, and has an AMA title to its name. If you're a well-heeled Ducatisti, this would make a pretty great classic racebike, or an extremely cool trackday ride.
-tad