An iconic product of the WSBK race series, the Yamaha FZR-750R or OW01 was an homologation special which sold for more than twice what a more streetable FZR-1000 fetched, and cost Yamaha zillions.  Rather than a tarted-up road machine, Yamaha built the race bike – poorly suited for the road actually – equipped it for DOT inspection, and sold it to race teams and collectors.  Pre-owned by the latter, this OW01 was imported but never registered, and has been ridden only 1277 miles.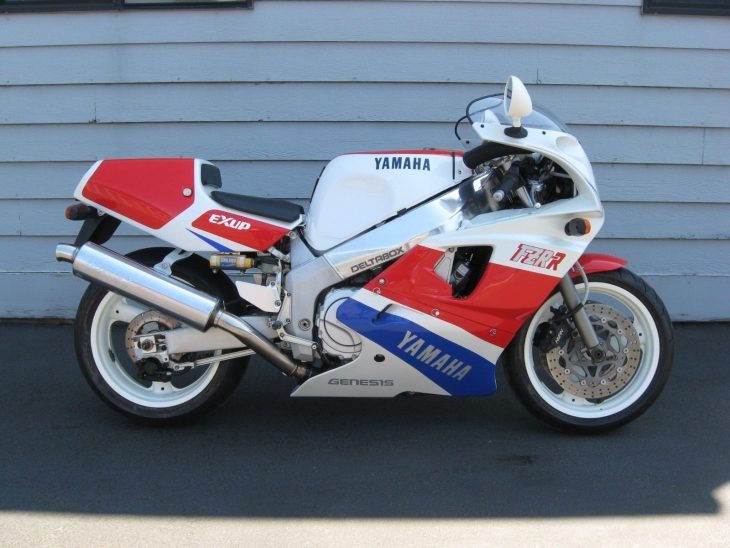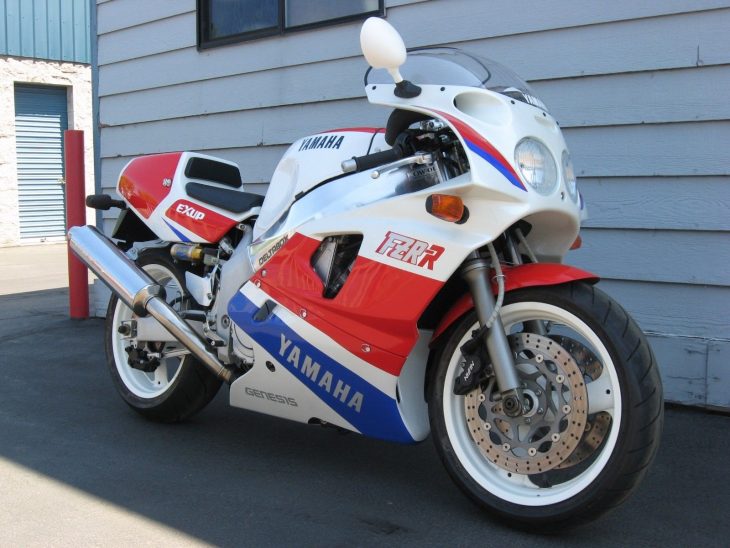 Yamaha was playing a little catch-up after the first WSBK season, and prepared the FZR750R for 1989 year.  Based on a proper race engine, the OW01 has Yamaha's signature 5-valve heads, titanium connecting rods, and low-friction pistons with short skirts and only two rings.  Their EXUP exhaust valve adjusts exhaust flow and improves running outside of the 9,000-12,000 powerband.  The light alloy DeltaBox frame is thin but wide, capped by an aluminum fuel tank.  43mm conventional forks lead an Ohlins monoshock, and 4-piston Nissin brakes are up front.  Riding position in the full endurance fairing is uncompromising.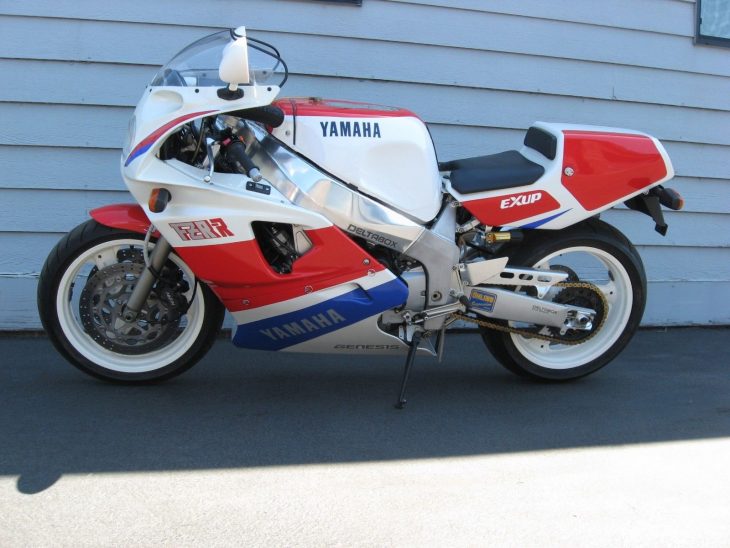 This Oregon owner has been a fine caretaker of #427, with no apparent wear or damage.  Even the footpegs are pictured, virtually unmarked.  It's without a stateside title, but some preparation for registration has been done.  From the eBay auction:
Out of the crate this is part of what you got for your money.

1.       Titanium con rods with light weight, short-skirt, stepped-top pistons.
2.       Hand polished ports on a big 5 valve head.
3.       Handmade aluminum fuel tank and handmade aluminum Delta box frame, etc.
4.       Huge magnesium Nissin racing calipers and 320 mm discs provide race quality stopping power.
5.       More magnesium parts to reduce weight.
6.       Quick release axle clamps.
7.       Light weight fiber cowling/fairing.
8.       Close ratio 6 speed gears.
9.       Ohlins adjustable rear shock.
10.     43 mm forks with full range of adjustment.

The OWO1 has the perfect balance of light weight, agility and power. The OWO1 represents one of the best handling and most exclusive Japanese sport bikes of the era and in my opinion, is one of the sexiest looking motorcycle design ever to come out of Japan.

Now about my 1989 OWO1 #000427

This a Japanese domestic model OWO1 with 1277 miles/2044 kilometers. Mileage and initial registration is documented on the Japanese vehicle registration form (shaken-sho). The Japanese shaken-sho is up-dated every two years through a physical vehicle inspection by the Japanese DMV.

This OWO1 is guaranteed to have never been raced. It is a beautiful motorcycle that is 100% stock except for two things. The original owner changed the single horn to a dual horn set-up for safety reasons. He also added a little more heat shielding to protect the light weight fiber cowling/fairing.

This bike has never been registered here in the U.S. You will receive the following from me after purchase so that you can register the bike.

  (CBP form 7501(04/05). This form tells the DMV that customs has been cleared and the bike is ready to be registered.
  A bill of sale
  Because this bike is over 25 years old no EPA or DOT documents are necessary for registration.

This bike has been in storage for a while, so I have done the following before the sale. I have put in a new battery, changed the oil, filter, coolant, brake fluid, and spark plugs.

This OWO1 is extremely rare and beautiful. It is very hard to find one in this kind of condition. But, please keep in mind that it is not a new motorcycle so there are some minor blemishes.

Most OW01's went racing, with a dealer's team or privateers, and a factory race kit which added a few thousand to the already astronomical price.  Finding an almost un-used FZR750R has become a odyssey for some, since only a few hundred were made each year.  Though it never resulted in a championship, the OW01 made a healthy mark on WSBK, and under Carl Forgarty held the absolute lap record at the Isle of Man TT for many years.  From an era when factories' engineering chops could be seen and felt, fans speak reverently of discovering the little-known secrets of the OW01…
-donn