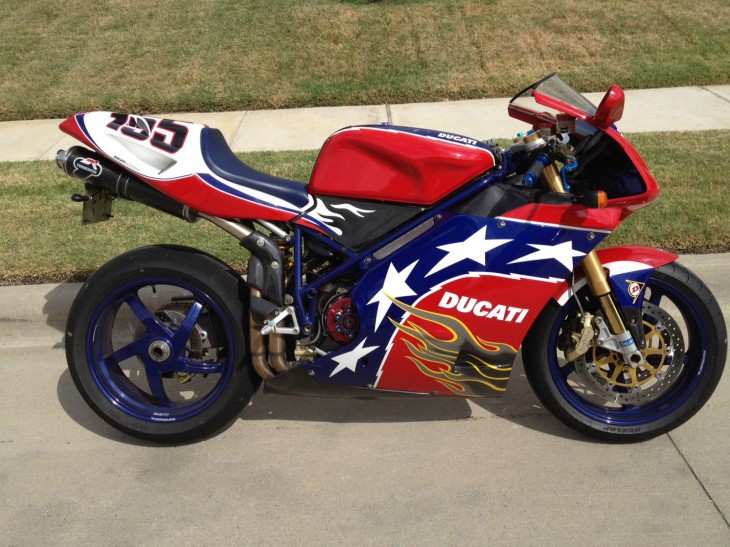 The Ben Bostrom replica is one of the more polarizing reps amongst our readers. The haters cite that it's just another number plate special with questionable looking graphics, and they're not wrong. But Bostrom fans consider it a fantastic piece of memorabilia that also happens to be Ducati 998S, a model that no one has issue with! If you find yourself in the later camp, check out this example that has covered just 5k miles. It has some upgrades but includes the stock parts to return to original.
dc
2002 Ducati 998S Bostrom Replica for sale on eBay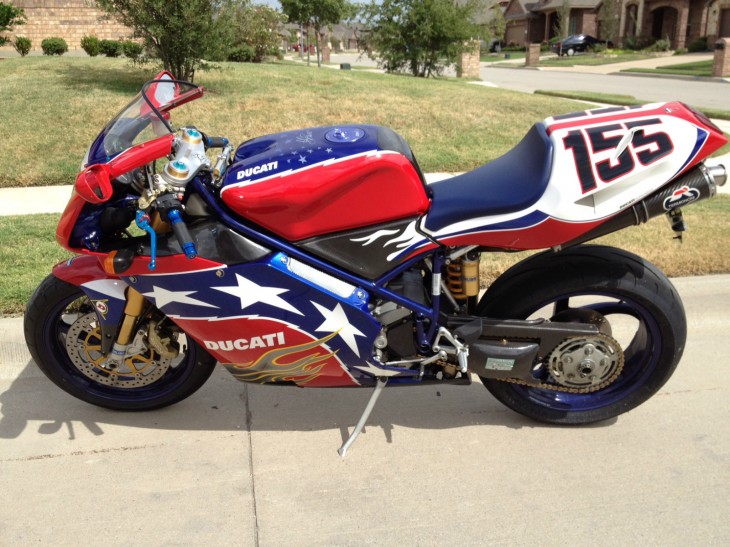 from the seller:
I am the second owner. Bike was bought new by the first owner on 9/21/2004 and was first titled on Feb 12, 2005. It was traded in to Cycles128 in Beverly, MA in Feb 2011. I bought the bike from them while overseas and had it shipped to me in April 2011 with 4334 miles.

Current mileage is 5080 of which about 180 were put on last weekend during. As you can calculate, I have put on 746 miles in the last 2.5 years and 180 were last week. Needless to say, I did not ride this bike very much. I have a few other bikes and worked overseas a lot, so this was displayed more than ridden.

I have done some tasteful modifications to the bike, but nothing is permanent. Current mods include:

– carbon key guard, tank guard, swing arm guard, muffler guard, dash cover and air runners. It came stock with the lower tank carbon panels.

– anodized blue and red clutch parts, blue rizoma grips and bar ends, anodized levers

– carbon termi slip-ons

– rear turn signals and license plate holder

– new sprocket conversion 180 miles ago (cost $420)

– new tires 180 miles ago ($450)

– anodized blue SSR gas cap

I have all the stock parts (minus the original license plate holder) and have a brand new pair of OEM blue grips still in the box (impossible to find new ones). I also have a red Ducati stretch cover I will throw in and bike comes with the original stock blue swing arm stand. Additionally, I have the original Ben Bostrom bike cover at an ADDITIONAL COST. It is near new and took me three years to find one for sale.

Info…I tried to take close-ups of any scratches/rubs. I found 4-5 marks on the bike. Some pics are hard to see, but I took them of anything questionable. As you can see, very, very minor rubs/scratches for a 13 year old bike. The most noticeable is the one on the tail piece…smaller than pinky finger nail, but it is there. It appears to be from swinging leg over…was there when I bought the bike. I had the small clamp on the damper custom made due to the original one not working properly. I still have the original piece. I can assure you that you would be hard pressed to find another Bostrom with these miles in this shape. I would put the condition of this bike against any Bostrom with 1500 miles.