Racebikes are different than other bikes we feature on RSBFS. Where the goal for many collectible roadbikes is absolute originality, or at least limited, period-correct updates, the whole point of a racebike is that it's a rough-and-tumble artifact, a bit of living history, and battle scars are okay. If the machine in question is historically significant, that goes double. But race bikes are more like living organisms than ones trapped in amber, and some have evolved over time, especially if they're still being used in competition, like today's Yamaha TZ250D.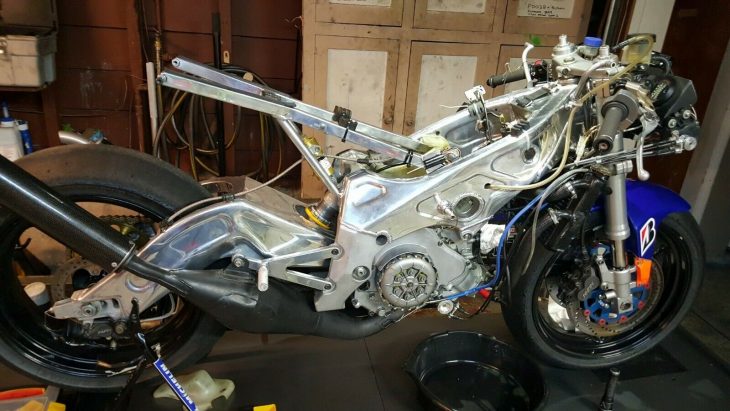 Note the missing "R" in the name: this isn't simply a TZR250 with the lights removed. While people did use the TZR250 road bike as the basis for competition machines, the TZ250 was Yamaha's pure competition machine, available over-the-counter to racers. Both the original TZ and TZR were powered by parallel twin engines, but Yamaha eventually began experimenting with a v-twin engine to keep pace with competitors in Grand Prix raxing, and the YZR250 used what was essentially half of the YZR500's two-stroke V4. For a number of years, Yamaha produced the two machines in parallel: the v-twin powered YZR250 seen in Grand Prix and the parallel-twin TZ250.
1991 saw the introduction of a completely new version of the popular TZ250 racing platform, incorporating the v-twin configuration from the YZR250, along with upside-down forks, a banana-swingarm to clear the expansion chamber on the right side, a wider 5.25″ rear wheel, and a set of 38mm Mikuni carburetors. The "D" model that came along in 1992 featured a significant reworking of the rear suspension that meant the rear subframe could be made extremely light, with just one job: provide a perch for the rider. The new package worked well, taking the fight to Honda, and was popular among privateers.
Of course, this being a racebike and not a warmed-over streetbike brings its own set of problems. Racebikes generally aren't designed with durability as a top priority, and two-strokes, although mechanically simple, are pretty maintenance-intensive. It's also the nature of racing two-strokes, especially 125s and 250s, that they need gearing or jetting changes need to be made to suit the track, temperature, and altitude, to perform at their best. The trade off is incredible light weight and handling from the spartan machine, as well as racebike engineering to drool over. Honestly, I think Yamaha's Deltabox designs of the era are some of the most beautiful frames ever created, and I think I'd just want to ride it around with the bodywork off, although I'd prefer the original finish in place of the polished part seen here.
From the original eBay listing: 1992 Yamaha TZ250D for Sale
1992 YAMAHA TZ250D

One of a kind with a beautiful polished frame!!

All new bearings (swing arm, steering head, and wheels).
Suspension rebuilt will new oil, bushings, and seals, set up for 185 lb. rider.
.8 kg/mm fork springs 8.5 kg/mm shock spring
Rebuilt Shindy Daytona Steering Damper
120 mile Rick Schell crankshaft (crank is a work of art, lightened and polished flywheels and rods)
120 mile top end (pistons, rings, bearings)
Roland Cushway 8.0cc heads
96′ cylinders and pipes with 2.5mm pipe spacers per Roland Cushway
New plugs and caps
New reeds
New gaskets throughout
Dual EGTs
Daytona digital water temp gauge
New clutch and pressure plate
Every bearing in cases replaced with new (trans, case, water pump, balance shaft)
New EBC HH brake pads
GP tech thumb brake
Custom rear sets and foot pegs
Vortex Clip-ons
New DID x-ring chain
EBC Prolite rotors
Professional Paint
Airtech Aerotail w/anti Draft Shield
New Center front stand by Battle Factory
Original Rear Stand
New Multi-Temp Chicken Hawk Tire Warmers

Shipping to arranged and paid for by the buyer. I will assist the shipping company as needed.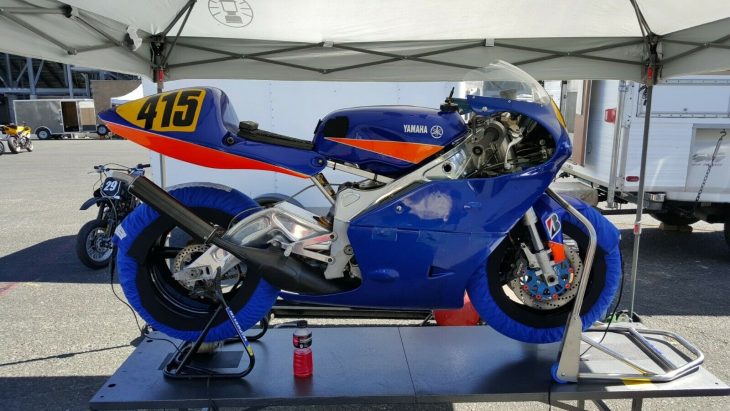 This Yamaha TZ250 has no racing history of note, so interested buyers will likely focus on race preparation and spares, since I'd assume they're planning to use it in anger, and sourcing some parts for these now obsolete two-strokes is only going to get harder. No mention is made of any spares package, so a quick email to the seller might be in order to see if there are any available. That aside, this looks like a killer track bike or race bike for someone with the skills or friends or money to keep it running, and the Buy It Now price is set at $12,500 which seems reasonable, considering the preparation that's gone into it.
-tad