Warning!
This post is in our archives. Links in this post have been updated to point to similar bikes available to bid on eBay.

For Sale: 1996 Bimota Bimota 500 Vdue
Every manufacturer has a milestone bike – that one machine that defines the company, the era, the vision and the future. For Bimota, the Vdue was that bike. I know you already understand how rare most Bimotas are. Well *this* Bimota is the ONLY bike ever to utilize a Bimota engine. Whereas all the other Bimota models relied upon another manufacturer for powerplant and transmission, the Vdue was to be the birth of a bigger Bimota; a Bimota that made entire motorcycles just like the big boys.
There is a saying: "In theory, there is no difference between theory and practice. In practice, there usually is." Such was the fate of the Vdue. On paper, this was a stunning technical achievement. 500cc of v-twin two stroke power, the Vdue utilized computerized fuel injection to allow more power, higher RPM and cleaner burning (the latter being very important to allow a smoker past tightening European emissions regulations). The rest of the bike was equally enthralling: Aluminum chassis with oval tubes and CNC machined bits everywhere, Ohlins rear shock, Paioli fork, Brembo brakes, carbon fiber bodywork…
Unfortunately, what worked on paper was less effective in the flesh. Problems were immediately encountered with customer bikes. Some issues included unpredictable and explosive power delivery when the computerized injection disagreed with the rider's throttle input, electrical issues where the computer would not work at all, constant spark plug fouling and even some reports of piston and crank failure.
Ultimately, Bimota recalled all of the affected bikes with a plan to "upgrade" the model to carburetors. Amidst the bad publicity, the process churn and the unrealized return on a huge investment, Bimota went under. This milestone motorcycle, the pinnacle for a noted builder of amazing motorcycles, literally sunk the company.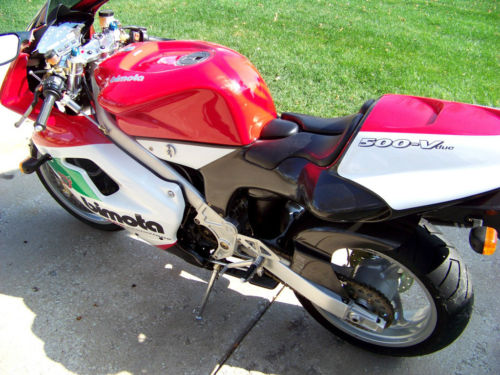 From the seller:
Bimota 500 Vdue Evoluzione 04 BRAND NEW!!!!

The Evoluzione has been deeply modified from the original version: new digital instrument panel, new wire harness, 39mm Dell'Orto carbs, carbon fiber airbox, new oil seal and bearing and revised oil passages inside the cranks.
It has been dynotested at 116hp of raw 2 stroke power!!!

More info on the bike can be found here: www.vdueusa.com

The little italian has been stored for over 6 years…but now it has to go!
It was imported as a race bike, assembled as street legal but never been registered.
The bike does not come with warranty or any type of documents but has original manual, rear wheel stand and original tool bag (included).

After this long storage time, it will need a new battery, a carb clean and some TLC to start smoking up your neighborhood.

Even if new and never ridden on the road, the fairing has some minor cracks.
The worst can be seen in the pictures.
This part (a small trim underneath the top fairing) can be supplied as other parts or spare parts, BUT ARE NOT INCLUDED in this auction.
I'm more than willing to discuss this AFTER you pick up the bike
The follow-on story to the Vdue debacle is almost as interesting as the origin of the bike in the first place. Due to the recall, there was an inventory of dozens of completed Vdues, spares, and enough parts to assemble several more bikes. These assets were purchased from bankruptcy and a new business sprung up: Delivering carbureted and modified Vdues to market and selling them as essentially new bikes. It is in this manner that today's bike is available – and rideable, thanks to the mods available via Vdue USA.
Because of all the issues, it is rare to find a Vdue with many miles. After all, most did not run well – if at all. Still, despite the low mileage (10), this bike still shows some unfortunate damage. As a prospective buyer, RSBFS always recommends doing as much research as possible, asking the seller questions, and in this case asking for more hi-res pictures. The bike looks authentic, but the supplied pictures are relatively few for such a rare ride.
There is also the question of origin. The seller did not list a VIN number, but shows the model year as 1996. My research shows that the Vdue was not introduced until 1997. Again, talking with the seller might help clear up this little discrepancy.
This bike is available right now. The BIN price is set at $23,000, although the seller is willing to entertain offers. This price is not out of line for a fully sorted and perfect Vdue, but might be a bit high considering the unknowns and the lack of title. Check out all of the details here, and then let us know what you think. After all, it is not every day you get the opportunity to buy a milestone bike that sunk a company… Good Luck, and make sure you tell 'em you found it on RSBFS!
MI