Collection completer?  Restored 1980 Yamaha TZ125G
Did I say these were rare when I posted the 94 TZ125 the other day?  Well they are, I just look like a fool for finding two in a row.  They are separated by enough years that they are totally different kinds of bikes.  While the 94 was perfect for the track and this one might be nice enough to finish off a Yamaha collection.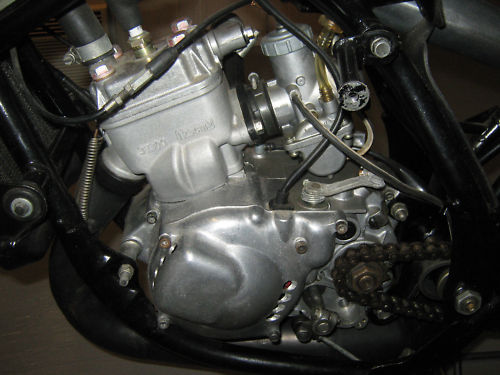 Water cooled engine's were pretty high tech back in 1980.  I'm always impressed with spotless two stroke engines.  They are fun but they aren't the cleanest things.
What you want to know:
You are looking at one used 1980 Yamaha TZ125G road race bike. Water-cooled, 125cc single cylinder two stroke engine with Mikuni 38mm carb, that is very similar to the YZ125 engine. S/N on frame and engine match: 3V3-000411. This bike was raced in the northeast for 3 years and then stored as the owner moved up to bigger bikes. The bike was restored in 1999. The engine was rebuilt and the bike was painted with a pearlescent paint, new racing compound tires were installed. The bike was started once in 1999 when I bought it. It has been displayed since then and is in excellent condition with one chip of paint missing from the tail section (one of those silly wooden plaques that we race around for fell off a shelf!). It would round out any serious Yamaha TZ collection and comes with a nice list of spares if you want to go vintage racing. As with all racing bikes that are not street legal, there is no title just a bill of sale. Sold as is, no refunds or returns.

TZ125G new racing spares list

Spare parts catalog
Crankcase gasket  x2 (537-15451)
Cylinder base gasket x3 (1WE1135100)
Throttle cable (3V32631100)
Carb intake manifold (joint) (3281355501)
Carb manifold clamps x2 (9046049058)
Piston bearing (small end) (93310216L2)
Clutch spring screw (9014905147)
Left hand clutch lever (150839120038)
Piston 97  (5F6-11631-00-97)
Piston 96.5 (240-11631-00-96.5
Washer, rear master cyl. (90201-10118)
Rear sprocket & disc lock washer x2 (3V3-25412)
Front disc lock washer (404-25412)
Front sprocket lock washer (90215-16127)
Water pump gasket x2 (3V3-12428)
Bleeder plug gasket x3 (90430-06070)
Oil drain plug gasket (90430-12038)
Clutch push rod oil seal (93104-05065)
Clutch basket o-ring (93210-15151)
Small o-ring cyl. Head (93210-62323)
C-clip piston/wrist pin (93450-17025)

 

TZ125G used racing spares list

Counter sprockets (front 13, 14, 15 teeth)
Rear sprockets 33, 34, 35, 36, 37, 38 teeth
10 clutch fiber plates (5 well used, 5 almost new) (3V31632100)
4 steel clutch plates (1371632570)
5 used pistons with piston rings
CDI ignition box Hitachi (3V38554010)
Clutch lever (150839120038)
Brake levers x2 (3418392200)
Con-rod (3R21165101)
Cylinder in excellent used condition (3V3113110000)
Clutch housing cover (3V3154160000)
Water pump impeller shaft (3V31245000)
Water pump housing cover (repaired) (3V31242200)
Left side crank half x2 (1W11141201)
Right side crank half x2 (1W1114220100)
If you like em skinny this is the bike for you. 
I would imagine some of this is getting hard to come by.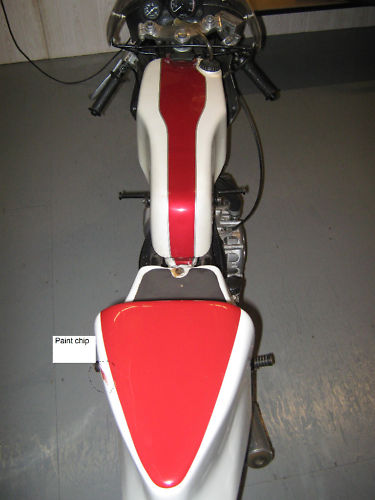 Put down the pizza, lay off the beer, run a few laps and you might fit on it.  Then again, maybe not.  If you'd like to dabble in some vintage racing or just want a piece of Yamaha racing history sitting in your garage .
IK