This auction ended as the post was being edited, but the pictures of this super example are still available.  Happy Thanksgiving !

In a rare maneuver, Honda sent the dainty VTR250 Interceptor to the U.S. – only and first – in part to keep Kawasaki's 250cc plans in check.  From 1988-1990 it was only here, a lightweight and fun way to embarrass bigger bikes around town or in tight quarters.  The 249cc V-twin cranked 25 hp via 14,000 rpm, with an Interceptor fairing and kooky inboard disk brake.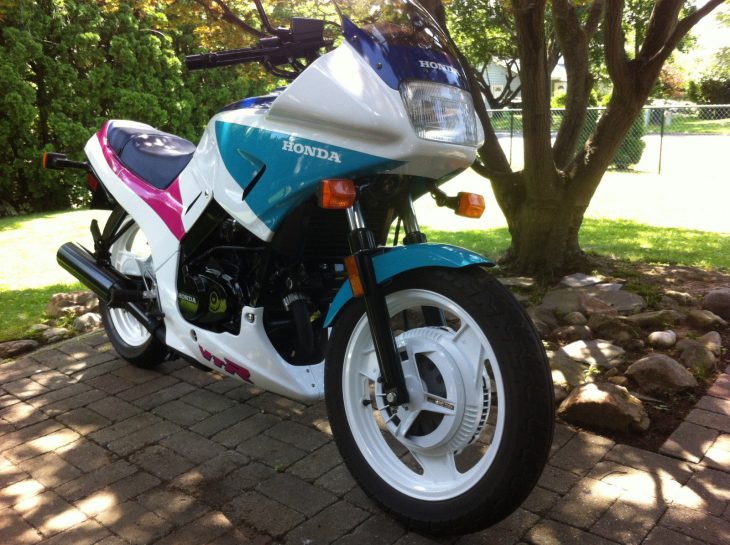 Specs for the early years can be hard to verify since the 2nd generation model was much improved, but the VTR250 did cage the V-twin in a light twin-beam frame, with conventional forks and Pro-Link rear.  The inboard front disk was a bit of a solution in search of a problem, but arguably better than the drum brake rear.  Integrated fairing looked the Interceptor part, though the usual white/teal/magenta livery with blue seat is a moment in time.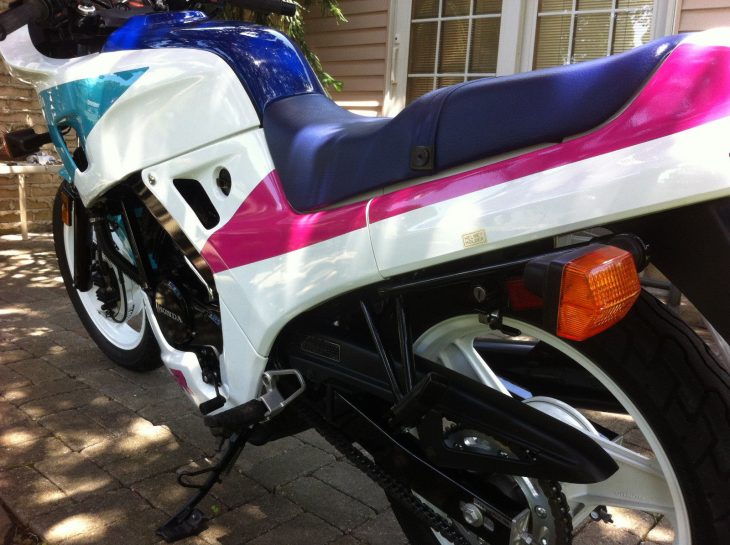 Still on its original tires, this VTR is a nice barn find.  From the eBay auction:
It is a one-owner, never abused, barely used example of these great little 250s which were introduced to compete with the Kawasaki Ninja 250s in production racing. It comes with the original tool kit and also the owner's manual still in its vinyl "document bag". The mileage is 1147 miles – all of them careful adult miles. It has never been to a track day or been raced and has never spent a night outside my attached, smoke free garage nor been ridden in the rain. The bike is very clean. The battery is only about a year old and is always on one of my battery minders.
Although all the lights, horn, etc. work fine, the turn signals are slow to begin working. I suspect the inside of the switch could use a cleaning although once they begin to work they work fine. I'm sure this would sort itself out if the bike was used regularly.
The bike is all original (except for the added fuel filter) which means the tires are as well. They look great – surprising for their age – and could be used to gently putter around now and then. But, if you intend to really RIDE the bike, you need to fit new rubber before then.
The second generation VTR250 was not sold in the U.S. and transformed into a naked Monster-esque lightweight, with trellis frame.  But the Interceptor bodywork has its appeal, and the largely maintenance-free drivetrain is easy on the budget.  With only 330 lbs. to push around, the smallish sport can be a joy everywhere but the wide-open road.  Not likely another example with this little wear will come up again soon…
-donn