Celebrating the company's hundredth year of motorcycle manufacturing, Triumph created a Centennial Edition of their sportbike, the 955 cc injected triple.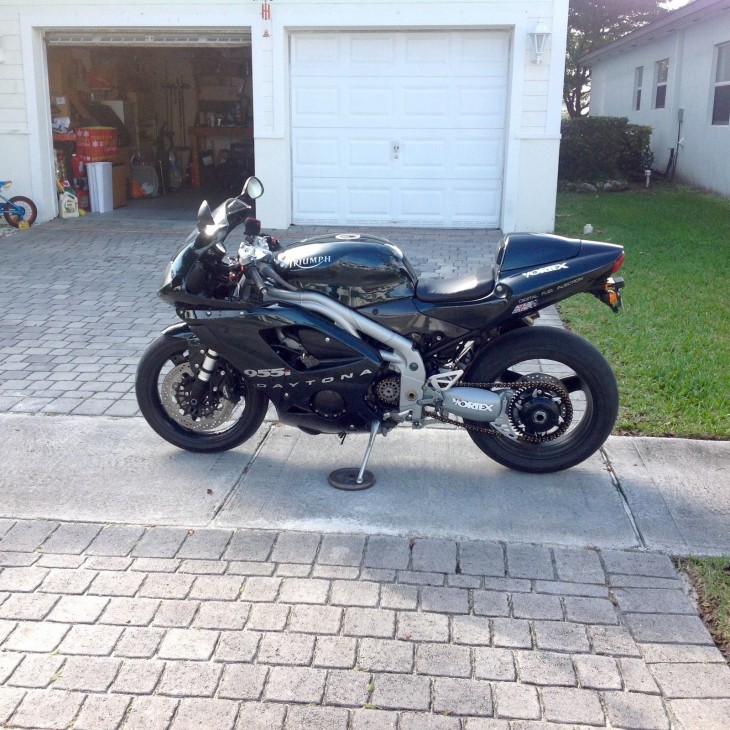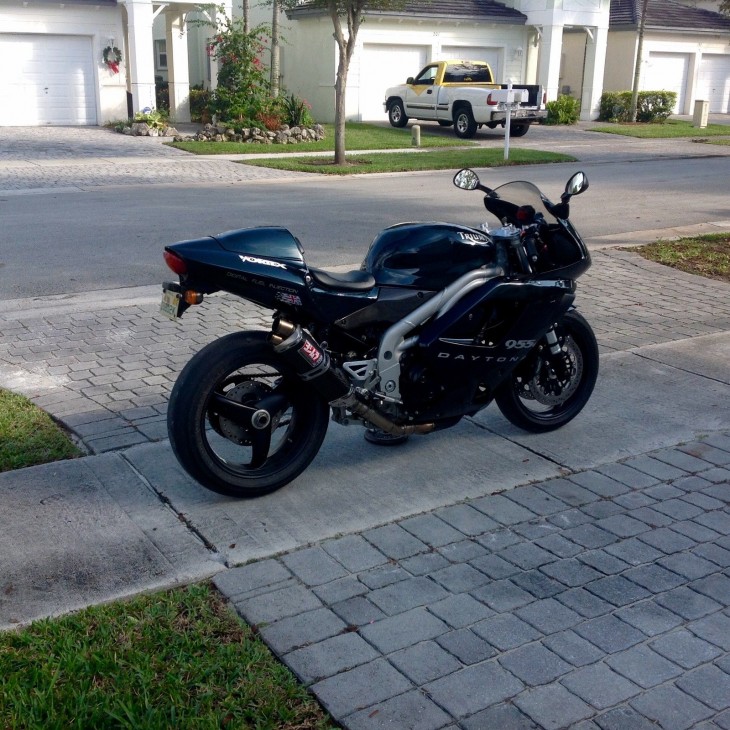 The Daytona was introduced in 1997, and the 2002 was re-designed and improved with Gareth Davies' assistance.  The perimeter frame is aluminum, and though most '02+ models had a double-sided swingarm, the Centennial was single-sided.  Brakes were 4-piston 320mm fronts, and 220mm rear.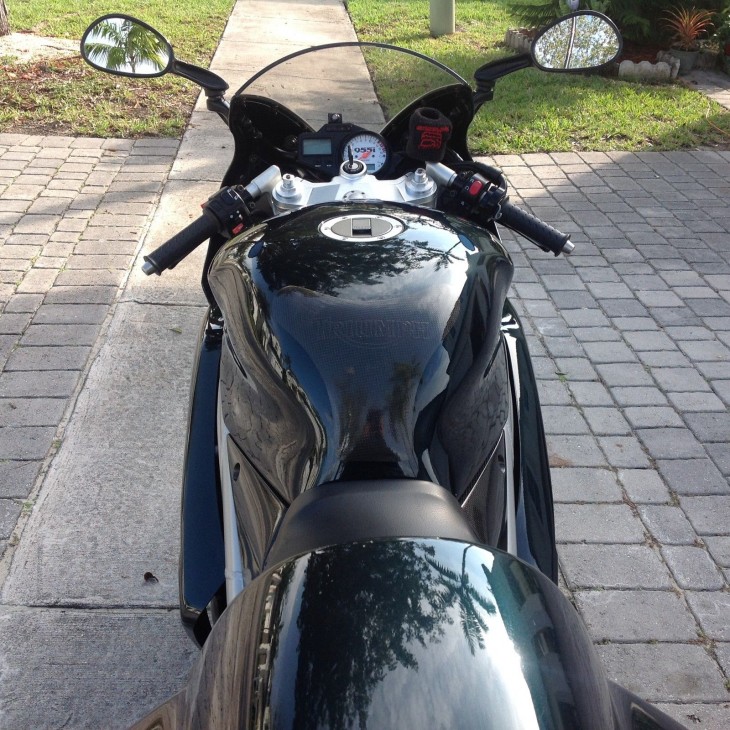 The CE was very limited at 200 examples, but not so with power – 149 hp courtesy of forged crank, con-rods and  pistons.  Aston ( British Racing ) Green was the one-year color, with Union Jacks here and about.  The Centennial also had carbon side covers and mud guards.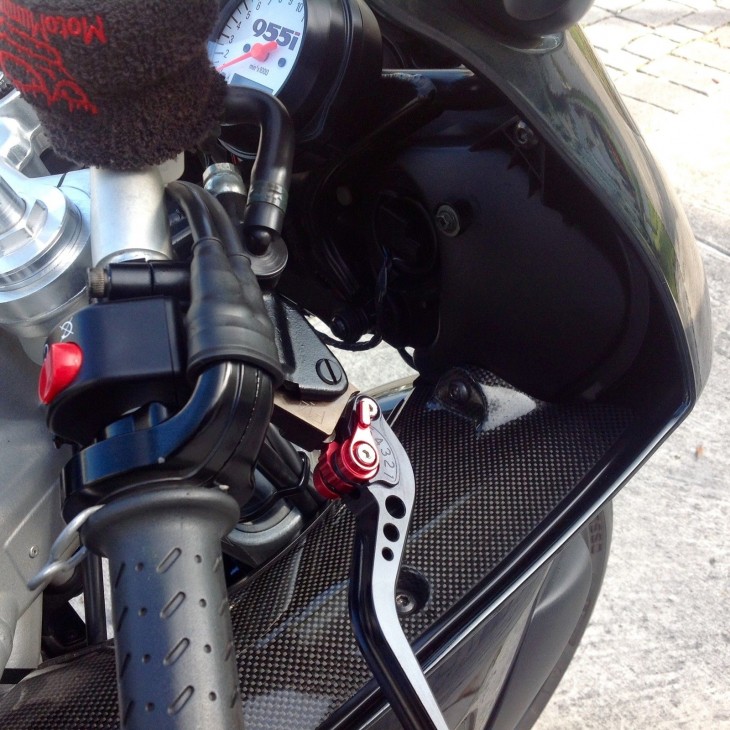 Looking very good with just under 5,000 miles, the Daytona here has been subject to some in-depth study of the charging system, dampers and final drive.  The owner states in the eBay auction:
The 2nd gremlin is if you change sprockets certain ratios will cause unnecessary chain guide wear. I have tried various combos. Stock ratios on the 2002 CE with the single sided swingarm is 18/42. I always like adding teeth to the rear sprocket only. I have a 45,46,48 etc in the 530 pitch. And in the 520 pitch I have a 19 tooth up front and a 49 in the rear. The 19/49 520 pitch is on the bike now. I like it out of all ratios and pitch. With this set up no wear at all on the chain guide. Also crazy acceleration .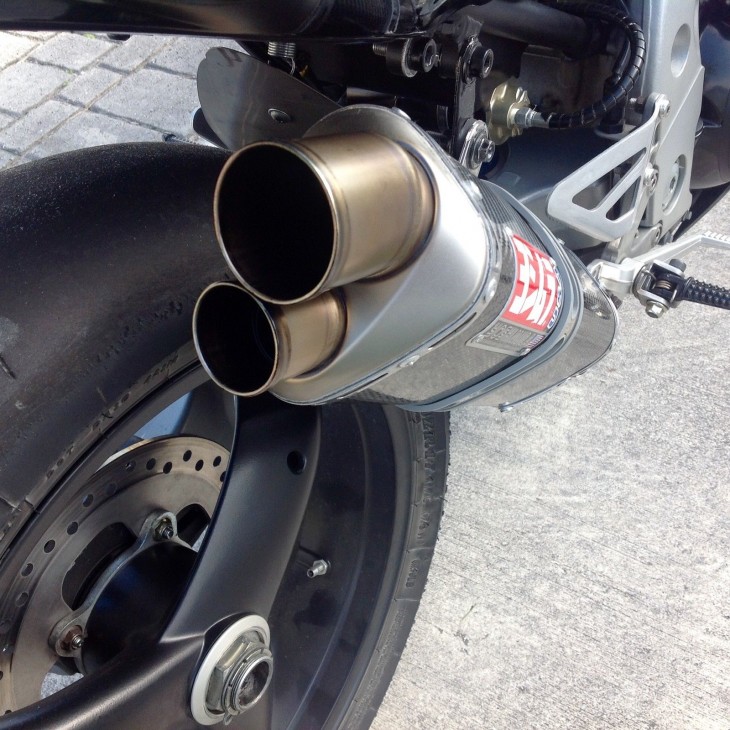 With some interesting mods but no damage and adult color scheme, this could be a Triumph to return to stock and enjoy.  The big triple is a durable powerhouse, and the bike is not overweight at just over 400 lbs.  A good rider ( maybe after a new rear tire ) with room for a pillion, but in this case a special year for Triumph and the Daytona.
-donn