1994 Honda NSR 250 for sale on the Minneapolis, MN CL and is said to have a current title and registration.
With a price of $10,000.00 and an average picture it makes this one tough to digest at first glance. I did a quick search on RSBFS.com for past MC28's and this one might be a little on the high side, but you can be the judge.
Located in Hamm Lake, MN and listed on the local CL the seller doesn't offer much information other than.
For sale 1994 Honda NSR 250 Mick Doohan Repsol replica bike

Licensed and titled in Minnesota
As the seller states this one is done up in the rare 96′ SP Repsol colors that commemorated Mick Doohan's 95′ Grand Prix 500cc championship. There's no mention of mileage, history, type of plastics on the bike i.e. OEM, Tyga or Chinese, but from what I can tell in the picture it looks pretty good. I really like the orange wheels v. the 96′ models black ones.
The 94 MC28's were the first year for the single sided swing-arm and PGM IV engine management system that was activated by the smart card. The smart card doesn't fare well with the die hard MC28 fans because they are hard to de-restrict for maximum power output. It was said that Honda used the PGM IV so they could meet the Japanese EPA restrictions that went in to effect in 1994. For whatever the reason, I think it's pretty cool to have a card to start your bike.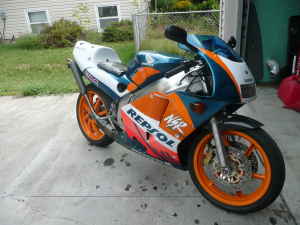 So if you're getting ready to jump in to the Spring bike market, but really can't wait until the weather breaks give this one a look. You can check out the ad and contact the seller here
Cheers!
dd